Just in time for Valentines Day, I'm urging you to
look into making special plans with Estilo Gaucho
, one of DFW's finest steakhouses ... which brings you today's Cowboys Huddle-Up!
Cowboys Weekend Huddle-Up: 10 FishTips
FishTip 1
The
Dallas Cowboys
have dozens of decisions to make via free agency. This causes linear-thinking observers to create either/or scenarios. They've wrongly done it with
"Dez OR DeMarco''
and now it's happening again with "Dwayne Harris OR Cole Beasley.
It doesn't have to be that way.
Dallas can't sign everyone at any cost, of course. There will be a 30-percent roster turnover because that's how the NFL works now. But Harris and Beasley
(AP photo below)
, while they technically operate from the same position group, are vastly different players in vastly different circumstances.
Harris is unrestricted. Lose him and you lose way more than "just a backup receiver.'' He views himself as the best special-teamer in the NFL because of all the roles he plays, and while I don't know how much a team (this one or another) will pay for that unique skillset, Harris' situation is a special one.
As
KD Drummond writes in ranking Dallas' restricted free agents
, Cole Beasley is in a different category in two ways. One, Beasley is certainly the Cowboys player that would be most coveted on the open market. The slot receiver is a third-down-conversion machine and catches basically any and everything thrown to him (75-percent catch rate and didn't drop a single pass in 2014). His production has increased every season in the offense He is quick, shifty and has shown not only the ability to avoid the big hit, but also survive it despite his diminutive 5-8, 177-pound frame.
But again, Cole is restricted. The Cowboys are in control here, and can, by offering him a second-round tender ($2.406 million), retain his services.
Isn't Escobar ready to play more, making a little slot guy less necessary? Isn't the kid Street ready to make a leap into regular snaps as a receiver? Couldn't Street be a return guy? Couldn't Beasley, if you lose Harris? Aren't there cheap ways to assemble your special teams?
All valid takes. But all unnecessary because of the real possibility that Dallas uses two different avenues to retain two very different players.
FishTip 2
If you read the newspapers, you sense some sort of urgency -- and even some suggestion that it's a done deal -- regarding the plans for
Tony Romo
's contractual trigger-flip.
There is no decision here. Not yet. Because no decision is needed yet.
We gain some insight from listening to the two bosses put their stamp on this stuff, though. Jerry used the phrase, 'The art of the deal.'' Meanwhile, Stephen said, "I don't think there's an exact science, (as if it's) 'Hey, we're going to do it or not do it.'"
It is art. It is science. It is math. But most of all, at this early stage despite what you've read, it's not "Hey, we're going to do it'' and it's not "Hey, 'we're not going to do it.''
As we point out in
this Cowboys Premium piece with help from two members of the team's front office regarding the Romo decision:
The media is in a hurry here. The Cowboys have no need to be.
FishTip 3
Joseph Randle tweeted this week that he's "Learning the value of a good lawyer each day.''
If his ex-girlfriend and mother of his child is telling the truth, Randle's assessment of his legal situation is correct. ... and maybe the most astute thought this kid's brain has manufactured in some time.
While sources tell me the Cowboys' investigation of the situation leads them to believe domestic violence was not involved in a police call to a Wichita, Kansas, hotel that led to the backup running back being listed on the police department's "arrest'' list, Dalia Jacobs tells a story involving violence and gunplay.
Jacobs tells KWCH-TV: "Joseph puts his gun up. He walks back to the car, he looks in it, and then he just punches it with his fist. Glass splatters everywhere. There's glass in my son's hair. It hit him and that's when he starts crying."
The incident, which resulted in a 3 a.m. call to the police, is still being investigated.
Ronald's agent, Erik Burkhardt, initially insisted his client was "ticketed'' rather than "arrested.'' But that's a semantic difference that seems immaterial if Jacobs is accurate in her description of the meeting both sides was arranged so Randle could see his infant son. (The agent has since gone silent on Twitter. And Randle has deleted his cute tweets about lawyers and such. Their silence is deafening.)
The report says situation led Jacobs to file a protection from abuse order, and that the state is now intervening to get Randle, the Cowboys backup running back scheduled to make $585,000 this year, to pay his child support. (There are always two sides to these stories, but there are fewer forms of scumbaggery lower than being a deadbeat dad.)
Are there holes in the story? Yes, including why the police came on the scene after a man put a fist through a window and let him skate. Is Randle in trouble, with the Cowboys and the law? Yes, because Dallas' initial conclusion regarding what happened must now be re-examined. Is there a basic lesson to be learned from this, way outside of football, by all young men and women?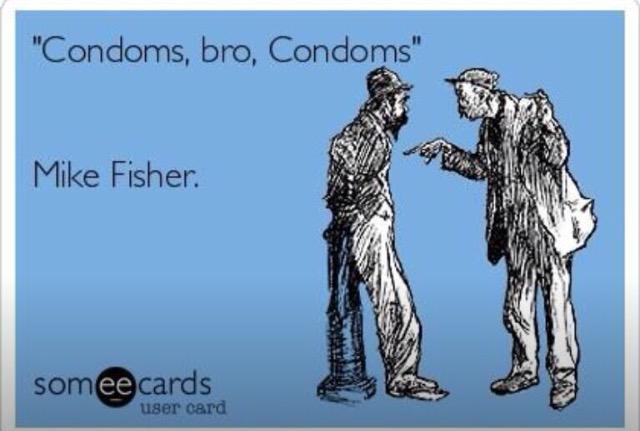 Yes. Condoms, bro. Condoms.
FishTip 4
We are spending a great deal of wheel-spinning time trying to mock-draft the Cowboys at 27 and while our scouting efforts are fine -- from the great Bryan Broaddus right down to us regular schmoes -- here's the part that's wheel-spinning:
"Who will Dallas take at 27?''
In the Jerry Era, 80 percent of the time, the Cowboys trade up or down from their original first-round slot. Eighty percent! There are trends here regarding what the Cowboys do in the draft, as KD details, and if you know the trends it keeps you from spinning your wheels.
Pinpoint the players. Identify the fits. But don't over-concern yourself with No. 27 specifically, because it's at least as likely that Dallas will end up picking 15th or 20th or 33rd or anywhere else thereabouts.
And know this: From what I've gathered, while the personnel people are obviously aware of the importance of adding defensive line help ... they are wisely still wide-open as to how to use their first-rounder.
FishTip 5
Yahoo reports that
DeMarco Murray
is going to get "up to'' $10 mil a year when he hits free agency. I guess "up to'' can mean "anything under $10 mil'' so in that sense, the report is surely correct. But otherwise, this appears to be Yahoo simply feeling like it needs to crank out a weekly Cowboys-related story.
Same with the constant tales of Dallas considering using a tag on DeMarco to keep him around. While these things are always fluid, that is absolutely not the Cowboys' plan for him. And DeMarco showing up at an SMU basketball game with his coach and his QB changes none of this. The friendships here are long-standing, so a photo of those friendships -- while a revelation to most of the public -- is really revealing nothing new at all.
FishTip 6
I'm still reeling at errant reports that painted Bill Callahan as someone who wanted to stay in Dallas, that painted the Cowboys as an organization desirous of keeping him, and of Callahan being such a hot commodity that "eight teams wanted him to be their coordinator.''
And yet he only got one offer, and that was to take a demotion to O-line coach in Washington?
All of the above is evidence, once again, of why I hate using agents as sources. All that gibberish was press-release junk texted from Bill's agent to reporters. All junk.
Jason Garrett had no desire to continue working with Callahan. And the feeling was not only mutual ... it's a 12-month-old feeling. Both men deserve praise for handling their final year together in Dallas with class -- and with results.
I will say this about Callahan's move to Washington, where Jay Gruden might be on a very short leash: If owner Danny Snyder quick-triggers Gruden out of a job during the 2015, and Washington needs an interim coach, who on that staff would be qualified to jump up?
Bill Callahan.
FishTip 7
A Pro Football Hall of Fame that requires Charles Haley to wait 11 years before induction, that doesn't see Jimmy Johnson
(DallasCowboys.com photo)
as quite good enough and that has never even considered Darren Woodson as a candidate is a Pro Football Hall of Fame with a system that is, at best, too exclusive, and at worst, broken.
Haley is now free to free-wheel again; he's in the Hall, so less ass-kissing is required. So, sure, go ahead and put Tom Brady on blast, Chuck, for being a cheater, if that amuses you.
Haley has always been a controversial figure. Brace yourself for his HOF speech this summer, because he'll be a controversial figure again. (Inside Valley Ranch, it's controversy enough that Jerry Jones isn't automatically his presenter.) But Haley has also always been a Hall-of-Famer. Jimmy should be one, too.
And if John Lynch is a finalist, Cliff Harris and Darren Woodson should already be in.
FishTip 8
Jerry likes to talk about Romo's "four-to-five-year window.'' But that's Jerry Poppins moving his mouth. What do the Dallas football people say? What do the Dallas cap people say?
Twenty-four months of good football left in Romo. The structure of his contract reflects that. The history of 25-year-old QBs reflects that. And in the personnel department, guys flat-out tell me that.
This is neither a "good thing'' nor a "bad thing.'' It's just a fact-based plan thing. Twenty-four months.
FishTip 9
The NFL loves its parity, though New England and Seattle suggest that parity is dead.
And maybe it is ... outside of the NFC East.
The last time an NFC East team won the division crown in two consecutive seasons was a decade ago, when the Philadelphia Eagles did it in 2003 and 2004. In the last four years, four different teams have won the East title.
This is a cautionary tale for Cowboys fans, but maybe more important, a cautionary tale for those inside Valley Ranch who might think the team's path is paved with gold. The last time the Cowboys won the NFC East in two consecutive seasons was 1995 and 1996. And how did Dallas do in the seasons following their last two division titles? A 9-7 season in 2008. And a 6-10 season in 2010.
FishTip 10
Lance Armstrong hit two parked cars after a night of partying but let his girlfriend take the blame. That takes a lot of ball.