Cowboys Trade Rumors Atwitter!
For reasons not of their own making, the
Dallas Cowboys
are now, according to social media, trading for a running back you've heard of. Or, better said, about 100 running backs you've heard of.
The gossip was launched, of course, by
Dallas' completely sound decision to not retain DeMarco Murray at $9 million a year.
It's continued with more soundness, including CHQ's reports of "contingency plans'' in case the runners presently on the roster don't pan out (see
"Truths and Fibs about the Cowboys' RB Situation")
, and featuring our man Bryan Broaddus suggesting there are actually two such ideas in place and a prediction of a 60-percent chance of Dallas going that direction.
And there is COO Stephen Jones himself telling us on 105.3 The Fan, "Any time you lose an All-Pro like DeMarco, it gives you reason to say, 'Hey, do we have the right guy?'"
And ... away we go on my Twitter account ...
@fishsports @dallascowboys all that being said I still think they should explore options like Moreno or Chris Johnson can't hurttt

— Gavin Glendenning (@GMoneyy88) May 8, 2015
Chris Johnson? Nope. His 2,000-yard season was a running back's lifetime-and-a-half ago. His affection for the idea of joining Dallas is an unrequited love.
@fishsports hey how about a trade for Zac Stacy and give up a 3rd? Lol

— Baba Ganoush (@TonyNorwood_5) May 2, 2015
Zac Stacy quickly ran out of gas in St. Louis, then was essentially demoted to third-string with this spring's drafting of Todd Gurley, and now has been dumped off to the Jets. So now you want to get the Jets to dump him off to you? Nah. Note this: A seventh-round pick is all it took to acquire Stacy. And Dallas passed. What does that tell us?
@fishsports what u think about Tre Mason?

— Leo Green (@Cool_LwAy) May 15, 2015
Tre Mason? OK, but ... while Gurley is a do-it-all back ... don't the Rams want anybody behind him?
@fishsports @1053thefan getting ready trade Leary for forte??

— Eric Hoover (@azhoover25) May 15, 2015
A couple of websites faked their way to traffic by insisting that Matt Forte is Dallas-bound. One even "credited'' the Cowboys' own website for starting the rumor about the Chicago star. Ballsy! I'm told by Valley Ranch sources that Forte is not a front-burner idea. Sorry.
@fishsports @illp662 like the idea of knile Davis, Christine Michael or Lamar miller. SPARQ friendly

— Marls Barkley (@mwtrizzle) May 16, 2015
Well, Christine Michael is from Beaumont. And he was a Seahawks second-rounder, so there is some pedigree there. Is he superior to the backs Dallas has now, including another pedigreed second-rounder in Ryan Williams who is essentially third-string at Valley Ranch? Michael is certainly gifted athletically, too. I see where somebody is writing, "Dallas could pry him away from Seattle with a mid-round pick'' but I have no knowledge of that being enough of a reality to state it with such certainty.
@fishsports Is A Lamar Miller Trade To Dallas Realistic?

— JOHN TAYLOR (@MAVFANINTN) May 16, 2015
At least Lamar Miller makes sense -- from a Dallas perspective. He's a 1000-yard rusher, he makes just $1.5 mil and Miami just drafted Ajayi. Oh, and he can play. Now, I don't see why the Dolphins are handing the entire offense to a rookie with a knee that might blow at any moment ... but Dallas would be justified in being interested here.
@fishsports what about making a trade with the (hated) eagles for R. Mathews?

— Brady (@d13aga1n) May 15, 2015
Ryan Mathews wasn't super-high on Dallas' wish list when he was a free agent. Now he's got a handsome contract and is employed by a boss in Chip Kelly not likely to give up on his mistakes too soon.
@fishsports I believe he is Not the Anwser. I would mind Knile Davis, Tre Mason I dunno about L.Miller •J.Hill would Be SICK!

— Dustin Laratonda (@DaBigEasy24) May 15, 2015
Jeremy Hill? He talks about "we'' when he talks about the Bengals. Oh and isn't he their starter?
@fishsports @kjdenhartog I'd rather get Gio Bernard

— daniel buchanan (@kencussion) May 16, 2015
Gio Bernard? Isn't he also part of the "we''? Cincy spend capital on him. ... and he's a 5-9 scatback type, which Dallas already thinks it employs.
@fishsports how likely are any of these backs? pic.twitter.com/6GIlqMejmg

— Mr. Veezy (@PaulMVilla) May 15, 2015
McKinnon? Sankey? Any more darts to throw? And
how many of these guys are better than Darren McFadden (backing up Joe Randle) behind Dallas' bullish line?
@fishsports @1053thefan Safe to lump Steven Jackson in with this group? His 2014 numbers were decent.

— Clark Bosslet (@thoughtbomb) May 5, 2015
Steven Jackson, age 31? Lump him.
Have I ever told you what the Cowboys think of 31-year-old running backs? Or for that matter, 28-year-old ones?
@fishsports Ron Leary for Knile Davis? Chiefs need interior line help, we could is a running back.

— Josh (@camojosh5) May 15, 2015
Knile Davis? I bet there is at least one person high on the Dallas organizational chart who likes him. "Woooo! Pig Sooie!
@kjdenhartog @fishsports Jamaal Charles ??

— David Shepherd (@SQUARE_BIZZY) May 16, 2015
Oh, wait ... to heck with the Chiefs' Davis. Why not get them to give you Jamaal Charles?
@kjdenhartog @fishsports I think Ronnie Hillman or Monte Ball..

— Larry Dagnon (@Ldagnon11) May 16, 2015
Ronnie Hillman or Monte Ball? Darts, I think.
@fishsports @kjdenhartog Fish, is mark Ingram a possibility?

— markbristow22 (@Markbristow22) May 16, 2015
The Cowboys head coach liked Mark Ingram right up until the time the Saints paid him to stay.
@fishsports @1053thefan a pick for Doug Martin would make sense IMO

— daniel buchanan (@kencussion) May 5, 2015
I think we're confusing the fact Tampa didn't pick up his final-year option for 2016 with the idea that they'll give him away in 2015.
@fishsports @1053thefan Adrian Peterson pleasesssssss

— Dennis Nelson (@sprewelllatrell) May 1, 2015
AD-to-Dallas will never die. He really will be here, too ... in Week 3 of the preseason. Get your tickets now!
@fishsports Is there an NFL RB cowboys fans aren't asking about? I mean, other than the ones on the roster...

— Huxogh (@huxogh) May 16, 2015
Ah, a step toward sensibility.
And one more step: Broaddus is undoubtedly right about potential plans. Stephen is absolutely right about Dallas making sure to remain in "the acquisition business,'' about the Cowboys personnel department, coaching staff and executive wing staying on their collective toes when it comes to opportunities. And I'm very certain I'm right when I say that it is May.
We've proven that the Running-Back-By-Committee approach can work
and its worth continued examination. Really ... before we see which running backs not on the Dallas roster might do, let's allow ourselves just a glimpse of what the ones on the roster might do.
Cowboys On PAT Change
Last summer, Dan Bailey spent a portion of training camp working on longer extra points, just in case there was an NFL rule change.
"Obviously from an entertainment standpoint -- or lack thereof I guess – it's not very entertaining, extra points," the Cowboys kicker said then. "I don't know, we'll kind of take it as it comes and see how it goes."
And now we know how it goes. On Tuesday the league instituted a rule change that moves extra points back to the 15-yard line. Defenses also now can return a fumble or an intercepted two-point try (which will be attempted from the two-yard line), as well as a blocked PAT, for two points.
"Obviously, it makes the extra point that much more challenging," Cowboys coach Jason Garrett said during the team's Reliant Home-Run Derby benefitting the Salvation Army at Globe Life Park. "I think the percentage to make a PAT, the way it is, is north of 98 percent, and I think it's about 93 percent to kick a field goal that's 33 yards. So there's a little bit of a difference there, obviously. I'm glad they did the thing where the defense can return it and get two points. I think that's a good rule, and I'm glad they kept (two-point tries) it at the 2-yard line.''
Dallas is hoping its offense will be largely unaffected by the change, and Bailey is the reason why. He's as accurate a kicker as the NFL has ever seen. In four seasons with the Cowboys, he's a perfect 179-for-179 on extra points and on field-goal attempts between 30 and 39 yards, Bailey's career mark is 38-for-40.
HR Derby Notebook
*A popular question posed to O-linemen Tyron, Martin and Frederick on Tuesday regarded the idea of Dallas building "the best offensive line of all time. Frederick nailed his response.
"We certainly have a lot of talent in that room,'' he said. "But hard work beats talent when talent doesn't work hard."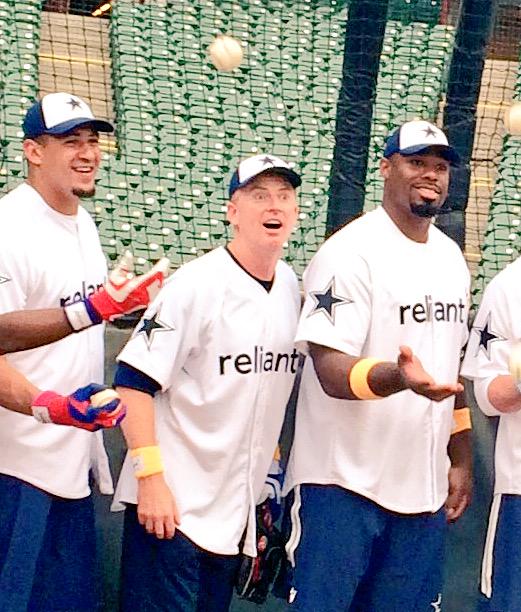 *We asked Brandon Carr about contract discussions with the Cowboys. Responded Carr, cleverly: "You (media) talk to me more about it than they do."
*Garrett on Scandrick returning to Valley Ranch workouts this week amid his contract talks: "Orlando loves to play football. He loves playing for the Cowboys. His great strength as a football player is his passion for the game and the edge that he plays with. So, good to see him back out there doing the work this week leading up to the OTA's next week."
*Jason Witten's power at the plate almost killed first-round rookie defensive back Byron Jones, who gamely but lamely attempted to shag balls in left field. Said Witt: "
*J.J. Wilcox, a former high-school baseball standout, won the HR Derby, raising the most money (through Reliant) for the Salvation Army. Garrett was also a finalist, with an "easy'' swing that was part the result of him knowing that points were awarded for contact over muscle ... and part an admission that even when he played high-school ball, he didn't possess much power
Jason Garrett, for whom the #Cowboys HR Derby is a process. @1053thefan pic.twitter.com/k85Xf4Th4t

— mike fisher (@fishsports) May 19, 2015
Terrance Williams, on staying in contact with Dez during his franchise-tag negotiations: "He's ready to go. Whenever he decides to come back, we're just going to continue where we left off at."
*Barry Church on whether Dallas is building from last year or starting over, mentally: "I feel like you've gotta tear it down and start all over again. We had a good season but it wasn't a great season in our eyes."
See what Cowboys fans are saying here!
Related Story: How Jerry Won The La'el Collins Recruiting
Related Story: Jason Witten Explains It All
Related Story: Romo Raves About Cowboys Front-Office Work