"Shan & RJ''on 105.3 The Fan
are only doing their jobs. Far from being
Dallas Cowboys
"haters'' — they are in fact the morning show of the official Cowboys station — they've bumped into a rumor regarding
Dez Bryant
and an "incriminating'' video tape. They are poking around the potential story, and tiptoeing a bit, too … but not ignoring it.
On Friday, a show guest was
Mike Florio of ProFootballTalk.com
, who also attempted to tiptoe around whether the story is an "urban legend,'' as he carefully noted … but in doing his job, bulled forward with an insistence of how "well-known'' this rumor is, and how impactful it is regarding Bryant's contract negotiations with Dallas.
"It's one of the best-kept secrets in the media,'' Florio said. "A story that all of the major insiders know about, known about it for months, involving a video tape. … (and the) Cowboys are aware of it.''
And what impact does that alleged "awareness'' have?
"Because of that and possible other reasons,'' Florio reports, "the Cowboys been very reluctant to commit major money to him. I don't know that (the video) does exist … it relates to off-field concerns … that's just the chatter, that there's video … and the Cowboys are afraid it will come out and have a Ray Rice-like type of an impact. … People think that's what's keeping the Cowboys from a long-term commitment.''
Dez's take? He just tweeted this: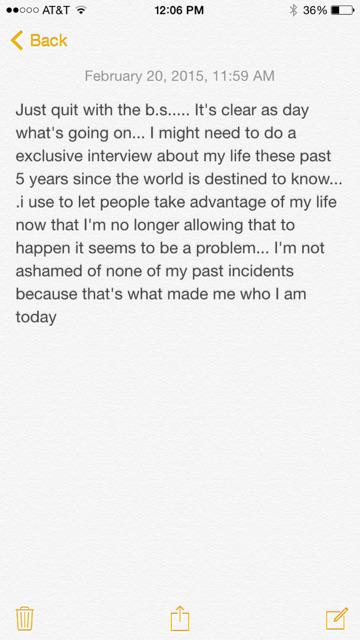 Let's methodically march our way through this muck in five steps:
*
STEP 1:
A disclosure: When Florio says, "All of the major insiders know,'' and "It's been rampant'' and "Everybody who does what I do knows about this thing,'' I'm a bit flustered. Because I've heard nothing about this "rampant'' story that's been out there for "months.''
I've written a million words on Dez;
how did I miss this most important story of all?
*
STEP 2:
I grow less flustered when I quickly survey a handful of my Cowboys colleagues - some of the most respected journalists in the NFL. I'm 0-for-3 on them knowing anything about this. (Obviously, that doesn't automatically make it untrue. Just more wobbly.)
*I move from "flustered'' to "frustrated'' when I visit with Cowboys COO Stephen Jones on the matter. In our conversation this morning, he could not have been more emphatic in pledging that Florio's accusation that the team knows about this "video'' is false. (Dez' tweet might indicate he isn't as trusting of the Cowboys front-office words here, of course. or maybe he wisely has distrust for the media.)
*
STEP 3:
I find it befuddling that "everybody knows about this'' and yet Florio notes "There have never been any charges, civil suit, nothing.'' This suggests that whatever Bryant allegedly did — "Ray Rice-like type'' — is a criminal act. But how is it "every reporter knows'' but no law-enforcement officials do?
*
STEP 4:
I find it befuddling, too, that "all of the major insiders'' have knowledge of the rumor but not until "Shan & RJ'' quizzed Florio about it has he ever noted it. Why hasn't ProFootballTalk.com ever mentioned this? Florio's website has never had a problem tiptoeing or even bull-rushing into similar territory; why would Florio essentially "break the story'' on a DFW radio station instead of on his nationally-known website or on the NBC Network that employs him?
Further, why haven't any of "the major insiders'' ever written a hint of this, as would be there custom and their right … as I would certainly do if I had knowledge of this?
Dez recently told me, "It does seem like some (media people) are out to get me. … like they want to bring me down. Tell them it won't happen.''
That, or at the very least a combination of chasing a rumor and rumor-mongering, seems a far better explanation than the idea that the Cowboys are involved in a conspiracy to leek info in order to avoid "paying the man,'' as many are now speculating.
*
STEP 5:
And finally, to the most important piece of information of all, and this one is not an "urban legend'': Whatever Dez did or did not do "years ago,'' on video tape or otherwise, cannot be blocking Dallas from offering him a big contract.
Because in
the week of Oct. 21, as CowboysHQ.com has reported, the Cowboys — who according to Florio and "all of the major insiders'' knew about the supposed issue — DID offer Dez Bryant a "Cowboys For Life'' contract
, and thought they were so close that they began work inside of Valley Ranch on the ancillary paperwork.
WANT MORE COWBOYS?
It's a new year and the
Dallas Cowboys
at at it again, making news that needs to be covered by folks inside Valley Ranch, folks with 33 years of experience covering the NFL (see below photo; we've been at this for awhile), folks who travel with the team and live and breathe the team ...
Getting ready for the draft? Please read
"The Cowboys' Six Tells and Tendencies in the Draft''
... Our
Cowboys Crunchtime Podcast with the latest on Dez and 'Why Not Manziel'?
...
Cowboys fans talk it up here on CowboysHQ.com Discussion Boards! Get your free membership now and join the conversation!
... A very cool deal here:
The Mock Draft Muncher, a grouping of mocks combined to show the feel for who the Cowboys (and all the other teams) will pick in Round 1
... Loads of NFL info
here live from Indy at our Combine Scouting Portal.
... Follow us
here on Twitter at FishSports
and at
.