Cowboys OTA coverage today is brought to you by
The Maverick Bar, 1616 Hebron
, where all this week we'll be hanging out with former Cowboys like Cory Procter and Patrick Crayton ...
And then Friday and Saturday live music along with the 200-inch TV screen and the best burgers in town! Join us!
The Best Is Yet To Come
Tony Romo
said during an interview last summer that he feels like his best years are ahead of him. Both the media and fans scoffed at his bold prediction. I mean, Tony Romo was a 34-year-old quarterback coming off his second back surgery in as many years. While many admired his confidence, they didn't think Romo was being realistic.
Well, as it turned out, Romo was right. Not only did he have the best season of his career, but Romo was in the running for NFL MVP after leading the league in passer rating, completion percentage and YPA and throwing for 34 touchdowns with just nine interceptions.
Now 35 years old, could Romo be even better in 2015?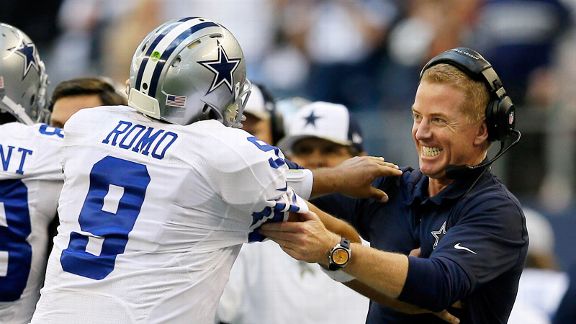 For the moment,
the issue of the day is Romo's conflict with the NFL over his fantasy football convention. As I write this, Fish is on Twitter working his way into a justifiable lather and working on a story about the controversy.
For our purposes, let's make this examination football-only (or at least football-mostly) ...
That 2014 will be a tough act to follow considering he set numerous
Dallas Cowboys
franchise and NFL records last year. While the odds might not be in his favor, I personally believe that Romo will follow-up his 2014 season with an even more impressive performance in 2015 - and here are five reasons why. ...
1. Romo is Fully Healthy Again
For the first time since 2013, Tony Romo isn't recovering from a back surgery during the offseason. This has allowed him to take part in OTA's, which is something he wasn't able to do in each of the last two seasons. In 2013 and 2014, Romo had to limit himself throughout the offseason and was even put on a "pitch-count." Now that he's fully healthy again and more than a year removed from his latest surgery, Romo can start pushing himself once again. If he accomplished what he did last year with limited preparation time and a broken back, imagine what he'll be able to do this year with a full offseason and a better overall team around him.
"It's definitely the best off-season I've had," Romo said. "It's the first one I've had in three years. I like to work. I like to grind. I like to push the envelope in a lot of ways. I haven't been able to do that in years past.''
2. 'Old' Is In Vogue
Tony Romo turned 35 in April. That's getting up there in terms of football years. In NFL history, QB's over 35 years old have thrown for 30+ touchdowns in a season just 14 times. At first glance, that's a pretty discouraging statistic. However, six of those seasons occurred within the last three years and three of them occurred in 2014 alone. In fact, nine of those 14 seasons happened between 2004 and 2014. Whether it's due to stronger offensive lines, advances in medicine, improved training programs or the natural evolution of the position, aging QB's are having more success now than ever before and Romo will look to continue that trend this season.
One more possible reason: Rule changes have been constructed to help keep the QB upright. And there's another way to do that ...
3. The Great Wall of Dallas 2.0
The Cowboys had one of the best offensive lines in the NFL last season. The addition of All-Pro rookie Zack Martin seemed to push this group over the edge. They paved the way for the league's leading rusher and gave Romo plenty of time in the pocket. However, they still weren't done adding pieces to this already stellar group during the offseason. First the team drafted Chaz Green and Laurence Gibson, two young, talented OL to groom for the future. Then they landed top-10 talent La'el Collins in free agency, virtually giving them four first-rounders up front.
With the new additions and another year to gel as a unit, the Cowboys should still have a very good run game in 2015 (regardless of who the running back is) and Romo should have as much of an all-day pocket as any QB in football.
4. The Trickle-Up Of a Good D
Throughout his career, Romo has had to carry this team. He's never had a consistent defense, run game or offensive line - all of which are key components in competing for a championship. The Cowboys gave him two of the three in 2014 - an offensive line and a strong run game. This offseason, they've worked hard to improve the defense by drafting Byron Jones, Randy Gregory and signing Greg Hardy. They also re-signed Rolando McClain, are getting Sean Lee back and DeMarcus Lawrence is expected to make a big jump this season. If this defense can create more turnovers and get off the field more often, that means more opportunities for Romo and the offense to do their thing.
5. Desire and Know-How
Tony Romo came into the league as an undrafted free agent in 2003. Through hard work and determination, he earned the starting spot in 2006 and he hasn't looked back. Since then, he's broken nearly every franchise passing record and several NFL records. Romo is an extreme competitor and he does whatever it takes to win - including playing with a broken back, broken ribs, punctured lung, etc. Contrary to popular belief, Romo is at his best late in games, when time is running out - as his 24 4th quarter comebacks and 28 game-winning drives can attest.
At 35, time is running out on his career. He should still have at least a couple prime years remaining, but Father Time will eventually catch up to him. You sense his urgency here ... but you also sense a comfort level of sorts, a comfort level with who he is. From his
Fantasy Football Convention plan (Fish with the goods here)
to his appearances at college basketball games to him popping up at the White House Correspondents Dinner to golf now being more of a "family thing'' than a "Tony thing'' ... there is a maturity here that comes with security here.
Romo has worked so hard to get to where he is today but he's yet to accomplish his ultimate goal - winning a championship. Romo's will to win should be at an all-time high. And so should his reasons for doing so.
Onside Kicks
Be sure to stay tuned to
105.3 The Fan
for all your radio insights, with Fish scheduled to report from the OTA sidelines at 11:30 a.m. ...
We broke the story of Lache Seastrunk joining the Cowboys here
and added to it
here with KD's scouting report of the former Baylor star
... The structure of
a seven-year, $100-mil deal for Dez? We think we've got that figured out.
... Oh, and
Who's Got Next, contractually? Starting with Tyrone Crawford, we think we've got that figured out, too.
The Final Word
"Back in the old days, there were some issues,'' Roger Staubach says. "But we never really had a domestic violence, smoking marijuana or . . . I'm sure it happened though, we just didn't know about it. I would have really had a hard time with a teammate that you look at as a courageous, tough guy on the football field . . . to abuse a women in any shape or form, there's just no excuse for it."
But wait.
Our Man Roger seems to have a very short memory, as we respectfully examine in this Cowboys behavioral history lesson.