The
Dallas Cowboys
had until Sunday to decide that they would not pick up the option for the final three years of the contract Henry Melton signed last year.
But the decision was made months ago, shortly after midseason, really, when after recording five sacks in the first half of the year, he faded. For the season, Melton played in every game but only started three. ... in part the result of coordinator Rod Marinelli trying to put him in position to succeed as a playmaker. That did not work. He was credited with just 20 tackles for the year, the sacks fading, and coaches privately frustrated as they tried to get his motor going 100 percent.
That motivation included the "threat,'' if you will, of de-activating him in multiple weeks. But the de-activations never came and in the judgment of some on the coaching staff, the motor never clicked back on "high.''
Melton is a "good-time guy,'' a fun teammate. He fully embraced the idea of being back in Texas; he's a Grapevine kid and a UT product and being here allowed him to spend time with his mom and his sister, as well as uncle Ray Crockett, the former NFLer who is working to help Melton wisely handle his money. After signing with Dallas last offseason, he became a bit of a staple on the Uptown social scene -- thus my nickname for him, that he laughs about: "The Mayor of McKinney Avenue.''
"I love it here in Dallas, love the fans, love everything,'' Henry said at season's end.
Only Henry can answer as to why he faded, why, seemingly, he didn't fight harder to be a starter, why he is now largely unwanted by Dallas even at a reduced rate. Agent Jordan Woy tells CowboysHQ.com, "Henry will be entering free agency on March and will carefully consider all options.'' But a source close to the situation tells us that the Cowboys are not to be considered very seriously among those options, and that Melton has been informed of that.
Melton was coming off a 2012 Pro Bowl season in Chicago when in 2013 he was limited to just three games because of a torn anterior cruciate ligament. That's part of the reason the Cowboys were able to get a team-friendly deal with him. Now he's entering free agency coming off another injury, a deep bone bruise that landed him on IR after the final game of the regular season, causing him to miss the Cowboys' playoff run.
It could be argued that he never fully recovered from that ACL problem ... though that never came up while he was recording those early sacks.
"Personally I didn't get it exactly where I wanted to get it," Melton said in January. "It was rough coming back and I think one of the major factors was I had to get back into playing shape. But it is what it is ... a lot of people told me about it's going to take one step to actually feel confident in it and there's another step where you've got to be able to go play and breathe and be able to run on it."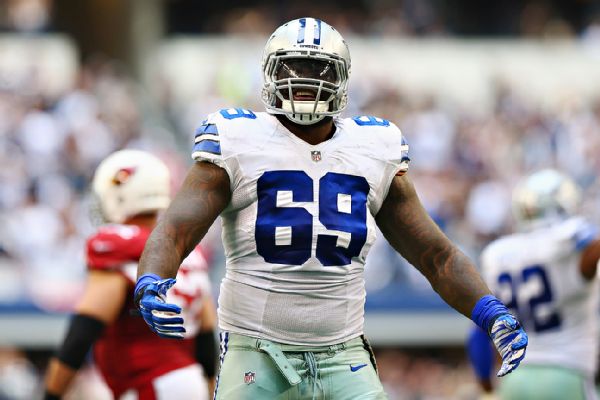 Melton had seven sacks in 2011, six in 2012 and this year, those five sacks in only 433 snaps -- about 200 fewer than his "full-season'' totals in Chicago. Places like Pro Football Focus give him high grades in "pass-rush productivity'' and such. But they are ignoring the reasons why his snaps go down, ignoring that he was inserted into games often in pass-rush situations only, and ignoring the second-half fade.
What does this mean for the Cowboys' cap? It will create about $8.3 million in space for this year, and $855,000 in dead money for the following year. And the search for playmaking defensive linemen will continue.
What does this mean for "good-time guy'' Henry Melton? Maybe some rehab of the knee, maybe some rehab of the rep, and almost certainly a search for another avenue in need of a "mayor.''
See what Cowboys fans are saying here!
Related Story: All the latest in CowboysHQ.com News Archives!

Related Story: Rolando McClain housefire - the latest

Related Story: Cowboys Huddle-Up: 10 FishTips