A - Adrian Peterson's Contract Ploy
The Adrian Peterson story is not a
Dallas Cowboys
story.
As I explain here, "Adrian Peterson is in a 'happiness pursuit' disguising a 'contract dispute.''
Always has been. As soon as Minny agrees to transform some of the three years of non-guaranteed $45 mil into some guaranteed cash, it will cease to be a problem.
That sound you hear from the AD camp? It's not the braying of agent Ben Dogra, trying to conjure something that isn't there. (How reporters wrote that "AD retirement'' story with a straight face I do not know). It's the sound of a tail being tucked 'tween one's legs, an admission that the manipulation is over and that the negotiation must now begin.
B - Byron Jones, Athlete
Byron Jones' physique stands out. His physical skills do the same. And so does his intellect. In evidence on Wednesday: It's almost too limiting to label him a "cornerback'' or a "safety.'' He was on the left side and on the right side ... He will soon line up in lots of places ... and be bigger, faster, more athletic and smarter than most of the guys who line up opposite him.
C - Charles Haley, Instigator
So Demarcus Lawrence is walking down the Valley Ranch hallway at lunchtime and Charles Haley, fly-in-the-ointment mentor, grabs him by the arm.
So this is the guy who did the impossible!'' the Hall-of-Famer barks at the kid. "They say you can't make the club from the tub. But here's a rookie who did it all last year! The club in the tub! For a whole season!''
Here is Tank. Much bigger than last season pic.twitter.com/VMCZPhFp5p

— Patrick Conn (@DraftCowboys) May 26, 2015
Lawrence -- who wasn't just "in the tub'' but has also obviously been "in the weight room'' -- grinned, knowing Haley is just trying to help. In that mercilessly odd way that is Haley's way.
D - Depth
I know everyone is ready to start the strip-down of this offensive-line group because there are "extra'' guys who can obviously play. Third-round rookie Chaz Green? Who needs him on the bench! Starting left guard Ron Leary? Expendable! Mackenzy Bernadeau with no position? Salary-dump him!
But wait a sec. If and when there is a need elsewhere, this can be a consideration. But right now? A guy like Berny -- who practiced as the backup center this week but is also an established starting guard in this league -- might come in mighty handy over the course of the next seven months. Be patient.
E - Evening, Morning, Night and Day
"It's night and day for me as far as what we are able to accomplish with our first group. For him to be able to be out there and work his reps with the first group is little more normal, so to speak. "It's going to be much more beneficial for us, especially early in the year and through training camp and getting ready for the opener.'' -- Scott Linehan on having Tony Romo participate fully in an offseason for the first time in three years.
F - Former Teams
"Once you've been in a place so long like Oakland, you can get set in your ways," Darren McFadden said. "Coming out here and being around guys that work so hard, it just brings out the best in you. It's something I look forward to."
McFadden seems like a very pleasant man. And this seemed like a very passive-aggressive comment directed at his former team.
G - Gregory, Randy
Fake outside. Slide inside. Get way upfield against Tyron Smith.
Randy Gregory fakes outside, beats Tyron Smith to the inside during team drills pic.twitter.com/ZIgzNrJ3MP

— Jon Machota (@jonmachota) May 27, 2015
H - Hardy's Hearing
There is no standardized NFL punishment for those alleged to have wavered from the straight-and-narrow. In the case of the New England Deflatriots, their owner Robert Kraft, essentially "on trial,'' gets to first share a friendly dinner and a reported "hug" with commissioner Roger Goodell.
A courtroom plaintiff allowed a warm embrace with his judge and jury?
Greg Hardy isn't quite that "connected," I guess.
The latest chapter in the star pass-rusher's attempt to return to the field? His Thursday "day in court" with a Washington DC appeal before Goodell appointee Harold Henderson.
Hardy - who has been a Dallas practice-field force since signing as a high-profile free agent from Carolina -- will miss a day of OTAs, of course, as he works to undo some of the damage caused by his involvement in a domestic-violence case. He and the Cowboys would also like to undo some of the 10-game suspension handed down by Goodell.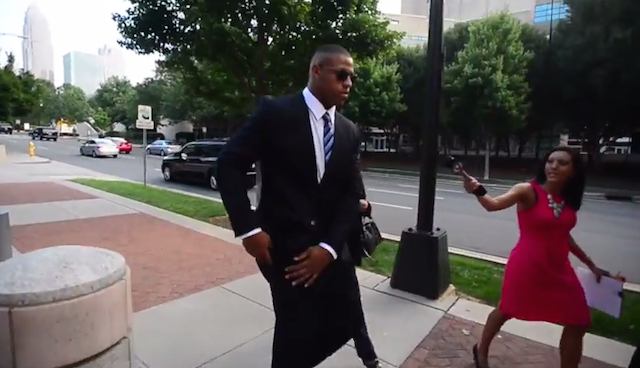 Hardy's appeal could focus on a "punishment-doesn't-fit-the-crime" argument based on the NFL's own personal conduct policy. I'm no defender of Hardy's involvement in a heinous situation, and if the "going rate" for such an incident were two games, or 10 games, or 100 games, I would accept that. But this? This is a Play-Doh Policy, open to interpretation, malleable, and arguably susceptible to favoritism.
Greg Hardy is getting his hearing. He might have a better chance on Thursday if he was getting a hug.
I - Irvin Clarifies His Eagles Pick
"It could be a change in a balance of power,''
Michael Irvin says, trying to clarify his thoughts on 2015 Eagles over 2015 Cowboys.
"Now, I have to see what the Cowboys come up with. You can't just tell me they're still as good. I have to see that. I said right now if you asked me to put it in order -- and I emphasized "in May" -- I'll take Eagles, Cowboys, Giants, Redskins. Let's see what happens in training camp and if they come together. Man, the headlines! 'Michael Irvin picks the Eagles to win the East.' I was like, 'Wait a minute. The East? We're in May. The East won't be won until January.' But that's how it is. And it is what it is. I still want to see something from the Cowboys as opposed to what's going on with the running game. And I'm looking like everybody else is looking to wait and see what happens with that."
J - Jenkins Can Run, But ...
A.J. Jenkins, three years ago was a first-round pick of the 49ers, can run. But can the recent Cowboys street-free-agent signee play wide receiver better than UDFA rookie George Farmer? Can he return kicks better than UDFA rookie Lucky Whitehead (who also looked like a slot-receiver weapon with the second offense)?
I'd advise you to get more excited about another kid, too, Devin Street, the second-round receiver who coaches think can be as productive as Terrance Williams if given the chance. Street's diving catch of a Romo throw was a highlight.
K - KD Drummond, Podmaster
KD is our "Cowboys Crunchtime Podcast'' leader and if you wish to
join KD and yours truly as we break down Cowboys OTAs in highly entertaining audio form, click on in!
L - La'el Collins and The Best 5
Will the Cowboys have La'el Collins compete with Ron Leary at left guard in training camp? Maybe. But Doug Free is rehabbing after foot surgery. So it's "Best Five'' time ... which means Leary is the left guard and the prized rookie Collins is taking turns with Darrion Weems at right tackle.
"We think he has the physical ability to play a couple of different spots,'' Garrett said. "He was a tackle for most of his career in college but did play guard. We see him as a guy who can maybe do both of those things as he goes. The big thing for him is to try to get him acclimated as quickly as we can.''
It's way too early to talk "Wally Pipp'' here. But we can certainly envision Collins eventually "getting acclimated'' wherever he damn pleases.
M - Mo Claiborne on the field
Morris Claiborne, rehabbing from that serious knee surgery, is doing mostly just walk-through activity. But like Sean Lee, it was a good-looking walk-through. "He's moving around better, and he's getting stronger," said Garrett, using words like "inspirational'' and "fighting adversity'' to describe Mo's return.
Linebackers Hitchens and Nzeocha were on Wednesday limited to sideline conditioning stuff, too. Tight end Escobar was limited on with a tight hammy. Rookie tackle Laurence Gibson is out for the spring after surgery on a finger.
N - Not The GM
I believe this is the third time in three years that our man Will McClay has received a bump in titles. He was jacked up to the "assistant director of player personnel'' title in 2014. And now? McClay is now the "senior director of college and pro scouting.'' I don't know if there is more dough involved. But I do know that someday, this guy, like most in his position, will want to run his own show. And "senior director of college and pro scouting'' isn't quite the same as "GM.''
O - Orlando Scandrick, Happy Camper
The feisty Orlando Scandrick was in good form in the locker room on Wednesday, debating and jousting reporters who asked him about "panic'' and "doing his thing'' and "sweating it'' during contract negotiations.
"It's all good,'' said
Scandrick, who got $9.5 million and a year added to his current contract, keeping him with Dallas through the 2019 season.
"I don't think there was ever really much panic from my side. I was doing my thing before. There was really no sweat from my end. I was working out. I was preparing to play. Everything took care of itself."
P - Porno Photos
The most shocking thing about the "latest round of "Jerry Jones porno pics'' isn't the porno. The most shocking thing is ...
That doesn't look at all like Jerry Jones.
Q - 'Quest' To Build On 2014
The same answer has come from Tony Romo, Jason Witten, Barry Church ... and now Scott Linehan. Do you get to build on 12-4 or do you start over? They all say "start anew,'' or some version of that. And it's a good sign, because it means there is "GarrettSpeak'' and it means all these fellas speak that same exact language.
R - Rolando McClain
Rolando McClain recently underwent a scope on his knee, the timing working out just perfectly ... so he doesn't have to participate in these OTAs.
"Rolando McClain has not been here the last couple of days," Garrett said. "He was here last week working through some rehab down in Alabama, taking care of some personal issues."
Yet another series of reasons Dallas offered Ro only his vet's minimum and a one-year deal to return. He is a gifted player on Sunday ... and a "it's-always-something'' guy the other six days of the week.
S - Sean Lee is Back
Explosiveness. And want-to.
Sean Lee. No knee brace, plenty of #Cowboys explosiveness @1053thefan pic.twitter.com/YArslUf3PO

— mike fisher (@fishsports) May 27, 2015
"Class, class, class,'' D-coordinator Rod Marinelli said of Lee, working his way back from season-ending knee surgery a year ago. "Oh, it's fun. He's a ball of energy and excitement and represents who we are."
T - Tony Romo on Twitter
Romo joked that he'd forgotten that being on Twitter meant he'd eventually have to answer questions about ... well, about being on Twitter.
Tony Romo
But he is a social-media hit.
"Yeah,'' he deadpanned. "I'm a funny guy. What can I say?"
U - Underwear Olympics
"We're in our underwear right now,'' Rod Marinelli said. "We're rushing around pretty good against air right now.''
V - Vaughan, Dustin
Is Dustin Vaughan ready to beat out Weeden as a No. 2 QB? Let's slow down here ... but it's no longer a secret that the coaching staff is pushing in this direction. He has the prototypical size. Now he needs the textbook execution.
W - Williams, Ryan
There is so much upside here with the former Arizona second-rounder who was a Dallas practice-squadder all year long in 2014. Williams is trying to earn coaches' trust in a different way that Joe Randle (see below); with Williams, it's not "character'' but rather "consistency.'' Every snap, every day. Williams did not practice on Tuesday due to a swollen knee (nothing serious) but hit holes quickly on Wednesday and won footraces after doing so.
X - As In, 'Throw Up The'
Dez Bryant does not have a Cowboys contract and this week's OTAs are voluntary. That gives him ample reason to stay away from team headquarters.
Nevertheless, the star receiver told me on Wednesday night, "I'm going to Valley Ranch on Thursday.''
His Cowboys completed a second of three days of OTAs on Wednesday, and did so without him. Bryant's absence was notable enough that quarterback Tony Romo was only half-joking when he said, "When you have him, it makes things a bit easier. Tell him to come on back.''
Bryant isn't necessarily "back'' in every way. He has yet to sign the franchise-tag tender guaranteeing him $12.823 million this season, and he's aware the real deadline is July 15 in terms of him and the Cowboys settling on a long-term "Cowboys For Life'' deal by July 15. This visit could've been like the one he told me about two weeks ago: more social than financial, more weight-room than practice-field.
But then ... he took to the practice field. It was at the very least an attempt at a show of unity — even though the sides are not yet unified on his future salary.
"We love Dez Bryant,'' coach Jason Garrett said. "Dez Bryant's a heck of a football player. He's the right kind of guy. He's got great football character and hopefully some of his situations from a business standpoint can be worked out and he'll back in here working out with us."
And today, "back in here'' doing … something. I'll have more on this later tonight in
CowboysHQ Premium, a bargain at just pennies a day.
We invite you to try us out and I promise we will do everything we can, 24 hours a day, to earn your trust -- and your pennies!
Y - Youth Is Served
The Cowboys on Thursday signed fourth-round linebacker Damien Wilson. That leaves only Byron Jones unsigned in this class. Slotting makes this easy. Youth gets served, paid and signed. No muss, no fuss.
Z - Zone Blocking Scheme Vs. Talent
We talk a lot about "fit'' and "style'' and "ZBS'' and such. But really, isn't the solution to Dallas' running game about talent ... and whether Joe Randle has enough of it, above and below the shoulders?
Randle tried to walk the tightrope between humility and confidence on Wednesday as he met the media at Cowboys OTAs, faced with questions about his off-the-field maturity and his on-the-field ability to replace departed rushing champion DeMarco Murray.
"He had a good year last year, and I got to sit back and watch a lot," Randle said of now-Philadelphian Murray, "and I felt like there was a lot of meat left on the bone.""Meat left on the bone''? Meaning, "1,845 rushing yards that could've even been more''?
Joseph Randle on DeMarco Murray: pic.twitter.com/9vr1CC619E

— Jon Machota (@jonmachota) May 27, 2015
Randle took most of the first-team reps at running back in practice Wednesday, with Darren McFadden, Lance Dunbar and Ryan Williams also in the mix. Most of Randle's problems are behavioral; underwear-stealing and all that. But he's trying to gain the faith of an organization that would like to trust him.
"I'm going to try to go out there and grind as hard as I can and see which role I end up in," Randle said. "If they ask me to (be the No. 1 guy), I'm ready for it. And if they believe in me, I believe in myself, that's for sure."
Randle clearly realizes that playing for the Cowboys, in any role, elevates a player's profile.
"I haven't ever been nothing but a star," Randle said. "And I was still a star last year because I had a star on my helmet, so I'm just going to keep being me, Joe Randle."
And is Joe Randle a troublemaker bound for more trouble or just a knucklehead bound for maturity?
"Everything you go through in life you learn from it and I learned from it and I've moved past it. I've grown up," Randle said. "I've made some young and silly mistakes, but I'm moving forward."