Splash 'n' Flash?
Dallas entered free agency intent on second-tier bargains, achieved that goal and yet, in its mind, somehow still make a Jerry Jonesian "splash'' with the acquisitions of pass-rusher Greg Hardy and running back Darren McFadden and
the retention of "Paper Boy'' receiver Cole Beasley
and
right tackle Doug Free.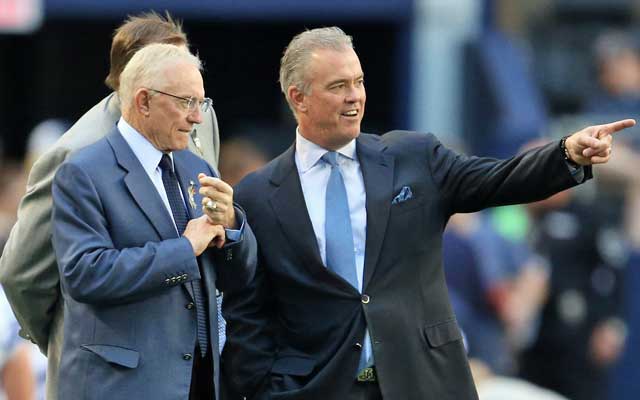 "We've been in situations where you have to pay too much for players," Cowboys COO Stephen Jones said as the free-agent window opened three weeks ago. "You've got to be very careful there. We're certainly going to be that way. We're going to look to be efficient. If that proves to be productive then that would be good."
It has been productive.
It has been good.
All four of the aforementioned signed highly cap-friendly deals with Dallas -- though Hardy could eventually be paid like the first-tier talent he is (minus the domestic-violence involvement).
Hardy's one-year contract is being billed as a "$13-million deal'' but its immediate cap impact is just $3.2 million, with no guarantees.
That allows the Cowboys to follow the lead of Stephen Jones and avoid being overly hamstrung financially (for now, anyway) -- and allows the team to part ways with Hardy if he becomes a problem.
Said coach Jason Garrett: "If you think about the contract we structured with Greg Hardy, there is great freedom for us to make the right decision for our football team at any time if we don't feel like he's becoming the right kind of guy. That was a very important part of this contract. We were not going to sign a contract where we didn't have that ability to hold him accountable."
Ideally, you'd like to sign gifted people with pure character who come affordably. But, as Jerry notes, assembling a football team simply doesn't allow for everything to be "ideal."
"The real world is that you don't get all that," Jerry said. "One of the things that we need to do at all times is be looking toward becoming a better football team. That's all of our jobs.''
So the Cowboys (like every other program in every other sport at every level, and most every other non-sports enterprise, too) try to assemble a group with as many of those positive traits (talent, character and affordability) as possible.
They retained Free at a fraction of what Jacksonville paid to hire his backup Jermey Parnell, saved $400,000 by tendering the trusted slot-receiver Beasley, and
view McFadden not so much as the replacement for departed star DeMarco Murray but rather as a possible replacement for the untrustworthy backup Joseph Randle.
(I have no idea why the media is asking McFadden is he's "bothered'' or "offended'' by Dallas being interested in other runners, too. What's he done in Dallas to earn that? Luckily, McFadden himself is too smart to take that stupid bait -- and he knows very well what his most likely job in Dallas will be.)
Dallas wasn't interested in spending much on bringing back the gifted but enigmatic Rolando McClain, but he's yours again, and Dallas has signed Vikings-ex Jasper Brinkley to back him up at middle linebacker. There are still
holes in the linebacking corps (see the Eberflus Q-and-A here)
and the draft can help there, as well as with a first-team running back. Ronald Leary is back on the cheap, as is Nick Hayden, and
a special-teams ace is in the fold in Andrew Gachkar. (His Q-and-A with CowboysHQ is here.)
Toss in ex-starter defensive back Corey White and former first-round linebacker Keith Rivers onto the pile, too. But
the biggest coup will be reaching a "Cowboys For Life'' agreement with receiver Dez Bryant by the July 15 deadline to lift his franchise tag
, a move that will both free up cap room and provide Dallas with one of the sport's most dangerous weapons.
A
certain somebody in the Cowboys front office will also dream The Improbable Dream of Adrian Peterson in silver-and-blue
... even as such a chase would figure to violate Stephen's goals of being "careful" and "efficient." (P.S.: If you like the Ro and Hardy signings, then you have to accept the
Tony Romo
Restructure -- because that's what it was done for.)
But the judgement so far? The
Dallas Cowboys
front office has made a series of splashy-enough moves that make football sense and financial sense ... all while setting aside the "marketing sense" and "public-relations sense'' that comes naturally to the Cowboys and will surely come if they've handled the other departments properly.
Onside Kicks
Here,
Joey Ickes breaks down Cowboys first-round draft prospect cornerback Kevin Johnson
...
The Cowboys' 30 visits are happening now - with an emphasis on draft-eligible running backs
... Be sure to stay tuned to
105.3 The Fan
for all your radio insights and keep it right here at
CowboysHQ
for hard-hitting commentary and outstanding analysis.
The Final Word
"We believe in redemption. If we create the right kind of environment to bring the best out in (Hardy), both on the field and off the field, and then we hold him accountable to that, we believe over time he can become the right kind of guy." - Jason Garrett.