It was the last week of October. The Cowboys were rolling on the field ... and rolling towards a "Cowboy For Life'' contract with Dez Bryant, sources tell CowboysHQ.com. How close? the Cowboys were so near a new agreement with Bryant and then-agent Eugene Parker that we're told some of the ancillary paperwork was being drawn up inside of Valley Ranch.
Now? Parker no longer represents Bryant. Now? There is the appearance of "far away,'' as Monday marks the opening of a two-week window on which to place the franchise tag on Dallas' star receiver. Now? Unlike last October we've arrived at the first of a series of "deadlines,'' or "signposts,'' as the team and Bryant's new reps, led by CAA agent Tom Condon, start rolling up their sleeves.
Deadlines make deals. The appearance of "far away'' can be altered. Starting now.
All along and undeniably, there has been concern inside of Valley Ranch regarding
Dez Bryant
's maturity ... especially as it relates to being the recipient of a huge contract, and all the troubles and temptations that can go along with that.
"Mo' money, mo' problems,'' and all that.
Bryant needn't be insulted by this concern; didn't the
Dallas Cowboys
invest in Tyron Smith's personal welfare before they invested in his $100-mil deal? Didn't Jason Garrett pull Tony Romo aside a couple of years ago and urge him to tug himself from the Hollywood Karaoke stages to instead keep his renditions of "Journey'' songs restricted to his own living room? Heck, if you've heard Garrett and Romo mic'ed up during games, following a mistake, you've heard the coach remind the QB about "body language'' ... meaning, "Keep your behavior square. The world is watching.''
So yes, the Cowboys have been watching Dez, watching him work to funnel his passion, watching him work to surround himself with the right friends and advisers, watching him work to become a fully mature adult worthy of one of the largest contracts in sports history.
This remains a work in progress. Last summer, Dez privately fumed over an internet article about him not being "a top-five receiver'' and was concerned that the report reflected something the Joneses had said. Late in the year, when the Morning News was working on a regurgitated story about "police calls to his home,'' Bryant stormed through the facility seeking help to find the offending writer. And even down to the little things that add up to professionalism, Bryant is molding himself.
Maybe one of these days he won't always be the last guy on the team bus, a trait he almost seems to have inherited from "daddy'' Michael Irvin.
But Dez reminds of Irvin in two other areas.
One, his passion -- for football and for being a Cowboy -- is exceeded by no one. In NBC5's Super Bowl Week interview with him, Bryant said, "I'm a Cowboy, man. But it is what it is. It's business. I am a free agent. I'm very confident that something is going to happen, something is going to get done, and have these Cowboys fans excited for a long time.
"I'm a Cowboy at heart. It's Cowboys forever."
Two, he's won the "top-five receiver'' argument. Really, we think, as it applies to finances, he's won a "top-three receiver'' argument.
And that's how we've been able to
construct for Bryant this Cowboys contract that according to the headline would read, "Cowboys sign Dez Bryant to seven-year deal worth over $100 million with over $50 million in guarantees."
And Dez would like that. Players, and their agents, and Jerry Jones, too, like big, round numbers in headlines.
In reality, the exact "big'' number is $100,245,000. In reality, there would be a $22.5 mil signing bonus and $37.245 mil guaranteed. In reality, while it's a seven-year deal, our concept here includes some level of "escape-ability'' about midway through the deal. ...
And Dez (along with Condon and Jay-Z's group, which now have a different relationship with each other but will both still be working with Dez) will need to be made to understand that the "escape-ability'' is not an insult related to distrust of the player but rather a commonsense aspect of any contract of this sort.
That escape hatch is where Dallas "wins'' the negotiations, which might very well begin with a franchise tag and end right around where we peg it here. Look at the breakdown of the yearly averages and the corresponding dead money. Dallas can reasonably have either a rebuild plan or buyer's remorse after just three years and realize almost $10 mil of projected cap savings. The amount would be even greater should they choose to make Bryant a June 1st cut. The seven-year deal also gives them the flexibility to restructure the contract in 2016 or 2017 should they need to move money around. The club could also restructure his 2016 base salary and still see savings if they walked away from Bryant prior to 2018.
From there, there are many "wins'' for Bryant in here. For example:
*His true guarantee of this deal is around $35 mil, with some extra amounts being guaranteed for injury that morph into a full guarantee at the start of the corresponding league years.
*There is a concession in here that he's catching up to Calvin Johnson, on par with Larry Fitzgerald (and a deal Arizona has some regrets about), and above Harvin, Wallace and Bowe. Condon could clog this thing up, however, by including two other receivers who are seeking new deals, Thomas in Denver and Marshall in Chicago. But the important numbers from Bryant's point of view in this sort of deal are the cash in the first two years ($30 mil) and the five-year Average ($13.7 mil), putting him above everyone except for Johnson.
*Dallas' camp can claim victory because the three-year average of just north of $14 mil is less than the Harvin average. But the overall deal at an average of $14.32 mil is high cotton ... and more than $2 mil more than the franchise-tag price neither side wants to see applied. All of this accomplishes two things that are appropriate for a player who is just 26 ... but in a game where the clock moves quickly on older players and "eras'': It rewards Bryant for the job he's done, it compensates him for the expected impact he will have for the remainder of the Romo Window, and it leaves Dallas with options once that window closes.
All that will now be discussed with Dez, with intensity ... but maybe with the franchise tag looming, too. Dallas has from now until March 2 to use the designation -- a one-year, guaranteed contract offer that prevents a player from hitting free agency, with a salary based on the five-year average cap percentage for the tag at each position. Dez needs to be made to understand that the tag isn't an insult; rather, it's simply a signpost on the way to negotiations.
"I believe,'' Dez said last summer, "a player should get paid what he deserves. If I'm top five, I'm top five. If I'm top three, I'm top three. If I'm top two, I'm top two. It is what it is."
Bryant's case has been made on the field. Now, as close as they once were to an agreement and with Monday marking the real start of a deadlines-make-deals push, he can make his case in the boardroom.
Onside Kicks
*Our
guide to Cowboys Restricted Free Agency - how it works and who will be prioritized - is here.
*DeMarco certainly has the option of taking less to stay. Dallas certainly has the option of paying him more to stay. His teammates certainly have the option of campaigning on his behalf, and Romo and Witten and even Garrett, who've grown very close to Murray, have predictably done so.
But there is wisdom in appreciating this option: Cowboys running back by committee - along with proof that it works.
*Lots of misunderstanding when it comes to these deadlines and a perfect example regards Doug Free. "The Cowboys are now without a right tackle!!'' Yes indeed. This is a deadline time, as discussed above. (And below, with Henry Melton.) So as expected, the 2015 and 2016 contract years of Doug Free became have been voided, thus keeping Dallas from paying him $8 mil a year for each of those two seasons. There is a $3.98 million cap charge for doing this, but otherwise Free is now an unrestricted free agent ... and yes, the Cowboys want him back, for money closer to the $3.5 mil a year he's recently made.
Hungry for some understanding of how the Cowboys front office really operates?
"Jerry and his Cornerstones'' gives you answers.
...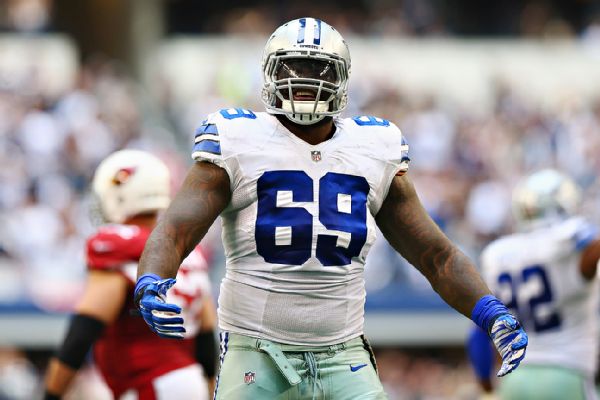 *We've got
an inside look at the departure of Henry Melton -- his fade, his future, and what being "The Mayor of McKinney Avenue'' has to do with it all
, in Premium Cowboys.
CowboysHQ.com's
"Cowboys Offseason Manifesto'' series covers every base, maybe most interestingly here: A cap-smart map to Dallas being big players in free agency.
A must-read for Cowboys fans who want to be ahead of the game!