IRVING — The NFL announced Thursday that
Cowboys defensive end Greg Hardy would face a 10-game suspension without pay for conduct detrimental to the league.
Though Hardy's domestic violence case involving ex-girlfriend Nicole Holder was dismissed in North Carolina state court this February, the league conducted its own two-month investigation into the incident.
Hardy's suspension now makes him the 10th Dallas Cowboy to have been suspended since 1996. Here is a look at the others:
Leon Lett —
The timorous Pro-Bowl defensive tackle was suspended a total of 16 games in his Cowboys career for violating the NFL's substance abuse policy. His first suspension was for four games in the middle of the '95 season with the Cowboys going 3-1 in his absence. In 1996, Commissioner Paul Tagliabue suspended "Big Cat" for one year without pay for failing a drug test. Lett missed three games of the '96 season in a hotly contested battle for the NFC East, and then 13 more the following year. After a season with no suspensions, Lett started off the '99 season with an eight-gamer. In total, the now-assistant defensive line coach missed 28 games due to suspensions.
Michael Irvin —
In March 1996, just as Cowboys Super Bowl XXX champs memorabilia was hitting the streets, Michael Irvin was arrested for cocaine possession at his 30th birthday bash. What followed was a media circus that included the three-time Super Bowl champion sporting a mink coat to his trial. After pleading no contest, Irvin paid a $10,000 fine and served a four-year probation. Additionally, the NFL suspended The Playmaker for the first five games of the 1996 season. Dallas went 2-3 with no Cowboys receiver gaining 100 yards.
Shante Carver —
In the middle of 1996's training camp, the underachieving first-round defensive end from the '94 draft suddenly left St. Edward's University in Austin without notice. Come to find out, Carver departed because of an impending one-year suspension due to violating the league's substance-abuse policy. Since joining the Cowboys, Carver probably violated the policy more times than he had sacked opposing quarterbacks. Ultimately, the league backed off the former Arizona State Sun Devil and levied an eight-game suspension. Somehow, Dallas knew Carver was in trouble, and so spent a second-rounder on Kavika Pittman of the '96 draft.
Wade Wilson —
In September 2007, the NFL fined Cowboys quarterbacks coach Wade Wilson $100,000 and suspended him for five games for buying and using HGH. Of course, Wilson, a 20-year diabetic, was taking HGH to improve his quality of life, an undertaking he began when quarterbacks coach in Chicago in 2004. Even though Wilson bought and used HGH to help his kidney function, vision, and fatigue, not to ever distribute to any players, Roger Goodell suspended Wilson for five games. Later that season, Wilson sought an explanation for the league's inconsistent policy enforcement when New England head coach Bill Belichick was embroiled in Spygate and only received a $500,000 and no suspension.
Tank Johnson
— While defensive tackle Tank Johnson committed his legal offenses during his final year as a Chicago Bear, he served his eight-game suspension in 2007 as a Cowboy. Johnson earned his suspension for his arrest in December 2006 when he was cited for violating his probation in possessing unlicensed weapons, which included two assault rifles. Johnson ended up serving 45 days in Cook County Jail in Illinois. Upon his release in June, Johnson was pulled over for speeding in Arizona and was suspected of driving while impaired. Bears general manager Jerry Angelo released Tank three days later.
Roy Williams
— Roy Williams at one time was a face of the
Dallas Cowboys
franchise, and considered one of the league's fiercest defenders. Breaking
Terrell Owens
' leg with a horse-collar tackle will do that, which is why the NFL banned such tackling in 2005. Factor in the NFL also protecting defenseless receivers, and you can see how the star safety's play suddenly slipped to just-another-guy levels. On December 16, 2007, Williams wrangled Eagles quarterback Donovan McNabb with his patented horse-collar tackle, his fourth such offense in two seasons. Referee Larry Nemmers threw a flag for unnecessary roughness, and commissioner Goodell suspended Williams for one game for repeated abuse of the league's horse-collar tackle ban. At least a Cowboy was suspended for something on the field this time.
Pacman Jones —
Pacman Jones had a myriad of legal troubles in 2007 that all stemmed from his involvement in a nightclub shooting in Las Vegas. Goodell suspended Jones for all of 2007. Sick of dealing with Pacman's legal troubles, the
Tennessee Titans
dealt him to the Cowboys in 2008 for draft picks contingent upon his good behavior. In early October 2008, Jones violated the league's personal conduct policy for fighting with his bodyguard, even though no charges were filed nor arrests made. The former first-round pick was suspended for six games because of the incident. Subsequently, Dallas received its 2009 sixth-round pick back from the Titans along with a fifth-round pick in 2009. It was the only time Dallas benefited from a suspension.
Josh Brent —
On December 8, 2012, Brent drove while drunk, wrecked his car, and killed teammate and best friend Jerry Brown in the process. After a lengthy saga that went from Brent being on the sidelines with the team (though deactivated) the next week, to failing a court-ordered drug test while on probation, to retirement, to prison, Brent finally returned to the Cowboys. Goodell placed a 10-game suspension on Brent, who ultimately returned to the team on November 23, 2014 in a 31-28 win over the New York Giants.
Orlando Scandrick —
During the 2014 off-season while on vacation in Mexico, the seven-year cornerback from Boise State popped a Molly. The methamphetamine was considered a performance-enhancing drug under the old league policies, which were updated during Scandrick's four-game suspension. Afterwards, Scandrick's sentence was reduced to two games. Scandrick returned with a contrite heart, and helped the Cowboys to a 12-4 record with his two interceptions, two forced fumbles, and one sack.
And let us not forget about third-year running back Joseph Randle, who was accused in February of brandishing a gun, breaking a car window with his fist and disposing of a large amount of marijuana — all in the presence of his infant son and in the wake of a 3 a.m. party at a Wichita, Kansas, hotel.
The mother of Randle's son, Dalia Jacobs, was involved in a trio of 911 calls to police, the first two of which included claims that Randle had "pointed the gun at the mother of his child'' and "He's coming. I have to go. I'm scared. Bye-bye."
This has all the makings of Randle being No. 11 on our list.
The woman, Dalia Jacobs, later made another call, telling the dispatcher the incident was a misunderstanding and that there was no need to send officers to the scene. But Jacobs has since requested a protective order against Randle, who grew up in Wichita, and is accusing him of abuse and of not paying child support.
When officers did arrive at the scene, they found no gun and a small amount of marijuana and he was cited for that. Wichita police are continuing the investigation, and sources say the Cowboys — who initially believed domestic violence was not involved -- are doing the same.
Randle came into the offseason with a chance to be elevated to a more important role with the Cowboys because rushing champ DeMarco Murray is a free agent. He's had a previous run-in with police stemming from his arrest last fall for shoplifting from a Frisco, Texas, department store. His attorney, Gary Ayers, issued a statement over the weekend claiming Randle regretted the party but is otherwise innocent of any serious crime.
"A woman who was present at the party has filed a protection from abuse lawsuit, which Randle believes to have no merit," Ayers said. "Randle asked the woman to leave the party and go home, which she refused to do. Contrary to the woman's allegations, Randle did not threaten her or brandish a gun at any time."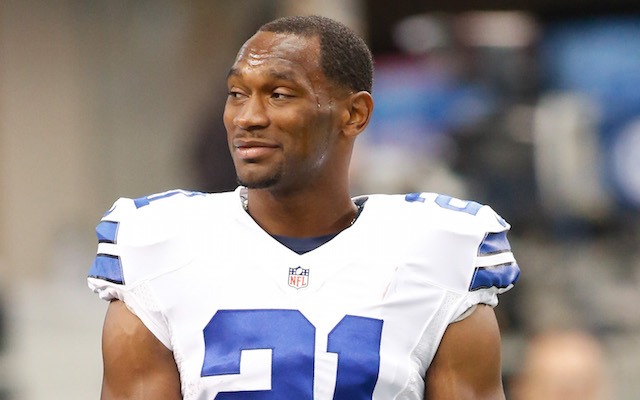 Are the Cowboys different than any other franchise in this department? Not really. But are the Hardy concerns worthy of front-page headlines? Absolutely.
See what Cowboys fans are saying here!
Related Story: All the latest in CowboysHQ.com News Archives!

Related Story: Exclusive: Cowboys Target 2 Pass-Rushers

Related Story: CowboysHQ Big Board: The Top 100 Targets

Related Story: Cowboys Schedule Analysis - The In-Depth Stuff

Related Story: 1-on-1 With Drew ... On Dez

Related Story: Cowboys 1-on-1: Mo Claiborne on his Future