We check in with
Dallas Cowboys
star
Jason Witten
at his annual ProCamps youth football came, staged over the weekend at Liberty Christian School in Argyle.
HOW'S YOUR OFF-SEASON? --
"I'm really optimistic about the season. Every year, you know there's going to be changes. We had success. DeMarco hit free agency. You hate to see a guy like that go just because he did everything the right way. He came up through the system and obviously had a phenomenal system last year. I think ever year there's challenges, and this year is no different with contracts and signings and free agents and everything that goes into it. I think Coach Garrett has done a good job, and our job is to say, 'Hey, last year is over with and we have to go prove it again.' And that's what we're focused on doing right now. Right now, my job and Tony [Romo's] and some of the other leaders' is create a way how to win. Last year was good, but we have to be better than that."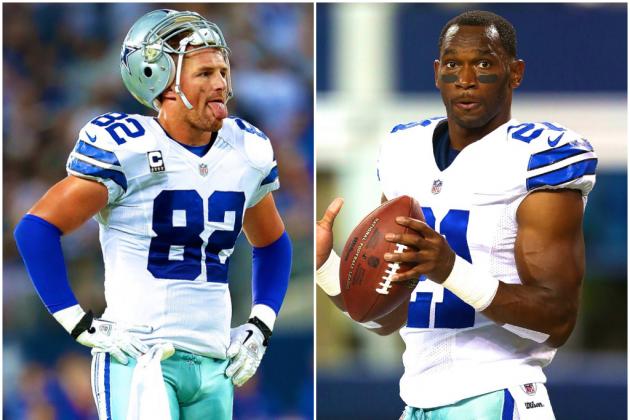 HOW DO RB'S FIT IN? --
"I think it all goes together. Obviously, the line has played well. You can't just put any kind back there. I think Joe Randle, when he had opportunities last year, really showed what he can do. Darren McFadden, I think he had a good off-season; really bought in to what we're doing. And then Lance [Dunbar] of course and then Ryan Williams. I'm excited to see how it plays out. I think more than anything: competition. Coach Garrett has tried to do a really good job of giving us competition and having us compete. It's a position we're all excited to see where it will go. I think Joe's grown a lot since what's happened last year and embraced this opportunity that he has in front of him."
HAVE YOU SEEN JOE BE MORE SERIOUS? --
"Yeah. He's had good workouts. I can tell he's focused often. I think he sees the opportunity that he has in front of him. I think he wants everybody to have that trust in him that he can be the guy."
ON GREG HARDY --
"Greg's been good. When you have a guy like that and he gets suspended and doesn't really know what's going to come. ... The guy works his tail off. I think our job is to welcome him and show him the way we do things and embrace him as a teammate. He's done everything you want; hard worker. Obviously, he's talented. And I think he's learned a lot from what he's gone through in the last year. So, he's had a good off-season."
HOW DO YOU REACT TO HARDY'S DOMESTIC VIOLENCE ISSUE? --
"Honestly, I think more than anything, everybody knows my story with domestic violence. And it's unwavering and that's something that I lived and my family lived. But, you know, that guy is a teammate of mine. So, I think you have to look at it from the standpoint of, as Coach Garrett said, it's our job to let those guys in and give the standard of how we do things. I think he's done a great job since he's been here. It's not my job to decide who comes and who doesn't. I'm a tight end. So, I'm really pleased with how he's approached himself and worked and the kind of teammate he's been. The next day he got suspended, the next day, he was in there working out. I think that's the kind of mentality he has (and) the kind of work ethic he's trying to prove."
WHAT DID YOU SAY TO LA'EL COLLINS AT JERRY'S HOUSE? --
"There wasn't a whole lot to be said from our end. There wasn't a whole lot of room to talk there. Mr. Jones was doing most of the talking. I think it was just a unique situation that he was in, and I think for everybody. What a whirlwind it was for him the week prior. I was impressed with the way he handled himself that night. I was impressed with the way he handled himself the next day with you guys. I thought he was real mature and handled it like a pro. And, so, I think, just as I said earlier, anytime you can make your football team better and create competition, that's what you're trying to. I think he'll create that competition for all of us and make our team better. It was unique to be in that situation. Obviously excited to have an opportunity to recruit him or whatever. It's good to see that he signed with us."
WHAT CAN HE BRING TO YOUR OFFENSE? --
"I think that has to play itself out. Ron [Leary] is a good player and played well last year. So, I think, just as I said, just to compete and see how it all plays out. I think that's really one of the reasons we had success last year is we went into training camp and everybody was competing. And I think that kind of our success was a byproduct of how we worked and went about it all the way through the season."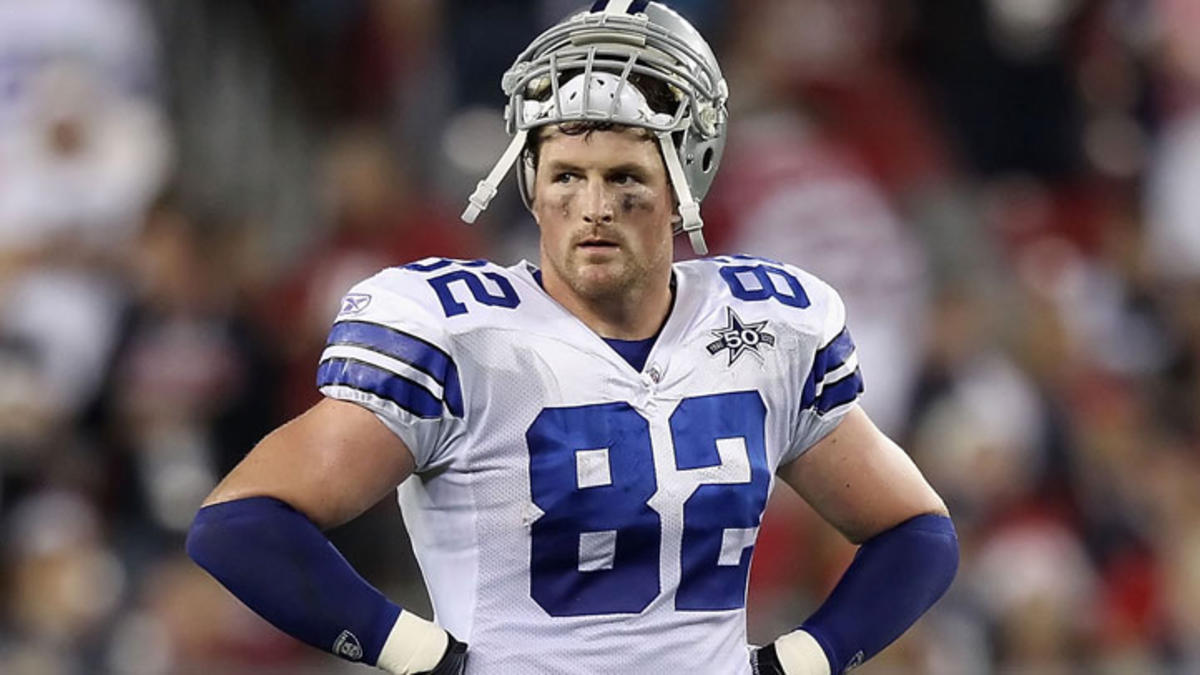 IS STARTING OVER THIS YEAR EASIER TO SAY THAN DO? --
"I think it's easier to do it. Because even when you have 8-8 years, it's probably not as bad as you think. You go back and you try to build on the things you did well and learn from the things you didn't do well. And I think seeing when you have success is ultimately, that's not the success you're really trying to have. And it's to not win a playoff game. It's not the standard for me and it's not what I want. And it's not what anybody in that organization wants to see. So, I think it makes it easier on myself to say, 'Okay. We established the identity of how we play. But there are areas where we can build on that and do better, individually and collectively.'"
INDIVIDUALLY, WHAT IS THAT FOR YOU? --
"Well, I think it's the consistency of what's being asked. I was in a little bit different role last year than years past and something that I embraced and learned to be an in-line blocking tight end in some areas in the run-action passes we did. But I think just playing at a level and the standard's high for me and what I want to accomplish. So, I have to go back and do it again -- the consistency of playing at a high level that way.''
DO YOU LOOK AT THE OFF-SEASON AS A GRIND? --
"Yeah. I try not to look at it that way. I mean, I think it's like I love playing so much. And I think you're after that ultimate goal of winning a championship at this point. It's not about another 50 catches. So, that's what's exciting. I feel like I have to have that approach because it's the only way you can get to where you want to go is have that approach every day of having a chip on your shoulder and motivated. And I think everybody in the building's seen that and is motivated by it."
CHIP ON YOUR SHOULDER? --
"You know what I mean. Just want to play at a high level year in and year out, not from a standpoint you have to prove anything."
YOUTH CAMP KEEPS HIM GOING --
"This does. This stuff is great. I love playing football. I love the offseason. I love the studying, going through and watching the tape, the grind of the evaluation process and what you can do better. I enjoy that. Then have the opportunity to see the excitement during events like this, and obviously giving back to the community is huge part of that platform that I want to have as a player and as a person all into one and hopefully be a champion."
ROMO'S BACK TALK --
"I thought the last 12 months was remarkable. Coming off the surgery and to play as well as he did and the kind of maintenance that he did with his back. And going into San Francisco and not playing well and just coming back and going 16, 17 weeks strong and having his best year yet. So, how he handled himself every single day. He worked his tail off. He did the maintenance with his back. And playing at a high level; just great leadership. I thought he did a great job. His standard and his expectation for what he wants to do and achieve is so much higher than what any of us thinks. So, he's constantly changing things to give himself a chance to be at his best. And I think that's what makes him elite is how he's approached it. He doesn't listen to any of that other stuff. And I thought last year was kind of the byproduct of all the work that he puts in."
ROMO HAVING 4-5 YEARS LEFT, DO YOU, TOO? --
"We do it like last year we can! I try not to look that far ahead. You just go one year at a time and I thought, for him, he did. He played as well as he's ever played. I think the way he's handled his back and the way he's on top of his body, he'll play as long as he wants to play."
ON ROMO ON TWITTER --
"I saw his two tweets. I thought it was pretty clever. I thought it was pretty clever. I thought it was, 'Hey, this is me.' I think it's great."
LIKE TO HAVE DEZ OUT THERE? --
"You would love to have Dez out there. Dez loves playing ball. I mean, he's a great teammate. You miss when he's out there just because of the energy and the passion he brings. He's a tone-setter. But I think everybody understands the business side of that. And he doesn't want it to be personal. He wants to play catch, throwing, working out, and running. It's Dez. He'll be there. He's taking care of himself. He'll be ready. Just part of the business. Hopefully, it gets worked out. If there's one guy that's going to be ready, it's going to be Dez Bryant."