FishTip 1: AD Sweepstakes
The Adrian Peterson story features a great deal of movement, movement of the hand-waving, teeth-gnashing, press-conference-calling variety. But
the Adrian Peterson story as it relates to the Cowboys, as we write exclusively here, is non-existent.
It's an absolutely fascinating story as we've discussed often
on 105.3 The Fan -- see you every Sunday morning on Fishnado!
-- but it's really not a Cowboys story.
The reasoning of COO Stephen Jones, who is overseeing the decision to not get involved in the AD Sweepstakes, is detailed in the above article. Now, what if things change? What if Minnesota puts the squeeze on AD and he doesn't budge? What if he lowers his demands to the tiniest of numbers? What if Arizona backs way off?
Are there "if's"? Can things change? I suppose, and if they change, I'll detail that and explain that and eat my crow. But while Cowboys fans still dream the improbable dream, I've got a high-placed NFL source now telling me this:
"There have been no (Cowboys) inquiries (to Minnesota about Peterson).''
I'll let the clickwhores write otherwise. I now have two Cowboys front-office powerbrokers and that quote to guide me. ... and to guide you. But ... (UPDATE): If you want to stay open-minded about it? Then consider Jerry bulling into the room and picking up the phone. Or ... consider agent Ben Dogra simply texting a bunch of reporters keeping this idea alive.
FishTip 2: Eating Crow on Ro?
I've written similarly strong takes on the
Dallas Cowboys
position on Rolando McClain. Here's the
inside scoop on why Dallas and McClain are prepping for a divorce.
On the heels of my story comes coach Jason Garrett, at the NFL meetings in Arizona, suggesting Dallas and Ro are still interested in each other, saying, "I talked to him two or three days ago ... We're just working through the business of the NFL.''
And I think that is lovely and sweet ... and absolutely not reflective of the behind-the-scenes thinking of the personnel department, the defensive coaching staff or McClain himself.
Yessir,
I'll be hosting a huge crow dinner over at The Maverick Bar
if and when the Cowboys trade for AD, re-sign Rolando McClain and do whatever else they presently plan on not doing. You and me and Adrian and Ro all making nice around the dinner table.
I'm not making "predictions'' about what the Cowboys plan to do with McClain, or regarding Peterson. I'm reporting on their intentions. ... and their intentions are, as originally stated, to "prep for a divorce'' from McClain. Again, if somehow Jerry and Ro stall the divorce by seeking "couples counseling'' or whatever, I'll let you know.
And ... (UPDATE): What if Dallas will/has offered McClain his vet's minimum of $745,000 - a one-year deal? Would Ro take that? Would he be a happy Valley Ranch camper at that relatively paltry wage? I'll let you judge that one for yourself.
FishTip 3: Betting on Petty?
This is not Jameis Winston or Marcus Mariota, who will go high in the April draft. And maybe the NFL's desire for QB's will cause Bryce Petty to go higher than, say, Round 3. But smart teams take stabs at guys with this level of aptitude, and Petty hopes, this level of passion.
"For me, the best way I can say it is you're going to get a guy who is passionate about football, loves football, loves to learn, loves to absorb," Petty said. "I think that's what is hard to find on paper. You really have to just get in there and be with (teams) and talk X's and O's with them."
The Cowboys and Petty will meet soon for a private workout. If Dallas were to draft Petty, he would be just the 29th quarterback selected in franchise history ... But the time, for this team, is coming.
The Jones family, recognizing that Tony Romo needs an heir, are thinking this way. The Premium scoop on Petty and the Cowboys here.
FishTip 4: 'Garrett Guys'
Meanwhile, in Arizona, Garrett lets himself get pushed into a corner on the subject of Greg Hardy and the coach's "right-kind-of-guy'' mantra.
"We believe in redemption,'' he said. "If we create the right kind of environment to bring the best out in him, both on the field and off the field, and then we hold him accountable to that, we believe over time he can become the right kind of guy. ... We obviously aren't for domestic violence, so let's get that out at the start. If we didn't believe that Greg Hardy could become the right kind of guy, we would not have signed him."
The back-lashing response is predictable. "Hypocrite'' is a fun word. Greg Hardy, Rolando McClain and Josh Brent
all being invited over to Rick Gosselin's home for what would certainly be a highly uncomfortable dinner
is a fun visual. (Rick's actually been to my home for dinner, in the early '90's, and it's a good thing I didn't invite him to the same imaginary gathering attended at my home by James Washington, Eugene Lockhart, Alvin Harper, Mark Tuinei, Nate Newton, Erik Williams, Deion Sanders, Mark Stepnoski, Charles Haley, Michael Irvin and a countless other '90's foundation-piece Cowboys who didn't always politely use proper table manners or whatever.)
"The right kind of guy'' is an aspirational mindset. It's not a locked-in "zero-tolerance speedometer,'' where if you drive 56 you get a ticket. That's the same set-up they have at your place of employment and in Garrett's place of employment, and the people who are being hypocritical are the ones who cannot admit this.
Maybe Garrett should just say, "We hired him to get sacks. We'll also try to get him behavioral rehab. But yeah, mostly the sacks.''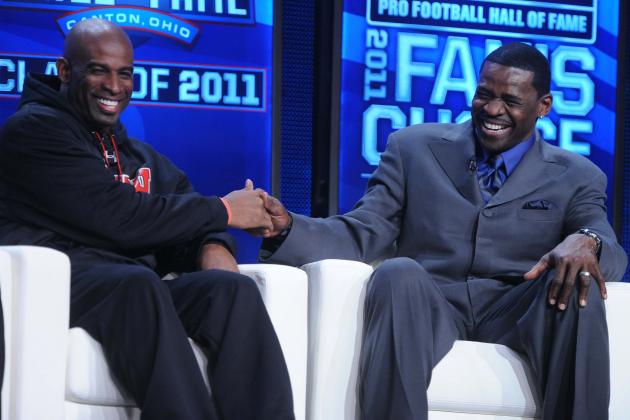 But he'd get killed for saying that, too, right? So he says, "The right kind of guy.'' Because it's a mantra he believes in ... no matter how empty is ends up being for too many football players ... and too many non-football players as well.
So why are we playing "Bad-Dream Dinner Party'' here and why are we playing "Gotcha'' on Garrett? Surely because we are only pretending to not understand. Surely.
(P.S.: Speaking of "games,'' I'm getting news on a huge, fun game-changing event that'll bring together your football, your fantasy + your favorite players. Stay tuned!)
FishTip 5: Hardy Har-Har
By the way: Greg Hardy, even if he's not a criminal, is a knucklehead. Book this. The Cowboys know it, too. I've argued with people who insist Dallas did only two days of research on this project because I know they did three weeks of research on Hardy, and I know they were a "no thanks'' on him as a first-tier free agent before becoming more open-minded when the idea of
a Cowboys contract with Hardy with "behavioral protection'' could be drafted.
They also know there is a suspension coming. I stand by my story saying that sources close to the situation believe Hardy will get a four-game penalty, even as Philadelphia radio station WIP reports it will be a 12-game suspension.
Here's hoping they never need those protections. But they are in there, in part, because the Cowboys know this guy is prone to knuckleheadedness.
FishTip 6: Comp picks
I got chewed out on
Twitter
this morning because Dear Reader swears I told him Dallas would be getting compensatory picks for losing DeMarco and the rest. And then today comes news: NO COMP PICKS! So Dear Reader is pissed.
Hey, Dear Reader,
the compensatory picks Dallas will be getting for losing DeMarco and the rest ARE FOR NEXT YEAR. As we've described in intricate detail here.
Seriously, we, as a society, need to do less "chewing'' and more "reading,'' you know?
FishTip 7: Draft-ready
Some links to get you cookin':
*Please read
"The Cowboys' Six Tells and Tendencies in the Draft.''
*Inside the Combine:
The Explosion Index for D-Linemen
*Scout with
an in-depth NFL mock draft that leads you to taking Owa Odighizuwa at No. 27.
(Another P.S.: Why would you take a pass-rusher at 27 after just signing Hardy? Maybe because Hardy is, ultimately, a one-year rental.)
FishTip 8: Negotiations
The
Dez Bryant
Walmart Unicorn Video was an old issue inside of Valley Ranch. Oh, making sure Dez is on the same page with what a "Cowboys For Life'' contract means, that is an issue. But as
the Cowboys and Bryant wrestle with how to do this
, there are two things you should know:
*The sticking point in these negotiations is "age and years,'' not behavior. And if the Cowboys side really makes an issue of much else, all Dez' side has to do is say two words: "Greg'' and "Hardy.'' And that'll be the end of that line of negotiating.
*Behind the scenes, Dez' "circle'' continues to get scrubbed up. I'm told there is another shoe to drop here that will greatly benefit Bryant in the coming months. Stay tuned for this one, too. Will be headline-grabbing.
FishTip 9: Women's Rights
Joey Ickes
offers a dispassionate look at the Greg Hardy case, the court proceedings and the law.
Tucked inside there is the Dale Hansen-led TV roundtable of which I was a part of, and Dale's position that Charlotte Jones-Anderson is guilty because she didn't prevent this signing.
Now, in the same breath, some of Jones-Anderson's accusers are bothered by the fact that she's the first Jones family member to grant an interview on the subject of Hardy-to-Dallas.
Charlotte's participation here is obviously a "strategic marketing move,'' which shouldn't surprise, as that's what she, you know, does for a living. If you view her interview as "obvious,'' well, you are correct.
But let me get this straight: We're FOR women's rights but also we're AGAINST Charlotte doing this interview? We're FOR Charlotte speaking out AGAINST this signing ... unless we don't agree with her view? That's our enlightened version of "women's rights''?
Gotcha.
FishTip 10: Carr's future
Brandon Carr's agent is saying B-Carr won't be taking a paycut in 2015. I will take that bet, and
if you understand the options before Brandon and the Cowboys, as outlined here
, you will do the same. Brandon won't be taking a paycut today because he doesn't need to, and because the Cowboys don't need him to. That will change, drastically, as the clock ticks forward, with Dallas desiring to keep him on the roster ... but under terms that Dallas will eventually control.