FishTip 1: Visits Begin
Each NFL team is allowed 30 visits from draft-eligible players, and the Cowboys aren't bothering to be secretive about the guys who will come through Valley Ranch today, Tuesday and Wednesday.
Among the visitors: running backs Todd Gurley, Melvin Gordon, Jay Ajayi, Ameer Abdullah and Tevin Coleman; cornerbacks Kevin Johnson, Quinten Rollins and Ronald Darby; and linebackers Shaq Thompson, Eric Kendricks and Benardrick McKinney, along with safety Damarious Randall.
The
"Kevin and Tevin'' combination is part of the reason our Jordan Ross' latest mock draft places them with the Cowboys in Rounds 1 and 2.
KD Drummond's
latest first-round mock also lands Johnson in Dallas.
And there's a reason
CowboysHQ.com's predraft profiles have been so heavy on running backs, with Gurley, Gordon and Coleman getting the Joey Ickes treatment.
Oh, and if you can't get enough
Cowboys Draft goodies? You've come to the right place. Here's KD and Bob Sturm in our Cowboys Crunchtime Podcast.
FishTip 2: Schedule announcement?
I'm told by NFL sources that the league has a tentative date to release this year's schedule: April 17. The league is pretty loosey-goosey with this stuff, so write this one in pencil ... knowing that Dallas plays a first-place schedule, its "reward'' home games against Seattle, Atlanta, Carolina, New England and the Jets, with road games at Green Bay, New Orleans, Tampa Bay, Miami and Buffalo. ... and then the home/road games against the trio of the New York Giants, Philadelphia and Washington.
Other key dates: The Cowboys' offseason workout program at Valley Ranch begins officially on April 20. OTA workouts will be May 26-28, June 2-4 and June 8-10. The mandatory veteran minicamp will be June 16-18.
FishTip 3: Draft Party!
There's gonna be "official this'' and "official that'' and we respect that. But there's also going to be a Cowboys Draft Watch Party on Thursday, April 30 that will include prizes, hangouts with some of your favorite folks, some of the best Texas-flavored burgers in town, drink specials and the NFL Draft on the 200-inch screen.
We'll party at
The Maverick, 1616 Hebron in Carrollton, and get you set up here on Facebook.
See you on Draft Night!
FishTip 4: 'Deadlines Make Deals'
It was 25 years ago when Cowboys owner Jerry Jones, sitting behind his big desk at Valley Ranch, told me (in regard to a contract for Issaic Holt or somebody), "Deadlines make deals.''
This is how the Joneses have always done their big business. They waited on head coach Jason Garrett's new deal this year. They waited on AT&T naming rights. They'll wait, it seems, on
Dez Bryant's "Cowboys For Life'' deal, despite how close they were at the end of October.
(And sure, as July 15 gets closer, the reasons to get worried here increase ... nevertheless,
what could Dallas and Dez do sensibly? This.)
Here comes another deadline that doesn't have anything to do with the Cowboys directly, at least not now: Adrian Peterson is meeting with the commissioner this week, reportedly, in advance of the April 15 hearing that will determine whether he serves a suspension in 2015. AD has no real association with the Cowboys at this time, but
The AD Improbable Dream can reasonably stay alive as long as Jerry Jones has that flip phone at the ready, as I detail here.
You are reading something in the local papers and you are hearing reports at the national level that insist Tony Romo's recent restructure of $12.8 million is "obviously'' tied to making room for AD.
The Romo Restructure is not, in any way, tied, to the pursuit of any big-money star outside of the ones Dallas is already signing, i.e., Hardy and McClain.
That's the fact.
That doesn't mean, though, that the Cowboys can't eventually chase other stars. It's not the preference of Jerry's lieutenants ... but in the case of Peterson, that simply makes it "improbable,'' not "impossible.''
So dream away with the Valley Ranch knowledge that ... "Deadlines make deals.''
FishTip 5: Hardy worries
The Cowboys entered the Greg Hardy process with an open mind. Then Jerry's lieutenants made it clear to him that while Hardy is a first-tier talent, Dallas' answer should be a resounding "no'' in regard to recruiting him that way and paying him that way.
And then, three days ahead of the pack, our crew at CowboysHQ.com and 105.3 The Fan
broke the story -- every aspect of it, really -- of Hardy signing with the Cowboys.
But there was an aspect to Dallas' pursuit then that seems on the verge of being misguided now.
People inside Valley Ranch worked on the assumption, in their roller-coaster pursuit of Hardy, that his behavioral suspension might result in, oh, four games missed in 2015. That remains the hope. But here comes photographic "evidence'' of what occurred on that fateful night in Carolina. And while I have no ideas what the pictures show, we already know how the visual of Ray Rice's absolutely criminal behavior seared into our brains just how much he needed to be punished.
I believe the Cowboys are concerned about more "searing'' here.
FishTip 6: Meanwhile, other worries
On paper, a defense bolstered by the surprising return of Rolando McClain, the All-Pro presence of Greg Hardy, the back-from-injury status of potential star Sean Lee, the maturation of Demarcus Lawrence, and, let's say, a first-round corner?
You look -- on paper -- like an incredibly upgraded group. But ...
What if Hardy missed a high volume of games? What is Lee's track record of availability? What is the guarantee that Lawrence can become dominant? What if the rookie isn't ready to play at a high level?
And most of all: What if the staff's concerns about having to put up with McClain's "enigmatic foolishness,'' his occasional desire to skip practice and his injury complaints -- some of them more legit than others -- ends up being more negative than positive inside Valley Ranch?
I was told the staff had no desire to make a monster commitment to Ro, and that staffers advised Jerry of that. I was told that maybe Dallas would dangle a vet-minimum deal at McClain, and that he probably would be too insulted to take it ... which maybe would be the best for all parties.
Then ESPN reported that Dallas signed McClain to a "one-year, $4-mil deal'' and I was prepared to eat crow. Upon further review, though: The base salary is actually just pennies above vet-minimum, at $750,000. And the commitment is so thin -- think about this -- that Dallas has an opportunity to grab this "reborn'' stud who is just 26 and fully hand him the keys to the defense with, say, a five-year deal befitting a Pro Bowl talent ... and instead gives him no real guaranteed money and a paltry one-year deal.
What does that tell you?
I've still got some feathers in my teeth. But I don't think I should have to swallow too much of this crow.
FishTip 7: Dez' pals
This is a story I will only write in full when I have the full cooperation on it from Dez Bryant himself. But I can tell you this now: Back in October/early November, when Dez separated himself from a few of his cronies (you know, the types who might find themselves milling around a Walmart parking lot, the types who might feel resentful about being cut off and jilted)? That was just the start.
There are more behind-the-scenes changes coming in Dez' personal/business life. They figure to have a profound impact on him on a number of levels -- a profoundly positive impact, if you ask me and if you ask him. Stay tuned.
FishTip 8: Witten Camp
Dallas Cowboys
tight end
Jason Witten
is hosting his sixth annual youth football camp, and boys and girls grades 1-through-8 are invited!
The Citi Jason Witten Football ProCamp will be held on May 16th and 17th from 9 a.m. to 12:30 p.m. at Liberty Christian School in Argyle, Texas.
Campers will learn fundamental football skills from a selection of area prep and college coaches. They will also have the chance to meet and talk to the 10-time Pro Bowler and six-time All-Pro, who will be on-site to direct the camp. Additionally, every camper will receive an autograph from Witten as well as a team photo with him.
Cost of the camp is $199, but you can enter coupon code
"COWBOYSHQ"
when you register online to save 10 percent!
For registration and more info, go to
www.jasonwittencamp.com
... and we'll see you at camp!
FishTip 9: Romo ignorance
The most ignorant storyline of the week? "Romo backstabbed DeMarco, forcing Murray to go to Philly.''
Romo and Murray are best friends, even after DeMarco's departure to the Eagles. The suggestion (made playfully by Romo in an appearance with "Ben & Skin'') that he might literally take money out of his pocket to give to Murray in order to keep him is silliness. And the idea that he should tear up his contract to accept a lesser deal in order to provide Murray more than the $6-mil-a-year Dallas was offering, while legal, is preposterous on two levels:
*One, it's almost, simply, not done. That is, a teammate giving up millions of dollars he's contractually owed and earned so another teammate can pocket that money.
*Two, even if Romo didn't mean this fancifully, the manipulation of millions of dollars of cap money isn't a decision he is eligible to make. That's the Joneses and their cap managers who oversee that. And those smart folks were never, ever going to approve of paying DeMarco $9 million a year.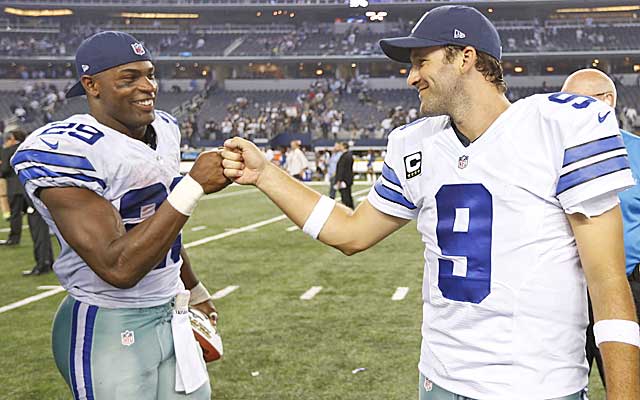 It made for a funny story when Romo first told it. It's being spun now in a manner that is at the very least ignorant and at another level almost evil.
FishTip 10:
I'm told there is a buzz inside
the Jones family regarding the idea of finally, truly, addressing the concept of a Tony Romo heir. ... and yes, Bryce Petty as a third-rounder makes a great deal of sense to some inside Valley Ranch. Here's our Premium look at how the pieces fit together.