Crawford's 'Courage'
The 2014 season ended in heartbreak for the
Dallas Cowboys
. On 4th down, Tony Romo threw deep to
Dez Bryant
, who was in 1-on-1 coverage. Dez acrobatically jumped in the air and snagged the ball before falling and reaching for the goal line. However, as you all know, the play was reversed and the Packers got the ball back. However, that's not how the game ended. The Cowboys defense had an opportunity to force a three-and-out and get the ball back to their offense. With two minutes remaining, Aaron Rodgers dropped back to throw on 3rd-and-11. Right as the ball left his hand, Cowboys DT Tyrone Crawford jumped up and got his hand on it. For a moment it looked like Tony Romo and Dez Bryant would get another chance to win this thing, but alas, the ball fell right into the arms of Randall Cobb for a 12-yard gain and a new set of downs.
"I thought I disrupted the pass when I hit it," Crawford told CowboysHQ in an exclusive interview. "I didn't think it was catchable, so I was shocked when I turned around and saw that he had it. It was upsetting but I had to move on."
The Cowboys had high hopes for Tyrone Crawford in 2013. Those hopes came crumbling down when Crawford tore his Achilles on the first day of Training Camp in Oxnard. However, after a year of rehab and hard work, Crawford built those expectations back up for the 2014 season - and this time he was able to live up to them. .. so much so that he is this year's winner of The Ed Block Courage Award.
Although he was finally healthy, the team wasn't sure where to play Tyrone at first. He saw snaps at defensive end and defensive tackle during OTA's and into training camp. At one point he even told me that he preferred to play at defensive end since that was his position in college and he thought he could be more effective there. Well, the coaches had a different opinion. In Week 4, the coaches permanently switched Crawford to the 3-tech DT spot, eventually taking over the starting job. Now, he says that defensive tackle is by far his favorite position.
"My feelings have changed completely," Crawford said. "I feel more comfortable now. I realized that I can get off the ball quicker and play my type of game better at the 3-tech."
Crawford finished the season with 29 QB hurries, 12 QB hits, 4 sacks, 3 pass breakups and a forced fumble. Crawford was also a millisecond away from recording about 3 or 4 more sacks as well. It was clear that this former defensive end had found a home after having a breakout year at his new position - but that's not to say there isn't still room to improve.
"The fact that I had my best year in the NFL definitely boosted my confidence," Crawford said. "I showed myself that I can play in this league and make an impact. I need to improve on a lot of things though. I've been watching guys like Warren Sapp and Jason Hatcher from 2013. I want to feel even more comfortable at this position."
While Tyrone saw major improvements in 2014 personally, so did the rest of the defensive unit as a whole. In 2013, the Cowboys defense was ranked 32nd in yards allowed. In 2014, they moved up to the 19th-ranked group. It's still not great, but it was enough to help make the difference between eight wins and 12 wins and earn this team a trip to the playoffs for the first time since 2009. Still, if this team wants to get even further, the defense must make another jump in 2015.
"We just have to continue doing what we're doing,'' Tyrone said. "Marinelli has us on the right track to become a great defense. Another year under him and in his system will make us better and better."
Rod Marinelli signed a three-year contract extension after the season, which will certainly help. Continuity is always a good thing in sports. However, the continued presence of Rod Marinelli isn't the only reason that Crawford thinks the defense will improve. Tyrone mentioned a couple of his teammates that could play a big part in the defense taking the next step as well.. The first of which was Sean Lee.
"It's going to be huge for us to get Sean Lee back," Tyrone said. "Sean's the quarterback of our defense. He knows everything about the system. He knows plays before they're coming. That's going to help us a lot."
Crawford's other teammate he mentioned was rookie DE Demarcus Lawrence. Lawrence came into his own during the Cowboys playoff run, with 2 sacks, 2 fumble recoveries and a forced fumble vs the Lions and Packers.
"I'm not gonna put a ceiling on Demarcus,'' Crawford said. "He can be as great as he wants to be. He knows what he wants and if he just keeps working at it, he'll get there."
I attended a draft party with Crawford and some of his teammates last year. As we all waited to see who the Cowboys would pick in the first round, Crawford couldn't say enough about fellow Boise State alum, Demarcus Lawrence. He wanted so badly for the Cowboys to take Lawrence with their 1st round pick. Instead, the Cowboys selected OG Zack Martin (who was a Pro Bowler and All Pro in his rookie year). However, the Cowboys apparently shared Crawford's admiration of the talented pass rusher and they traded up in the 2nd round to grab him the next day. Now, there's another Boise State Bronco that Crawford says his team should keep an eye on. ...
"We've got our running back Jay Ajayi coming out,'' he said. "There are a some other guys that are good, but Ajayi is the one that comes to mind right away."
Crawford told me there have been no talks about extending his deal yet, which expires after the 2015 season. Rather, his focus is team-building.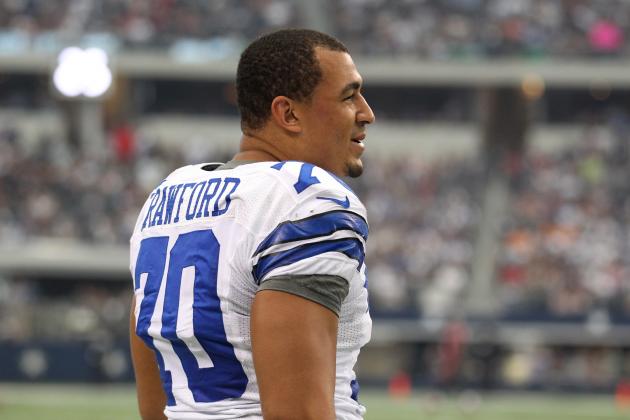 "We've just got to improve on what we've been building," Crawford said. "We've set up a good thing. The way the Jones family is building this team - I feel like we've just gotta keep going and stick to the plan."
Dez' Deal: A Structure
So much of this offseason hinges on Dez and the Cowboys coming together. What could Dallas do here, sensibly?
Both sides are certainly happy to get to
the football business of Bryant's "Cowboys For Life'' deal ... and here's what such a deal can look like.
Six Tips
You consider yourself a Cowboys draftnik? Please read
"The Cowboys' Six Tells and Tendencies in the Draft.''
...
Red Rock Bar and Grill
Cowboys goodies today presented by the gang at
Red Rock Bar & Grill
, our North Dallas hangout for sports and live music.
Let's meet at Red Rock this week!
Cowboys 'In' On Hardy
Our own Mike Fisher on 105.3 The Fan on Monday morning reports that the
Dallas Cowboys
are now "in'' on the pursuit of
Greg Hardy
, the gifted free-agent defensive end with the domestic-violence issue.
What changed from last week, when
CowboysHQ.com was issued a very clear "no'' on the idea of Hardy-to-Dallas?
"Second-tier'' means "second chances.''
As
Fish writes, "A lot of sacks but a lot of baggage. Their position has changed, sources telling 105.3 The Fan that Dallas now has Hardy "under consideration.''
And in fact, it seems this thing has accelerated. Not "done.'' ... but obviously being considered in the building.
Hardy is a stud. He recorded 15 sacks in 2013 for the
Carolina Panthers
, is 6-4 and 275 and just 26 years old, and first everything Dallas does. Is there a point where the price is so low that the baggage becomes tolerable? Obviously -- because while various other media outlets stress that the Cowboys are playing it casual regarding their interest, the interest is clearly there.
1-on-1 With Gachkar
Why Andrew Gachkar? Well,
why not?
After losing special teams ace
Dwayne Harris
to the
New York Giants
, the Cowboys needed to fill the void left at special teams while also stocking the shelves at linebacker.
Gachkar racked up 14 special-teams tackles in 2014, tied for the 14th-most in the league. It's what he did for Rich Bisaccia in 2011 when the Chargers drafted Gachkar in the seventh and head coach Norv Turner played him all 16 games. The only other Charger who had more special teams tackles than Gachkar's 12 in '11 was future Cowboy
C.J. Spillman
with 18.
"Rich kind of drafted me and bring me into the NFL," Gachkar told CowboysHQ.
Was it really Bisaccia who wanted Gachkar in Dallas, or did his former college defensive coordinator, Matt Eberflus, want the Overland Park Blue Valley star to come to Valley Ranch?
"Honestly, equally, they're very important people in my decision coming to Dallas," Gachkar said. "Eberflus brought me up and is kind of like a dad to me. Coach Eberflus, he was with me at Mizzou, and I love the way he coaches and his intensity and everything like that."
Dallas can certainly use his services at linebacker with the departure of
Justin Durant
to the Falcons,
Bruce Carter
to the Buccaneers, and the uncertainty of
Rolando McClain
. Gachkar started five out of 15 games last season with the Chargers, recording a sack and also
returning a fumble recovery for a 13-yard touchdown.
For the past four pro seasons, Gachkar has played in the 3-4 defense. Can he get back to his old college-day familiarity with the 4-3 under Eberflus? Said Gachkar: "Learning to play a 4-3 again, it's a task, but I don't think it'll be too hard. I spent four years in college. We played the 4-3, and coming to the NFL to play in the 3-4 was an adjustment itself."
Poor Andrew had to wait three hours on the tarmac at Logan International in Boston waiting for his flight to take off due to the snow blasting the Northeast. However, the excitement of coming to Big D sustained him.
"I was excited to get here, and I was texting my wife the whole time on the plane," Gachkar said. "Talking about the excitement of being in Dallas where she's from. So, it's awesome."
Onside kicks
*How
the Cowboys will cash in on compensatory picks for this spring's losses. Great work by KD here.
*The Cowboys didn't tender cornerback Sterling Moore. They have claimed cornerback Corey White off waivers from New Orleans, where he started nine games in 2014 before losing his first-team job and ending up playing some safety. Do you like Moore better than White? Or does it matter that the Marinellis and the McClays like White better than Moore?
*Here's the
"why'' of Dallas' signing of Darren McFadden. ... to a deal that includes a 2015 salary of what we're told is just $900,000.
Heads-up here: What if McFadden isn't meant as DeMarco's replacement, but rather the replacement for any backup runner who happens to put his fist through a windshield? Dallas has also signed middle linebacker Jasper Brinkley and fullbacks Jed Collins and Ray Agnew.
*And speaking of running backs: There is simply no logic to Dallas being "out'' on an Adrian Peterson deal until their "out.'' The guaranteed-money demands, the trade demands, the other bidders ... factors all. But why would a runner back out of a race -- no matter how unlikely a win -- before the race even begins?
We detail some truths about AD and Dallas here.