When
Dustin Vaughan
made the 53-man roster before the start of the regular season, it had many fans scratching their heads. Why put this guy on the roster if he's not going to play a single snap? The Cowboys clearly liked Vaughan enough that they weren't willing to risk waiving him and having another team scoop him up. They saw some serious potential in the 6-5, 235-pound undrafted rookie quarterback from West Texas A&M.
With the 2015 draft quickly approaching, Vaughan, 24, reflects back at what it was like being a rookie and how different the NFL is from college.
"Honestly, you don't even realize until you get into the NFL how much more preparation goes into it," Vaughan told CowboysHQ in an exclusive interview. "No longer is it something you do on the side along with your academics in college. This is your job."
Since Vaughan never played a regular-season snap, fans never got a chance to see him improve throughout the season. However, that doesn't mean that Vaughan didn't make serious improvements.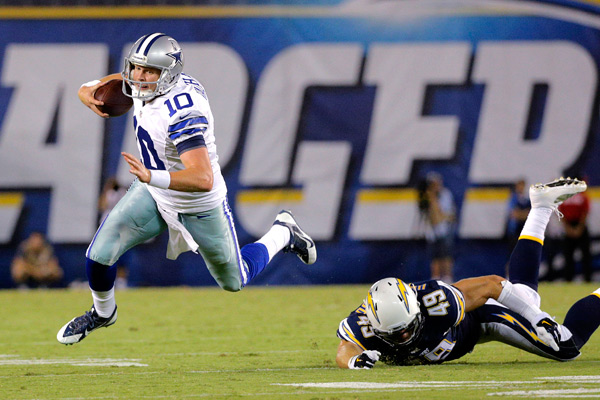 "I've improved on the mental aspect of the game more than anything," Vaughan said. "Coming from a Division II school, I knew it would be a big jump. There were a lot of specific things I needed to work on as far as accuracy. I learned that ball placement is huge in the NFL. It's not just about whether you can complete the passes, it's all about where you hit the receiver in his body."
While Vaughan did most of his learning on the practice field and meeting rooms at Valley Ranch, he learned a thing or two standing on the sideline during games, watching fellow undrafted quarterback
Tony Romo
.
"It was awesome to be able to watch him and see how he handled the season," Vaughan said. "With the run game and O-line we had, I got to see Tony really utilize the run game as a weapon to open up the passing game. No longer was he having to throw 40 or 50 passes in a game, it was 20 or 30. What impressed me the most about Tony was that he was so accurate. He went 18-for-20 in one game, which is something you don't see often."
Tony Romo wasn't the only undrafted quarterback who made an impression on Dustin Vaughan. Head coach Jason Garrett caught his attention as well.
"There are two things I like about Jason Garrett that I think allowed him to be in running for Coach of the Year," Vaughan said. "One, he taught us that we could do all of these things right, but to be in the running to win a Super Bowl, you have to be able to fight hard and fight for each other. He pressed that into us. I think that's one big reason we were so successful this year. And two, he holds himself well. He's very professional. Everyone buys into the way he carries himself. He teaches us to be a good professional. It's a job - a high-profile job. The media and TV is on top of you and we're responsible to understand how vulnerable that is and to act like professionals in every aspect of the game, both on and off the field."
As much as he learned in 2014 from the practice field, Tony Romo and his head coach, Vaughan understands that he has much more room to grow and that he is still in the beginning of his NFL journey.
"I just want to continue to learn as much as I can," Vaughan says. "I've learned so much but there's still a whole lot I can learn. I want to be able to kick it up a notch in my second season. I hope I can take what I've learned and apply it in practice and games so the coaches can see that I have improved drastically.''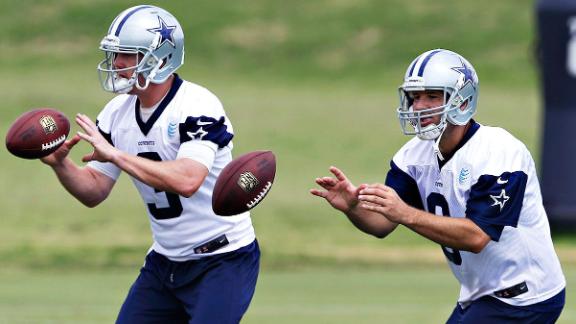 Considering the success the
Dallas Cowboys
have had with other undrafted quarterbacks, Vaughan has a pretty good shot. But this is a "Talent-Upgrade Business.'' The Cowboys will eventually need to replace Romo, will eventually wish to upgrade from Weeden, will ponder cheap ways to get better
(can you blame the Cowboys Crunchtime Podcast for examining a washed-out Manziel?)
... may even use the draft this year or next to do so. Romo won't play forever. Nor, says the smart money, will he last 16 games a year.
"My hope going into every season from now,'' Vaughan said, "is to be able to play and be prepared when and if that time comes."
Onside Kicks
*Cowboys fans got the story here first, and best:
"The Cowboys talk of Dez' tag plans - with negotiation details
*Cowboys RFAs?
We've got the scoop on Cole Beasley's coming deal.
*In an exclusive with Stephen Jones,
CowboysHQ.com learns the team's "shop-and-drop'' plans with DeMarco Murray.