Two Cowboys out
Dwayne Harris considers himself the NFL's most versatile special-teamer and now the Giants will pay him that way, luring him away from Dallas with what sources tell us is a five-year, $17.5-million contract.
"Will be taking my talents to the Big Apple,'' Harris tweeted Tuesday, shortly after the NFL's free-agency shopping period opened.
Harris caught just seven passes for 116 yards (with four carries for seven yards). But offense wasn't his Cowboys forte as much as special-teams play was. He dipped a bit in 2014, averaging 24.7 yards per kick return and 9.2 yards per punt return. But the year before he averaged 30.6 yards per kick return and 12.8 yards per punt return, in addition to perennially being Dallas' best kick-coverage guy. He also led the Cowboys with 18 special-teams tackles.
Meanwhile ... A couple of days ago we spoke to Justin Durant and despite his impending free agency, he was optimistic about returning to the Dallas Cowboys.
"I'm glad people are interested," The team captain told me. "And hopefully we get it done."
It turns out the "people'' that are most interested are the Atlanta Falcons, who are hiring away Durant after his two seasons in Dallas.
The Cowboys have prioritized the return of Rolando McClain, will get Sean Lee back from injury, have Anthony Hitchens coming off a fine rookie season, and have signed NFL veteran Keith Rivers to a deal.
But Durant was the consummate pro during his time here even as he missed two thirds of last season due to injury. He earned a reputation as a playmaker and was even voted team captain by his mates as he began his second year at Valley Ranch.
Item by item
*As of this morning: There is no DeMarco Murray
offer
from the Cowboys -- but if you read this space, you knew a week ago that was going to be the case.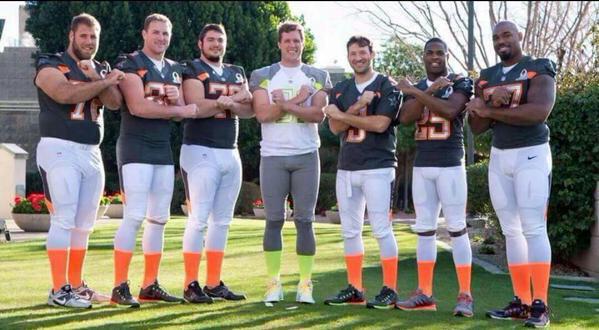 There is also no offer from anyone else. Maybe that changes today (if Jacksonville gets serious with him) ... though right now the only thing that's changed is DeMarco's Twitter avatar ... a possible sign that he's displeased with the Cowboys because they are doing exactly what they told him they would: Let him "shop'' while hoping he'll "drop'' back to Dallas.
There have been no serious negotiations with agents Johnson/Dye all this time. Is Dallas prepared to "visit'' today? Yes. Is Dallas prepared to negotiate to DeMarco's desired level? No.
*We reported yesterday afternoon that agent Tom Condon has no face-to-face meeting scheduled with the Joneses regarding client Dez Bryant's cap-compliance-deadline-beating "Cowboys For Life'' deal. This is not a good thing. We will monitor.
We reported on Sunday that the "Tyron Trigger'' would happen before cap-compliance time, 3 p.m. today. It's done, and now Dallas has about $9 million of room (with Tyson's $8 mil of space created). In addition to DeMarco, Rolando McClain is a priority and Dallas is touching base there.
*The Cowboys are sitting on the Brandon Carr talks right now, likely to re-explore if/when needed.
*Looks like Paea to the Redskins. ... I don't think Dallas is as high on the idea of Adrian Clayborn (Tampa defensive end) as reports say ... Put Green Bay corner Davon House somewhere on the Cowboys' free-agency wishlist - but there he goes, to Jax. ... QB Shaun Hill in a reunion with Scott Linehan? ... Cromartie is talking about the Cowboys as his fave team from childhood. But he'd be talking about an adult paycheck here.
Dry DeMarco Market?
Where is the DeMarco Murray offer that pays him like AD or McCoy or Lynch?
In what constitutes so-far bad news for the NFL's leading rusher -- but good news for a Cowboys fan base, Cowboys management the Cowboys locker room -- the idea of a monster offer for Murray simply isn't happening yet.
This can change on a dime, and all it takes is one bidder. But right now? Where is Jacksonville's bid? Where is Indy's bid? Where is anybody's bid?
We predicted earlier (see below) that Dallas would not match a $9-mil-a-year offer to Murray, and we stand by that, but we take it further: Dallas might not have to do so, because one might never materialize.
I can tell you that team leaders love the idea of him returning. And that the Joneses' numbers on doing so are up from the old 4X4. (A source close to the Joneses tells me Jerry's "parameter'' is $1 mil a year higher than Stephen's.)
Cowboys Nation crosses its fingers here: A budget fit for a roster fit ... and maybe, just maybe, you keep a very good player in the fold ... because no other team wanted to unfold its wallet for him.
Money Matters
The Cowboys Cap to the moment? the
The Dez placeholder is $12.83 million. See how this works here.)
The Beasley deal ($2 million) brought the Top 51 to $144.1 mil. The signing of linebacker Kevin Rivers has a low cap impact. The Doug Free signing should count $3 million ... So the Dallas cap of $148 mil (because there is $5 mil carryover from 2014 atop the $143-million league ceiling) means there is ... Oh, about $1 million of room as you read this.
So how to shop?
Substantial moves won't happen until Dallas carves out more cap space by re-working one or more deals. When they have a deal they want to do (beyond Dez) ... they carve. Details below in our "Cowboys Free-Agency Shopping Roundup'' ...
DeMarco and Jacksonville?
There is no Dallas movement here involving
DeMarco Murray
. There is a lot of bull being shoveled here by folks outside of Valley Ranch; one outlet actually reports "several league sources (say) DeMarco is returning to the Cowboys.''
This would be news to Cowboys executives, who have no intention of being the market-setters on Murray. (Nor are they at all influenced by the huge-money deals being given Shady McCoy and others. McCoy and the Bills have agreed on a five-year deal featuring $26.5 mil total guaranteed ... or somewhere in the ballpark of the Jamaal Charles-level that Murray was already seeking in Dallas).
The lessons have been learned here and the parameters are being observed. In fact, our sources tell us not only are the Cowboys and Murray not negotiating a "done deal'' ... but that as of Sunday they hadn't even visited at all on the matter.
No, this is a time to find money, not to blow it. Watch Jacksonville attempt to lead the charge for whatever $9-mil-a-year market DeMarco might find. And by the way: If the Jags offer that to Murray, consider the possibility that they won't allow him shop it back to Valley Ranch -- not that it'll make any difference there, anyway.
*What's the Cowboys thinking here?
We separate the fact from the fiction with DeMarco Murray here, including thoughts on Adrian Peterson.
And it's why there is no panic over Mark Ingram staying in New Orleans for a 4x4, and why it's people outside the building who are all excited about names like C.J. Spiller, not people inside the building.
The Paea Plan
The Dallas Cowboys habitually resist spending on the 1-tech defensive tackle. It's why they hope Terrell McClain and Josh Brent can be bargain wins there, why a premier-round talent like Carl Davis from Iowa is worthy of debate, and why the 2013 comedy of errors that was the non-drafting of Sharrif Floyd still haunts.
But what if funds are used to acquire a known quantity ... Fitting the budget … and he is more than just a 1-tech player?
Enter
Stephen Paea
.
Paea, who will turn 27 in May, started all 16 games for Chicago in 2015, and is on the Cowboys' radar ... though they'd like to keep this under-the-radar. He's a Marinelli guy - and that seal of approval means a lot in this building. He completed 49 reps on the bench press during the NFL Combine, the second-most of all time, making him a capable wide-body as a 1-tech.
Problem: Stephen Paea is reportedly closing in on a four-year deal in Washington.
Flipping switches
What happens if and when somebody says yes? Or if Rolando McClain (who has exchanged contractual ideas with Dallas) does?
The front-burner ways of getting that room include a Tyron Trigger.
Built into
Tyron Smith
's deal is presently a 2015 base salary of a little over $11 mil, with each of the next six years being at just $10 mil in base salary. Restructuring Smith to the league-minimum could net Dallas another $8 million in cap space. And voila!, the Cowboys have room.
Dallas can do something similar with Tony Romo's contract, and might. There is also savings to be had depending on whether Brandon Carr accepts a slice.
When there is a shopping reason to flip this switch, Dallas will flip it.
By the way, Dallas doesn't need "room'' to do Dez. His placeholder is already accounted for. But if you get Dez done by cap-compliant day, Tuesday, you can change that $12.8 mil hold to, say, $5.4 mil by giving Bryant a "Cowboys For Life'' long-term deal. ... and then you get even more shopping room.
Keeping the 'Big Daddy'
Stephen Jones tells CowboysHQ.com about
the Doug Free signing (three years, $15 mil, $6 mil guaranteed.)
This figures to be $6 mil guaranteed with just the aforementioned $3-mil cap hit for 2015.
Cowboys Mock Draft
*We mock-draft all seven rounds for
the Cowboys ... and come up with some doozies.
We do this with a reminder: The Free signing frees Dallas to further follow B.A.A. ... So it can be Gurley in the first round or Coleman in the second and you have your running back. ... or it can be a cornerback in the premier rounds, a group that includes
Trae Waynes
,
Marcus Peters
, Kevin Johnson
Byron Jones
and
Ronald Darby
.
Pressure players
Premium
Dallas Cowboys
:
Besides Paea, what the Cowboys say privately about Greg Hardy.
And
about Trent Cole and Brian Orakpo here.
Miscellaneous
Justin Durant tells CowboysHQ.com he's optimistic about staying in Dallas ... George Selvie is reportedly visiting with Minnesota ...
Here's the story on Dallas' signing of Keith Rivers.
... The Jags are in on Jermey Parnell. ... Agent Jordan Woy tells me Henry Melton has six suitors. Dallas won't be among them.
Legal Tenders
They have needs at cornerback, but the Cowboys will not tender
Sterling Moore
a contract as a restricted free agent, meaning they don't view him as worthy of the $1.5 mil right now.
Why not? Because the coaching staff doesn't love Moore to the tune of $1.542 mil.
This is a surprise to us, as Moore played in every game in 2014, starting seven of them, and playing well for the bulk of the year. He led the Cowboys in pass deflections with 14. ... and would see to have some value with Claiborne hurt and Carr in limbo. Consider this a showing of faith for Patmon and a recognition of what we mentioned about regarding the draft.
Meanwhile, the Cowboys will give the low tender to running back Lance Dunbar and punter Chris Jones worth $1.542 million. The tender is not guaranteed; Dallas isn't ready to hand Dunbar a full-time role, obviously, and Jones has been a better holder than a punter. Dallas is bringing Aussie punter Tom Hornsey.
The Philosophy
"Overpaying free-agent wise has not borne out. Not just for us, but around the league in general. When you go out and overpay in free agency, those usually don't have good endings." - Cowboys owner Jerry Jones.