The top 10 "traitors'' in Cowboys franchise history? This is really about, as Jerry Seinfeld said, "cheering for the laundry.'' Deion is a Niner? We hate him. Deion comes to Dallas? He's ours! With that in mind ... some fun with a top-10 list of treasonous turn-coat traitors!
No. 10 -- Jason Hatcher
Though Hatcher had an Pro Bowl season in his contract year with the Cowboys, common knowledge was Valley Ranch wouldn't try too hard to keep the defensive end. After heading to Oakland, Hatcher tweeted he was heading to Tennessee for a free agent visit. That very day, Hatcher was a Washington Redskin,
proclaiming the franchise gave him the best chance to win a Super Bowl.
Washington followed up a 3-13 year with a 4-12 mark under new head coach Jay Gruden. One of those paltry wins came against the Cowboys on Monday Night Football on October 27, 2014. Washington literally broke
Tony Romo
's back in the 20-17 overtime victory, and one of the most sportsmanlike images -- and why it's hard to label Hatch a "traitor" -- is the eight-year Cowboy checking on his former teammate.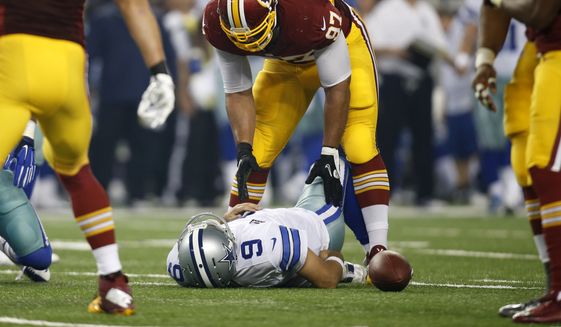 Hatcher only recorded 5.5 sacks through 13 games with Washington, down from 11 through 15 in his final year in Dallas. He's truly one of the good guys, even though he plays for the bad guys.
No. 9 -- DUANE THOMAS
After taking Calvin Hill in the first round of the 1969 NFL Draft, the Cowboys took a running back again in the first round of the 1970 NFL Draft. But Thomas was different than Hill, being billed as the next Jim Brown and all. In 1970, Thomas' 151 carries for 803 yards and 5 touchdowns led Dallas to Super Bowl V. However, he had money troubles, which led to Thomas wishing to re-negotiate his contract with general manager Tex Schramm. And a player doing that in those days didn't much fly. After even more successful 1971 campaign that ended in Super Bowl victory, Dallas released the mercurial Thomas.
The former first-rounder spent 1972 with the Chargers, though his bad attitude prevented him from ever playing a meaningful down. In 1973, San Diego traded Thomas to Washington where he remained for a couple seasons. Both of his games against Dallas were losses, the most notable one being the 1974 Thanksgiving classic. After leaving Washington, Thomas went into the World Football League, rejoining Calvin Hill on The Hawaiians club. In 1976, Thomas tried out with Dallas before being waived at the end of preseason. Failed attempts in the CFL and with the
Green Bay Packers
culminated with an early retirement.
Thomas' closing statements on the Cowboys always winning amidst controversy on "America's Game'' indicates he still keeps up with Dallas, but it's inconclusive to tell if Thomas has made up with the franchise.
No. 8 -- Stephen Bowen
In 2011, new Cowboys defensive coordinator Rob Ryan was excited about working with his new "bullies," especially defensive end Stephen Bowen. However, after the lockout subsided and an abbreviated free agency period began, Bowen decided to sign with rival Washington.
Perhaps the most memorable game involving the ex-Cowboy was his first game back on Sept. 26, 2011 in an 18-16 loss on
Monday Night Football.
Cowboys center
Phil Costa
accused Bowen of calling out fake snap counts during the game,
and Bowen fired back by calling the second-year center a "liar."
Bowen's tenure in Washington petered out after his first season, where he recorded six sacks, recovered a fumble, and started all 16 games. Since 2012, Bowen has only played in 35 out of 49 possible games, including playoffs. Bowen's last sack was a half-sack against Romo in Washington's 38-31 win on Thanksgiving in 2012.
No. 7 -- Deion Sanders
Calling Deion Sanders a "traitor" is somewhat inaccurate since his loyalty has always been to himself, but let's roll with it. After being released from the Cowboys following the 1999 season, Deion Sanders joined receiver Mark Carrier and defensive end
Bruce Smith
in Washington to be part of Dan Snyder's free-agent extravaganza. In two games against the Cowboys, "Primetime" had four punt returns for a total of 11 yards. No interceptions. No fumble recoveries. No tackles, but we already knew that. Mind you, Dallas was trotting out
Randall Cunningham
, Anthony Wright, and a broke-backed Troy Aikman to throw the ball, and Sanders couldn't nab a pick.
In 2001, Sanders was a guest in the booth on Monday Night Football with Al Michaels, Dan Fouts, and Dennis Miller during an Oct. 15 game between Washington and Dallas. Sanders dropped a "fun fact" that both clubs were still paying him, though he had retired earlier that year. In 2004 for two seasons to play nickelback for the Ravens with limited success. When he's not mentoring college athletes or appearing on NFL Network, Deion lives in Dallas, running his own charter school. Kinda.
And just when you think he "betrayed'' the Cowboys ... hey, had he not "betrayed'' the Falcons and Niners, he'd have never become a Cowboy in the first place. (And don't even get us started on the locker-room turmoil he created at Valley Ranch, from coach-and-QB on down.)
No. 6 -- DENNIS THURMAN
In the blog comments and forums each off-season back in the day, Cowboys fans will talk about how Jerry Jones needs to "get over it" and hire Dennis Thurman to either coach secondary or coordinate the defense. It sounds like a good idea, and I sometimes would side with them. So what if he played for the St. Louis Cardinals in his final season? He's the founder of "Thurman's Thieves.'' Why did Thurman end up out of Dallas in the first place? It turns out Thurman had a dispute with Schramm and was waived. So maybe the reason Thurman didn't coach in Dallas back then had nothing to do with Jerry.
Thurman's tenure in St. Louis was unspectacular. He did join their coaching staff in 1988 and coached there for two seasons before moving to
USC
from 1993-2000. His only opportunities to coach against the Cowboys came in 2004 as secondary coach for the Ravens and in 2011 with the Jets. His units recorded at least one interception per game. In 2013, Thurman took his place as Rex Ryan's defensive coordinator with the
New York Jets
, and has since followed Rex to Buffalo to serve in the same capacity for 2015.
No. 5 -- NORV TURNER
After leading the Cowboys offense to two Super Bowls, Mr. Turner went to Washington, a move that was in the works independent of Jimmy Johnson's "mutual decision" to leave Valley Ranch. While recording a 49-59-1 record that included a lone playoff win in 1999, Turner joined Joe Gibbs as the only head coach, at that time, to have swept the
Dallas Cowboys
. Overall, Turner could only muster a 9-4 record against Dallas. In 2000, after falling to 7-6, Snyder fired Turner before their road contest against the Dallas Cowboys.
Turner returned to Texas Stadium as the offensive coordinator for the Chargers in 2001 and the Dolphins in 2003 to defeat the Cowboys. As head coach of the Raiders in 2005 and the Chargers in 2009, Turner also accomplished this feat. With one of his disciples as head coach in Dallas, many fans speculated over the years that Norv would return. Turner spent 2013 in Cleveland before joining ex-Cowboys defensive coordinator Mike Zimmer in Minnesota as their offensive coordinator.
Of course, as our own Mike Fisher reported at the time, had Jimmy made his intentions to leave Dallas known to Jerry and to Norv, Turner never would've sought the Redskins job. He would have inherited the head-coaching spot in Dallas. But Jimmy's so slick, he eludes even this top-10 list!
No. 4 -- Chris Canty
This 2005 fourth-round draft choice played four seasons with the Cowboys, becoming a starter in his second year. The price for defensive ends in the 2009 off-season did not dictate the salary the Cowboys thought Canty deserved. So, Canty went to New York to play with his hometown Giants, as well as switch to defensive tackle in their 4-3 front. Hurt for half the season in 2009, Canty never saw the field except for eight games. His big season came in 2011 when he recorded four sacks and a safety. One of those sacks came against the Cowboys, so Canty rushed to the Dallas sideline to mock
DeMarcus Ware
's sack dance.
Canty was on the Giants' Super Bowl XLVI squad, and thus has a ring. Canty's worth to the Giants was so low that they cut him after the 2012 season. Canty has been a Baltimore Raven since 2013, and has started in 24 out of 32 regular-season games and tallied 2.5 sacks.
No. 3 -- KEN NORTON, JR.
San Francisco fans felt adding Norton was payback after Dallas "stole" Charles Haley, but Norton's departure from Dallas felt like a betrayal. While with the 49ers, it was never really what Norton did to Dallas as much as he could have done for Dallas. Norton didn't record a sack, fumble, or interception in his five games against Dallas, but the principle of joining a conference rival and then being the only player in NFL history to win three straight Super Bowls hurt Cowboys fans. Seeing #51 suit up in the blood-shine red instead of the silver-and-blue embodied the mercenary spirit of free agency and the salary cap. Norton has never atoned for his "defection,'' and has coached linebackers for the
Seattle Seahawks
from 2010-14. New Raiders head coach Jack Del Rio recently promoted Norton to defensive coordinator for 2015.
Really, free agency is at fault here. But seeing Norton leave still hurt.
No. 2 -- Martellus Bennett
The second tight end taken in the second round by the Cowboys going back to 2006, high expectations were thrust upon the Aggie. Hoping to use him in their 12-personnel packages way before Belichick got hold of Hernandez and Gronkowski in New England, Bennett never lived up to his athletic potential, preferring to be a star on YouTube than in the NFL. He even blamed his lack of progress on having to play behind future Hall-of-Famer
Jason Witten
.
When the
New York Giants
decided to sign Bennett, he
bashed Romo and elevated Eli.
Though he caught 55 passes for 626 yards and 5 touchdowns – three of which came in the first three games of the 2012 season and freaked out some Cowboys fans – the Giants cut Bennett, who signed a four-year deal with the Chicago Bears. Bennett earned his first Pro Bowl in 2014, and played through injury to break Mike Ditka's franchise record for receptions by a tight end in a single season. Nice to see Marty B finally grow up.
No. 1 -- H.R. "BUM" BRIGHT
Roman statesman Marcus Tullius Cicero once said, "A nation can survive its fools and even the ambitious, but it cannot survive treason from within." This quote summarizes Bum Bright's four-season ownership of the Dallas Cowboys. Unlike Clint Murchison who hardly meddled, Bright meddled. Yes, Jerry Jones has meddled, but Jerry
lives
the Dallas Cowboys. For Bright, "America's Team" was nothing but a side interest, which makes his meddling considerably worse.
After a 20-0 shutout to the LA Rams in the 1985 wildcard playoffs, Bright thought Dallas needed to modernize their offense and hired former San Francisco quarterbacks coach Paul Hackett to be the Cowboys' new "passing game coordinator." Hackett and Landry didn't really work well together, and the results showed as that edition of Dallas never returned to the postseason. Bright also pressured Schramm to fire Landry, but the long-time general manager was loyal to his coach.
Ultimately, when Bright suffered his own financial woes and looked to sell the franchise, he only wanted to do business with someone who would fire coach Landry. Don Carter, owner of the
Dallas Mavericks
at that time, wanted to purchase the Cowboys, but his intentions to keep Landry were well-known and thus was disqualified by Bright. When wildcatter Jerry Jones wanted to buy the team and replace Landry with his college teammate, Bright found a buyer. Now, he could stick it to Landry and the blame would fall on that barefoot Arkie ... while Bright slithered out of the spotlight.