Dez in the Building
Fish reported on 105.3 The Fan's "GBag Nation" at 10 a.m. Thursday that Dez Bryant was in the building for the
Dallas Cowboys
' final day of minicamp at AT&T Stadium. And about 45 minutes later there was a buzz in the building, as the collected media (and fans who'd purchased $12 tickets to tour the stadium) saw Dez in the upper deck of the stadium, dressed in all-black civvies but still with his teammates watching a team-only video on the jumbotron and listening to a presentation from coach Jason Garrett.
"It's great to have him here," Garrett said. "Dez obviously hasn't signed his franchise deal yet so he's not practicing. ... Dez is a special guy. He's obviously a heck of a football player, very important to our football team, his approach is really well-respected by anybody on our football team, the guys he goes against, has a great passion for the game and it's great to have him here."
The Pro Bowl receiver is of course enveloped in contract talks with Dallas. But we've said all along this is not really a contentious engagement
(not to say there aren't franchise-tag complications, as we illustrated in great detail here)
... and Thursday proved it. Dez visited with Tony Romo for a time, and played catch on the sideline with staffers and then Cole Beasley, and then spent some time with Terrance Williams (between T-Will went down with an elbow injury that apparently resulted in negative X-rays.)
There is media scoffing at the angle of this being about a show of "support,'' or "faith,'' or unity.'' But that sentiment comes directly from Bryant in his conversations with Fish. There's no sleight-of-hand trickery here; Garrett said he's been in frequent contact with the player, who Fish reports was drawn to attend due to a post-practice family event day and as a show of faith and unity. And there's transparency on the part of Jerry Jones, too.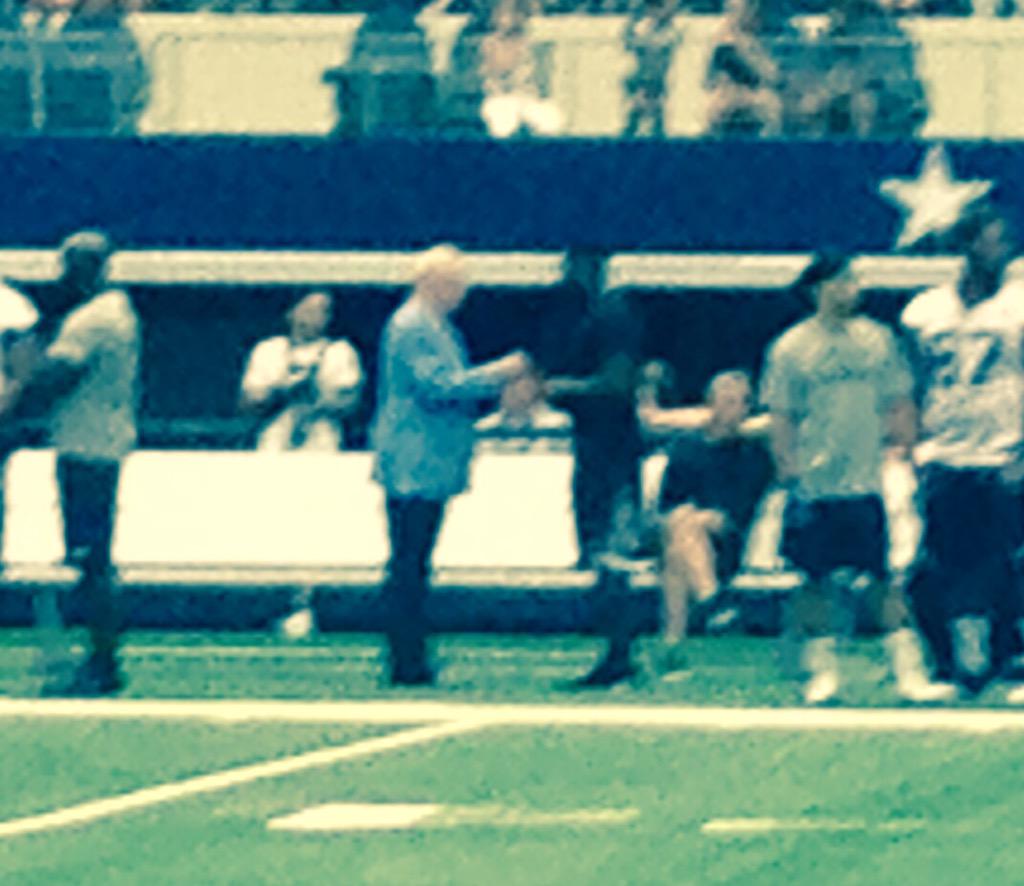 During a day that represented a light one for Romo, an apparent step-up for La'el Collins in his bid to beat out Ron Leary at left guard, and more positive steps for guys like Darren McFadden, Mo Claiborne and Sean Lee as they try to put injuries behind them, the highlighted event was Dez and Jerry seeking each other out on the sideline. During a 10-minute meeting, Jerry did most of the talking. Dez did most of the listening. And then they ended on the same page, in a sense, by sharing a hug.
See what Cowboys fans are saying here!
Related Story: Our Cowboys Crunchtime Podcasts!
Related Story: Romo Raves About Cowboys Front-Office Work
Related Story: Fish column: Talking To Dez and The Mating Dance