Before we get started, let me get this out of the way. As much as I love Kevin Johnson and Todd Gurley, I didn't include them on the list of
Dallas Cowboys
Five Scenarios because I don't think either of them will be there at No. 27. Both could easily be top-20 picks and I don't see the Cowboys trading up for them. Also, keep in mind that this is not my "wish list'' of prospects for the Cowboys in the first round (although I do like all of these players). This list, in my humble opinion, offers the most realistic scenarios for the Cowboys in the first round-plus. Now that we've gotten that out of the way ... and assuming you are familiarizing yourself with
our Cowboys-centric 100-man-deep Big Board,
let's get started. ...
Scenario 1: Stay For the Corner
Corner Byron Jones (6'1", 199, Connecticut) at No. 27. His draft stock has shot up over the last few weeks, and rightfully so. It's rare that you find someone with his combination of natural athleticism, football IQ and work ethic. I'd say there's about a 50/50 chance of Jones falling to 27 at this point, which is good enough for me to include him on this list.
First off, Jones was a team captain and had a pre-draft visit with the Cowboys - which are two common traits in Cowboys draft picks in recent years. Jones set the world record with his ridiculous 147-inch (12'3") broad jump at the combine. He also had the best 60-yard shuttle among all players, the second-best vertical jump among all players, the third-best 3-cone drill among all CB's and the third-best 20-yard shuttle among all players. In the last four years at Connecticut, Jones has recorded 222 tackles, 8 interceptions, 21 passes defended, 1 fumble recovery and 2 defensive touchdowns.
Byron doesn't just rely on his natural abilities to succeed, as some freak athletes tend to do. He is a student of the game and is always looking to improve. He is a consistent tackler with great instincts and awareness. Needs a little tweaking here and there, but has the potential to be a great cornerback in the NFL with the proper grooming. Jones could hang with the dangerous WR's in the division and would give the Cowboys the elite athleticism that they've been lacking in the secondary.
(Here's our Cowboys-centric Draft Profile on Byron Jones.)
Corner Marcus Peters (6'0", 197, Washington) is nother team captain and pre-draft visitor for the Cowboys. However, unlike Jones, Peters has seen his draft stock drop due to off-field concerns. That's not to say he wouldn't be a solid addition to the defense though, and I guarantee the Cowboys have done their homework on him. He is not in the box here, to our knowledge.
Peters ranked in the top 10 among all CB's at the combine in the bench press, vertical jump, 20-yard shuttle and 60-yard shuttle. In the last three years at Washington, he has 129 tackles, 9.5 tackles for a loss, 11 interceptions, 27 passes defended, 1 forced fumble and 2 defensive touchdowns. His stats become even more impressive when you consider the top-notch talent at WR that he regularly faced in college.
Physically, Peters has everything you want in an NFL cornerback. He is physical and intimidating. Plays the ball extremely well and is disruptive any time it comes his way. If both he and the receiver get their hands on the ball, Peters is the one who is going to come away with it 99% of the time. Can play both man and zone coverage. Plays with a ton of confidence and swagger. The only question for Peters is his attitude. With leaders on defense like Barry Church, Jeremy Mincey and Sean Lee, the Cowboys feel like they have the right kind of environment to handle troubled players in the locker room. If he can mature and get on the right track, the sky is the limit for this kid.
Maybe they'd be most happy with Kevin Johnson, but I bet he goes higher. And I think it's worth touching on another CB name, Eric Rowe (6'1", 205, Utah). Rowe is the only player on this list who didn't have a pre-draft visit with the Cowboys. However, he's still a team captain and is also a native Texan, so he has that going for him. One thing the Cowboys will love about Rowe is his versatility. He can play both CB and safety. He ranked in the top 5 in every drill among all safeties at the combine and ranked in the top 10 in every drill among all CB's at the combine. In the last four years at Utah, Rowe has recorded 261 tackles, 7 tackles for a loss, 3 interceptions, 36 passes defended and 1 defensive touchdown.
No matter where he's playing, Rowe doesn't allow the WR to get any separation. He plays the ball well and makes it very difficult for WR's to finish the catch. Physical and consistent tackler. Good instincts and awareness, especially when playing in zone coverage. Rowe is also a very good special-teams player, which should be another attractive trait to the Cowboys. Rowe could help the Cowboys meet two big needs, free safety and cornerback, depending on how they choose to use him.
But anyway ... There's Scenario 1: Stick at 27 and let a starting corner come to you.
Scenario 2: Stay For the Pass-Rusher
For me, it's DE Owamagbe Odighizuwa (6'3", 267, UCLA) and I can make the case for him easily. Odighizuwa, another team captain and pre-draft visitor, is considered one of the best pass-rushing prospects in this year's draft class. At first glance, it might seem like DE isn't a major priority for this team. However, Greg Hardy is likely facing a suspension and Jeremy Mincey will be a FA in 2016. The Cowboys still need help at the position - which is where Odighizuwa comes in.
O'Diggy had the best vertical jump and broad jump among all DL at this year's combine. He also had the second-best 20-yard shuttle, the second-best 40-yard dash and the third-best 60-yard shuttle among all DL. In 2014, Odighizuwa recorded 61 tackles, 11.5 tackles for a loss, 6 sacks and 5 defended passes.
Odighizuwa needs to develop a few more pass rush moves, but he clearly has a knack for getting to the QB. He gets off the ball quickly, has a non-stop motor and is a violent/physical player. He is also a very good run stopper with good closing speed. The addition of Odighizuwa would give the Cowboys four extremely talented defensive ends for Rod Marinelli to play with in his rotation.
I don't have a problem with O'Diggy at 27. Ah, but
(Here's our Cowboys-centric Draft Profile on Byron Jones.)
CowboysHQ breaks the story that Dallas might not be as in love with him as I am ... and that the Cowboys are spending a great deal of time considering what to do if undersized-but-gifted Randy Gregory slips down into the bottom of the first, and what to do if Frank Clark (like Gregory bringing some red flags with him to the NFL) is around in the third.
But a pass-rusher in the first three rounds is absolutely in Dallas' plans.
Scenario 3: The LB Regardless of 'Need'
My LB is Eric Kendricks (6'0",232, UCLA), yet another team captain and pre-draft visitor. (Are you sensing a pattern here?) With Sean Lee returning from injury and the recent re-signing of Rolando McClain, some fans might not consider LB a major priority. I disagree, and I think the team does as well. The Cowboys brought in all of the top LB prospects in this year's draft class for visits, including Kendrick. That tells me that they're looking to potentially take one early in the draft.
Kendricks ranked in the top 10 among all LB's at the combine in the vertical jump, broad jump and 40-yard dash. In 2014 he recorded 149 tackles, 11.5 tackles for a loss, 4 sacks, 3 interceptions, 1 forced fumble and 1 defensive touchdown.
Kendricks won the 2014 Butkus Award, which is given out to the best LB in college football each season. He is extremely intelligent and has incredible instinctive. Does a nice job of avoiding blockers - or moving through the trash, as our buddy Bryan Broaddus would say - to get to the ball-carrier and make the play. Led the NCAA in solo tackles in both 2014 and 2012. CowboysHQ.com has
a terrific Draft Profile on Kendricks and another guy in this group, Shaq Thompson, here.
Is Dallas starved for linebacking help? Not as much as this defense is starved for help anywhere and everywhere.
Scenario 4: The Tradeback
We spend so much time focusing on No. 27. But Jerry Jones has a reputation of making moves on draft day, which doesn't make it easy to predict what will happen. (Indeed, our man KD Drummond is the originator of the research that says Dallas in the Jerry Era moves from that original spot 80 percent of the time.) A trade is always a possibility with this team. A few years back, the Cowboys traded up to snag Morris Claiborne. If they move from their spot this year, however, I think it will be a trade back, much like they did in 2013 when they got Travis Frederick. If the Cowboys are on the board but they don't like any of the players that are available, I could see them moving back into the second while collecting an extra third-round pick, if they could find a trade partner.
If none of the guys I mentioned are available, CB Ronald Darby, LB Shaq Thompson or maybe even FS Damarious Randall could be possible picks by shifting around from 27. Also, if Gordon and Gurley are drafted early, and the Cowboys' board is otherwise wiped out at 27 and they can't find a trade partner, I wouldn't be shocked if they picked running back Tevin Coleman to ensure that they get "their guy" at running back since he likely be gone by the time their second-round pick comes around. That wouldn't represent a "value'' pick, especially with Duke Johnson and a handful of other legit guys being on the board in the second round. But
Tevin Coleman is a fit in so many ways, as our Joey Ickes illustrates here.
Also worth noting: We think
Dallas has a load of guys rated as second- and third-round values at running back ... some of whom are overrated and some underrated, as our guys write here.
Scenario 4: The BPA
I'm not a fan of "The Reach.'' ... though I do advocate this: Remember the reactions of fans when they picked Travis Frederick in 2013? Look how that turned out. If the Cowboys "reach" to get a guy they like, don't panic. They know what they're doing and they've earned our trust over these last few years. Trust Jerry and Stephen Jones. Trust Jason Garrett. Trust Will McClay. Trust the process.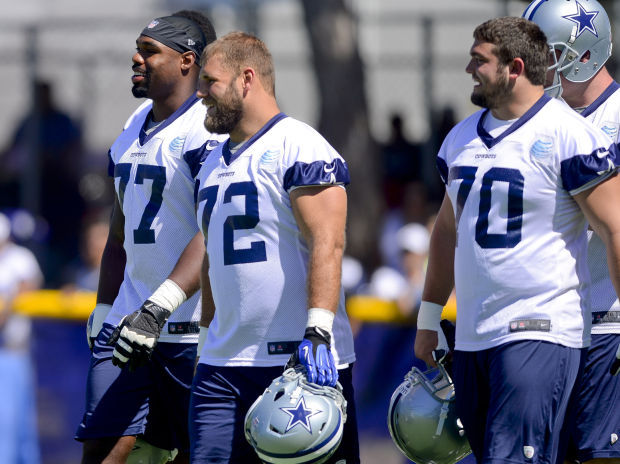 But ...
They
Cowboys have familiarized themselves with wide receivers
and defensive tackles (and even O-linemen and QBs) for a reason: The Cowboys could end up being "forced'' to pick a guy with a second-round grade to get ahead of the pack and, honestly, because they have their focus on three spots: Cornerback, running back and pass-rusher. But under McClay, the personnel department seems more focused than ever on BPA ... trying to get guys like Frederick and Zack Martin not because they fill a positonal "need'' but because every football team simply "needs'' darn good players.
CowboysHQ Draft Watch Party
The gang will assemble at 6:30 Thursday at
The Maverick Bar (1616 Hebron) for our CowboysHQ Draft Watch Party
sponsored by
Jim Ross & Associates, Attorneys at Law...
... Jordan Ross and Mark Lane will be your hosts ... Special guests include Tyron Crawford ... goodies include autographed goodies from guys like Tony Romo ... and Fish and Jeff Cavanaugh will swing in late, too. Come join us!
Onside Kicks
Fish reports on 105.3 The Fan that the Cowboys' position on Adrian Peterson is unchanged from months ago. No movement -- not even phone calls between the parties. Jerry's lieutenants continue to rule here ... Our
Cowboys Crunchtime Podcast series is here,
featuring Fish, KD Drummond, Bob Sturm and more ... Catch
Fish and Dez playing Twitter footsie with the "official'' news of the non-existence of the Unicorn Video
... We have
the inside story on Hardy vs. Coleman during conditioning drills.
... Want
more Cowboys Draft Profiles? Click here!