Cowboys Week-Of Mock
And the
Dallas Cowboys
are almost on the clock ... Here's my MOCK DRAFT 4.0 ...
(for reference, here's my previous versions)
...
Round 1 - Pick 27: CB Byron Jones (6'1" - 199 lbs.) Connecticut
Byron Jones is one of the most athletic and physically gifted players - not just cornerbacks - at this year's combine. He set a world record with his 147-inch broad jump, had the best 60-yard shuttle among all players at the combine, had the 2nd best vertical jump among all CB's and the 3rd best 20-yard shuttle & 3-cone drill among all CB's. In his 4 seasons at Connecticut, Jones had 222 tackles, 8 interceptions, 21 passes defended, 1 fumble recovery and a defensive touchdown.
Jones, a team captain and locker-room leader, doesn't just rely on his natural abilities like a lot of athletic freaks tend to do. Jones is extremely smart and a student of the game, always looking to improve. Jones has very good instincts and awareness and is a solid tackler, which are all important traits for a CB in Rod Marinelli's scheme. However, while Jones is more than willing to tackle, he needs to get more physical. He also needs to do a better job keeping his balance. Needs some tweaking here and there, but his natural athleticism, football IQ and leadership would be too much for the Cowboys to pass up. Has all of the tools to turn into an elite NFL cornerback in a few years.

TRADE: Round 2 - Pick 37: RB Tevin Coleman (5'11" - 206 lbs.) Indiana

In this mock draft I traded the Cowboys 2nd and 3rd round picks to the Jets for the 37th overall pick. There will be a run on RB's at some point in the 2nd round and by doing this, the Cowboys ensure that they get ahead of the pack and secure "their guy", much like what they did to grab Demarcus Lawrence in last year's draft. Coleman has 27 rushing TD's, 2,994 rushing yards and a 7.4 YPA average over the last 2 seasons. He also led the NCAA in 60+ yard rushing TD's with 8. Coleman's 40-yard dashes at his Pro Day got as low as the mid-4.3's, which would've led all RB's at the combine.

Coleman is often compared to DeMarco Murray because of his great balance and his ability to quickly change directions. He is also a reliable receiving option and a pretty good pass blocker. However, Coleman lost a few fumbles in 2014 which is another, not as appealing similarity to Murray. However, his home-run hitting ability is something that Murray lacks. Coleman would be a great fit for the Cowboys and could do some big things behind this offensive line. The addition of Coleman would give the Cowboys a chance to not only maintain their success on the ground in 2014, but possibly have a running game that's even more dangerous because of Coleman's big play capability.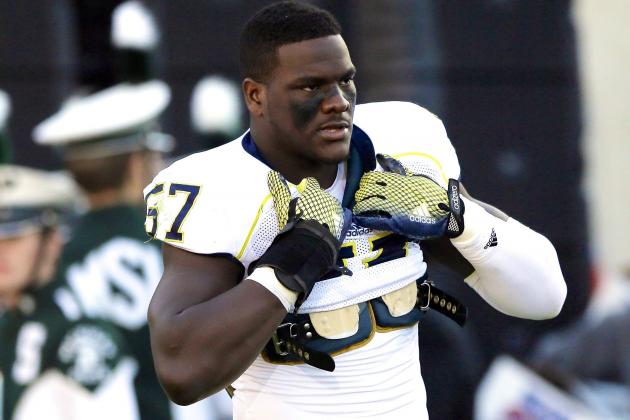 Round 4 - Pick 127: DE Frank Clark (6'3" - 271 lbs.) Michigan

Clark has enough talent to be a top-60 draft pick, but he will fall due to his off-field issues. Originally, it was thought that he might not even get drafted. However, now that assault charges against him have been dropped, teams might be more willing to take a chance on him. Clark has 85 tackles, 25.5 tackles for a loss, 9 sacks, 3 passes batted down and 1 TD in the last 2 seasons. He also possesses great athleticism. Clark had the best 20-yard and 60-yard shuttles among all defensive linemen at the combine. He also had the 2nd best vertical jump, 3rd best 3-cone drill, 6th best 40-yard dash and 7th best broad jump.

Clark is very quick off the snap and has a high motor. Uses his hands well but needs to develop some more pass rush moves. The Cowboys have shown they're not afraid to gamble on guys like this. They feel like they have the right guys in the locker room to provide a positive environment for troubled players. From a pure talent perspective, Clark would be a steal in the 4th round for the Cowboys (who from what we're told do not have him "in the box'' but rather on their board).

Round 5 - Pick 163: DT Derrick Lott (6'4" - 314 lbs) Chattanooga

Derrick Lott is another intelligent, high-character guy that Garrett would love to have on his team. Had the 2nd best 3-cone drill and ranked in the top 10 in the 40-yard dash, 20-yard shuttle and bench press among all DT's at the combine. Lott recorded 71 total tackles, 13.5 tackles for a loss, 6 sacks, 1 forced fumble and 1 fumble recovery in 2014.

Lott is a skilled pass rusher with a wide range of pass-rush moves. Needs to work on getting off the line quicker. Turns 25 this summer, making him one of the older prospects in the draft, but his versatility to play both 3-tech and 1-tech DT should be attractive to the Cowboys. Could backup Tyrone Crawford or even compete for a starting spot at the 1-tech. Regardless of where they play him, Lott would help solidify the Cowboys rotation of DT's.

Round 7 - Pick 236: WR JaMarcus "J.J." Nelson (5'10" - 156 lbs.) UAB

This guy is FAST! Nelson's 4.28 40-yard dash led all players at this year's combine. In fact, he was only .04 seconds slower than the all-time record. Nelson led the NCAA in kickoff returns for TD's in 2014 and averaged a ridiculous 38.3 yards per kickoff return. Nelson has 20 receiving TD's, 1 rushing TD and averaged 19.6 yards per catch in his 4 year college career.




With Dwayne Harris signing with the Giants, the Cowboys are in need of another return specialist. Fun fact, they already have Reggie Dunn on the team so the addition of Nelson would give the Cowboys two of the only 6 players in NCAA history to have 4+ kickoff return TD's in a single season. That should make for an exciting battle to watch during training camp.

Round 7 - Pick 243: LB Gabe Martin (6'1" - 229 lbs.) Bowling Green State

Martin is a lesser-known prospect who the Cowboys have had their eye on. In fact, they even brought him in for an official visit. Martin recorded 115 tackles, 18 tackles for a loss, 2.5 sacks, 2 interceptions, 4 passes defended and a forced fumble in 2014. His 40-yard time at his Pro Day was 4.61, the same as Eric Kendricks.

Martin lacks the desired size for the position, but he simply has a nose for the ball and makes plays consistently. Martin has excellent range and plays with a non-stop motor. Extremely competitive with high football IQ and good leadership qualities. Would play strictly on special teams at first, but has enough positive traits that make him worth developing.



Onside Kicks


Fish reports that contrary to an ESPN report, his Valley Ranch sources say Dallas has not given an offer to Giants free-agent safety Stevie Brown ... Our Cowboys Crunchtime Podcast series is here, featuring Fish, KD Drummond, Bob Sturm and more ... ... How do Dallas' national visits coordinate with who they eventually drafts? KD examines. ... Keep it right here at CowboysHQ for hard-hitting commentary and outstanding analysis. ... Hungry for some understanding of how the Cowboys front office really operates? "Jerry and his Cornerstones'' gives you answers. ... Want more Cowboys Draft Profiles? Click here! ... It's Silly Season, so we've got rumors that Minnesota wants to take a first-rounder and a cornerback from Dallas in trade for Adrian Peterson. That rumor pinpoints some truth about what CowboysHQ.com has been writing regarding the lack of real (so-far) movement here, including no conversation between the clubs. Why? Because as Fish says on 105.3 The Fan, the Cowboys don't have cornerbacks to give and the Vikings almost certainly don't want these cornerbacks.