FISHTIP 1: No AD Movement
It is without a doubt this NFL offseason's most sizzle-over-steak transaction story: Will the
Dallas Cowboys
trade for
Adrian Peterson
?
The sizzle continues. The steak remains uncooked.
Peterson, the best running back of his generation and disgruntled in Minnesota, would undoubtedly like to be dealt (along with his three-year, $45-million contract) to his home-state Cowboys. But that's where this story begins and ends, to this point near the eve of Thursday's NFL Draft. Because ...
*Sources tell me that the Cowboys have not called the Vikings.
*Sources tell me the Vikings have not called the Cowboys.
*Sources tell me that as it would be a violation of tampering rules, the Cowboys have, of course, not called Peterson.
That doesn't stop the rumor mill from churning out click-bait gossip, but the fact inside Valley Ranch is that the Cowboys don't even know what the price tag on such a trade would be. Nevertheless, media wags who have speculated on everything from "just a fourth-round pick'' (mildly ridiculous) to "a reverse of the 1989 Herschel Walker deal,'' meaning three 1's, three 2's, a 3rd plus five players (an embarrassingly ridiculous concept that actually made it into a DFW newspaper last week.)
But beyond all the fantasy, the facts are these:
Cowboys owner Jerry Jones' lieutenants have convinced him, to this point, that they've managed the cap smartly enough to want to avoid a $13-mil running back and they've gotten a handle on this draft smartly enough
to believe that they'll snag a starting-caliber running back somewhere in a premier round (most likely the second or third).
Jones owns the right, if a phone call is received before Dallas picks at No. 27 on Thursday night, to change his mind. And the Vikings (and any other potential suitors, like Arizona, Tampa or Oakland) can change theirs, too. But when the draft comes and goes, and Peterson is still a Viking, he'll likely stay that way -- and if Minnesota can soothe his feelings he'll be highly productive there, as usual.
But the Cowboys don't need to wait until after the draft to visualize their AD-related plans. Barring a Jerry mood reversal paired with a
Minnesota Vikings
' panicky fire sale, Dallas has no AD-related plans.
FISHTIP 2: Dallas Draft Party
The gang will assemble at 6:30 Thursday at
The Maverick Bar (1616 Hebron) for our CHQ Draft Watch Party
sponsored by
Jim Ross & Associates, Attorneys at Law...
...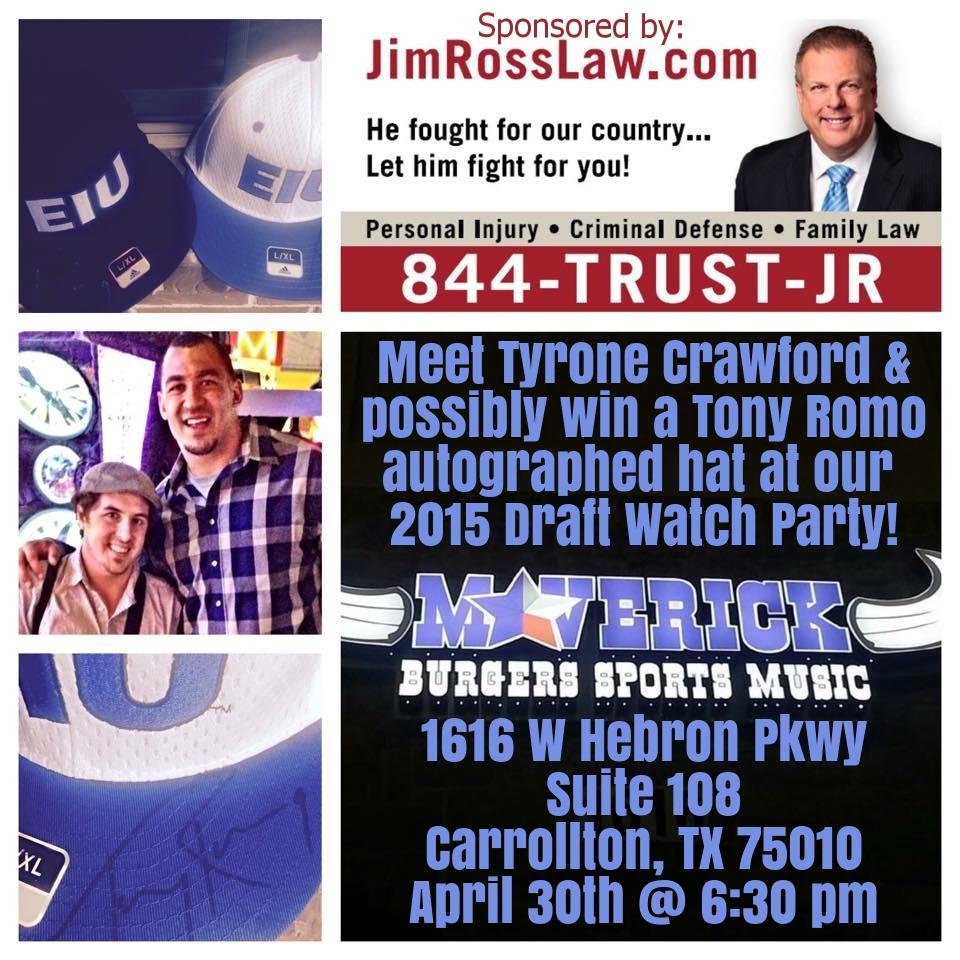 Jordan Ross and Mark Lane will be your hosts ... Special guests include Tyron Crawford ... goodies include autographed goodies from guys like Tony Romo ... and Fish and Jeff Cavanaugh will swing in late, too. Come join us!
FISHTIP 3: My Visits With Dez
You may have seen
Dez Bryant and me playing Twitter Footsie with the "official'' news of the non-existence of the Unicorn Video
...
The NFL has now officially declared that there is no "Dez Walmart Unicorn Video,'' something I've written about extensively for the last few months, with on-the-record declarations regarding the "five-times-worse-than-Ray-Rice'' video as being non-existent. Those declarations to me came from the likes of Cowboys COO Stephen Jones, Dallas County DA Craig Watkins, WalMart higher-ups and Dez himself.
Now Cowboys fans want to know if the collection of Inspector Clouseaus in the national media with their "eight-month investigations'' will issue Bryant an apology.
Dez, who explains here in a one-on-one interview with me why he is making some of the behind-the-scenes changes in his life
, said on Twitter than he requires "zero (apologies) ... "I don't want any ... I'm going to give them something to talk about once the season starts.''
Apologies are due, though, difficult as they will be to extract from critics who were so bold they wavered from standard levels of journalism, legalities and ethics. Meanwhile, tongues will keep wagging, including many in support of Bryant, as you read here in our
1-on-1 with Drew Pearson on how the Cowboys should be ready to trust the star receiver.
FISHTIP 4: In-Depth Schedule Analysis
It pays to be America's Team.
No matter how hard fans of other teams (read: Cowboys-haters) try, there is only one "America's Team.'' That tag isn't based just on wins or losses in a given year ... it's simple the nickname this franchise has been given and continues to try to earn ... and the nation does its part to feed it.
The reason they hate? When Dallas is good, the world can't get enough of the Cowboys. Case in point, pending being flexed out, Dallas is part of the national broadcast schedule a whopping 11 times in the 2015 season. ... Over two-thirds of their schedule!
The
best and most in-depth Cowboys schedule analysis you'll read, from KD Drummond, is here.
FISHTIP 5: My Visits With Scandrick
Orlando Scandrick is registering a "peaceful protest,'' you might say, because his base salary for 2015 is $1.5 million ... far below market value for a cornerback of his skills and production. He's made that clear to me in our conversations (which also include me urging him to stay away from appearing on a junky Reality-TV show and him making fun of my Dallas Mavericks passion) that wants to be paid like an above-average corner.
But there is the Cowboys' angle on this, too, which is that he agreed to alter his deal two years ago to in exchange for more guaranteed money ($9 million) up front. That was probably unwise on Scandrick's part ... but it's done. ... and now he wishes it to be "un-done.''
I believe the Cowboys will eventually make this work (maybe by adding a year to his commitment in exchange for a raise?) but I also know this: The Joneses have not budged here yet, not even in the form of a negotiating phone call to Scandrick's camp.
At Valley Ranch, "Deadlines Make Deals,'' you know. And missing voluntary conditioning workouts does not constitute a "deadline'' in either party's mind.
FISHTIP 6: Romo's 'Prediction'
If you only read the words in print, you are excused. If you only heard a piece of the soundbite improperly framed, you are excused as well. But if you see a slightly larger chunk of Tony Romo's "Super Bowl prediction'' speech made last week at a charity function, you will understand context ... and you would not, if you were a right-minded newspaper, website or TV news editor, bother calling it a "three-inch-headline prediction.''
Watch the whole thing here (it's good stuff) or fast-forward to the final seconds ...
Romo utters these words with all the conviction of me asking you, "How ya doin'?'' (You realize, don't you, that I don't really care how you're doing?!) He wants to win a Super Bowl, obviously. But these words -- courteous throw-away words offered to a cheering audience -- have very little to truly do with that desire.
FISHTIP 7: No Offense, But ...
No offense to the Bristols, but I don't think their idea that Dallas takes Goldman at 27 -- over an assortment of cornerbacks, pass-rushers and linebackers that were apparently still available -- matches the Cowboys' Big Board. At all. (Here's our
Cowboys-centric 100-man-deep Big Board, by the way. I promise you it comes way closer to Dallas' actual thinking that anybody in Connecticut will get.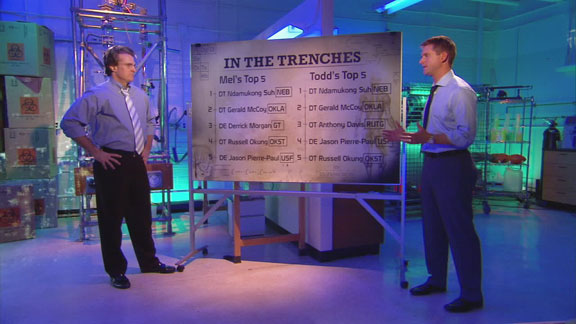 Anyway, it seems Kiper and McShay "forgot'' to project Vic Beasley in the first round. ... but sent Goldman to Dallas. Proof, once again, how truly difficult it is to pretend to know the inside stuff on 32 teams. It's why we limit ourselves to one team ... while trying to
get the inside evaluations on as many Cowboys Draft Profiles as we can ... as you see them collected here.
FISHTIP 8: 'Volatile' Vs. 'Goofy'
Cowboys defensive lineman Greg Hardy is by reputation a volatile guy.
Cowboys defensive lineman Devon Coleman is, by reputation a "goofy'' guy.
So it's not necessarily shocking that the two might conflict in a verbal confrontation on Friday as first reported by FOX Sports with conformation from Coleman's agent, Michael Loeffler.
A source tells me that "it was an argument between two grown men during strength-and-conditioning … got salty … not uncommon.''
The dispute between Hardy (a new veteran) and Coleman (a prospect coming off his rookie season) was a result of Hardy's questioning Coleman's work ethic and "professionalism'' — and indeed, as I reported on 105.3 The Fan back in February, that same question is why the Cowboys hesitated to re-up Coleman for this season.
It's also true that none of this is "uncommon,'' though Hardy — suspended for 10 games for a violation of the NFL conduct policy (and involvement with a domestic-abuse case) — has a spotlight on him.
This was a verbal conflict, not a fight; yet news of the argument traveled so quickly that NFL commissioner Roger Goodell was asked about it on Friday. He was not aware of the argument … and maybe shouldn't bother being aware of it, as innocuous as it seems to have been.
But maybe Hardy brings this spotlight on himself with his volatility. And maybe Coleman brings it on himself with his goofiness. ... which reportedly included here an argumentative reference to Hardy as a "woman-beater.'' There is a time and a place for Coleman to register his objection to Hardy (if that's what you think this was). But this wasn't that time and place.
There is also a time and place for Hardy to flex his "leadership muscle.'' But this wasn't that time or place, either.
FISHTIP 9: My Station
I will be stationed inside Valley Ranch all week long starting today, with the Cowboys' pre-draft press conference at 1 p.m. ... and then on Thursday I'll be part of 105.3 The Fan's official Cowboys Draft Coverage which essentially launches at 5:30 a.m. with "Shan & R.J.'' and then really picks up steam when I'm reporting from next to the War Room starting at 6 p.m.
Make sure you
use the KD/Ickes "Big Board'' as your guide ...
Listen to
The Cowboys Station 105.3 The Fan
, follow me at
FishSports on Twitter
and keep clicking on CowboysHQ.com on the home page and
here on The Ranch Discussion Boards and we promise you'll get info first and best.



FISHTIP 10: The Final Word


A first-round corner (like Kevin Johnson, Byron Jones or Marcus Peters). A second-round running back (like Tevin Coleman, T.J. Yeldon or Duke Johnson). A third-round pass-rusher (like Frank Clark). And there you go.