Cowboys Presser 'Madness'
It can seem like endless "blahblahblah'' if you don't have the ability to "Translate Jerry'' and if you don't have the interest in watching and listening for the between-the-lines revelations. They are in there, though, as Jerry Jones, Jason Garrett and Stephen Jones took the stage in Tuesday's pre-draft press conference ...
VIDEO TAGS: Dallas Cowboys, Jason Garrett, Darren McFadden, Joseph Randle

What did we hear? Some Jerry Poppins stuff, like: Drafting a running back is not an urgent matter. Jerry says that, but that's not the feeling in personnel. He also said helping the defense is a must -- by "hook or crook" -- but in truth, the Cowboys are as committed as ever to staying true to their board. And Jerry suggested that the fact Dallas drafts at No. 27 in the first round increases the possibility of them moving around on Thursday, either up or down. It's true that in the Jerry Era, Dallas has done that 80 percent of the time. But it has nothing to do with being at 27.

But there is also some true and frank Cowboys stuff discussed, like: Stephen acknowledging there is a Brandon Carr cap decision to be made. ... and Garrett trying to explain that all character issues are not the same, and that having such an issue does not automatically dissuade Dallas from adding a player ... and Jerry's talk of consensus in that War Room, of what "madness'' it would be for him to not heed the advice of Jason and Stephen (and Will McClay). A special emphasis was placed on Stephen's supervision of cap management.

"My life before the Cowboys was, 'Buy it, then figure out how to pay for it,'' Jerry said with a nod to Stephen's influence and the sound notion that the best way to manage finances is to draft well. "The 'ol cap will get ya if you think like that."


Dallas Draft Watch Party
The gang will assemble at 6:30 Thursday at
The Maverick Bar (1616 Hebron) for our CHQ Draft Watch Party
sponsored by
Jim Ross & Associates, Attorneys at Law...
...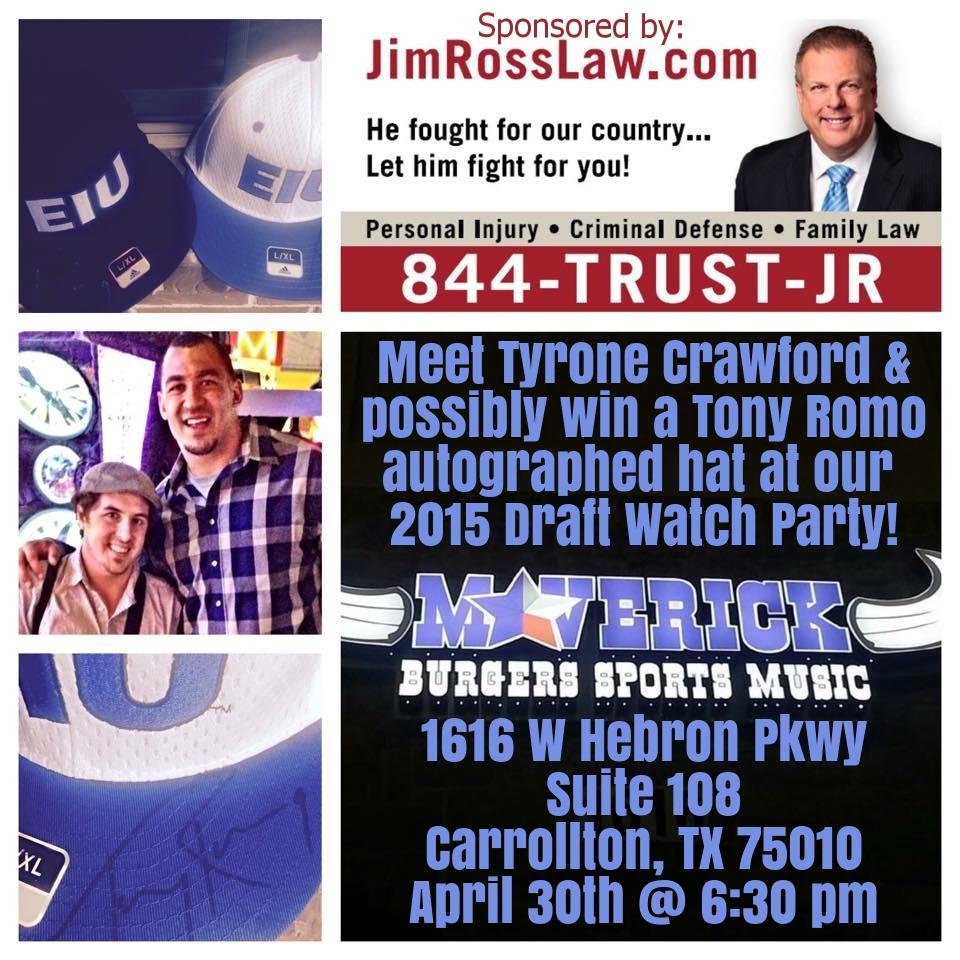 Jordan Ross and Mark Lane will be your hosts ... Special guests include Tyrone Crawford ... goodies include autographed stuff from guys like Tony Romo ... and Fish and Jeff Cavanaugh will swing in late, too. Come join us!
Onside Kicks
Those
pre-draft visitors and private workouts? That Cowboys list is here
... Fish reports on 105.3 The Fan that the Cowboys' position on Adrian Peterson is unchanged from months ago. No movement -- not even phone calls between the parties. Jerry's lieutenants continue to rule here ... Our
Cowboys Crunchtime Podcast series is here,
featuring Fish, KD Drummond, Bob Sturm and more ... Catch
Fish and Dez playing Twitter footsie with the "official'' news of the non-existence of the Unicorn Video
... We have
the inside story on Hardy vs. Coleman during conditioning drills.
The Final Word
The braintrust seemed unworried about Dez in every way, from his work ethic to his character to his heart to his contract.
"We love Dez,'' Garrett said. "He's the right kind of guy.''