Cowboys Crunchtime Podcast
The
Dallas Cowboys
are almost on the clock ... and so are we, with three hours of wall-to-wall guests -- the media's best and brightest minds -- discussing the 2015 NFL Draft with a Cowboys-centric focus, of course. Our "Cowboys Podcast: Draft Preview Spectacular'' is here!
Show Rundown
Sigmund Bloom, FootballGuys.com
Intro 3:22
Cowboys Drafting as a Quality Team- 4:37
Trip Around The League – 5:30
Jay Ajayi's Knee & NFL Subtrefuge: 10:30
Lay of the Land Leading to Pick 27 – 14:11
The Red Flag Guys And Team Fits – 21:42
Gut Feeling on Pick 27 – 25:22
Mike Fisher, Cowboys Insider
Intro – 29:25
Cowboys Pre-Draft Presser Reacions- 31:48
Is the Peterson Pursuit Over? 36:40
Greg Hardy and Drafting For DE- 38:40
Media Big Boards Influencing Cowboys- 43:40
Lee, Scandrick Dez and Workout Updates: 45:10
Emory Hunt, FootballGameplan.com
Intro- 49:22
Running Back Review- 50:50
Small School Gems – 54:50
Ty Montgomery Love – 1:00:15
Joey Ickes, CowboysHQ
Intro – 1:04:25
Big Board Breakdown – 1:07:10
Bob Sturm, Dallas Morning News
Intro – 1:30:03
Longevity of Running Back – 1:31:25
How to Pick Rounds 1-3 – 1:37:13
Do Cowboys Need a DT? – 1:46:57
How To Win The Draft - 1:51:10
Keith Mullins, Cowboys Crunchtime & Jeff Cavanaugh, 105.3 The Fan
Intro – 1:55:50
Cavanaugh's Method of Draft Study – 1:57:13
Moving Up? Moving Away From Who? – 1:58:10
Building The Boards – 2:00:00
Red Flag Guys – 2:03:07
Film Study Surprises, Wiped Out Options: 2:05:17
Running Backs, Again – 2:12:53
Mullins Final Thoughts – 2:19:43
KD Drummond Closing
Favorite 5 Picks For 27 – 2:32:08
Dallas Draft Watch Party
The gang will assemble at 6:30 Thursday at
The Maverick Bar (1616 Hebron) for our CHQ Draft Watch Party
sponsored by
Jim Ross & Associates, Attorneys at Law...
...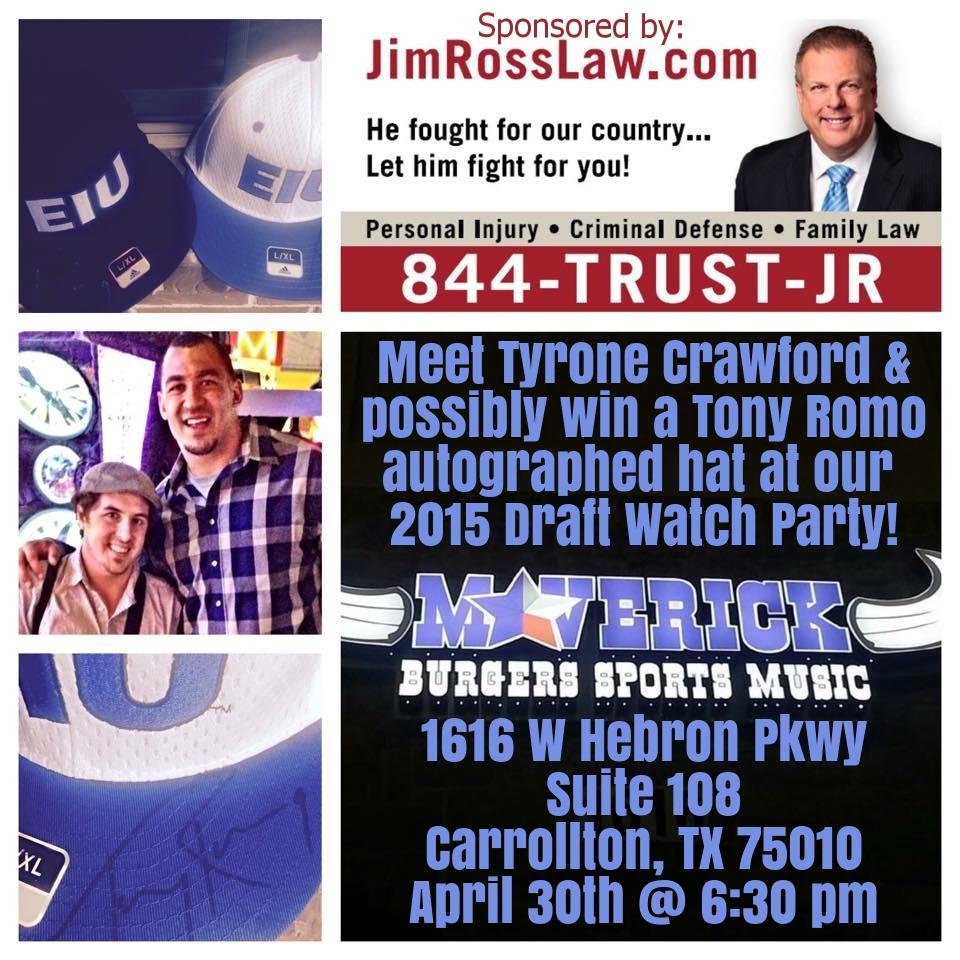 Jordan Ross and Mark Lane will be your hosts ... Special guests include Tyrone Crawford ... goodies include autographed stuff from guys like Tony Romo ... and Fish and Jeff Cavanaugh will swing in late, too. Come join us!
Onside Kicks
Those
pre-draft visitors and private workouts? That Cowboys list is here
... Fish reports on 105.3 The Fan that the Cowboys' position on Adrian Peterson is unchanged from months ago. No movement -- not even phone calls between the parties. Jerry's lieutenants continue to rule here ... More of our
Cowboys Crunchtime Podcast series is here,
featuring Fish, KD Drummond, Bob Sturm and more ... Catch
Fish and Dez playing Twitter footsie with the "official'' news of the non-existence of the Unicorn Video
... We have
the inside story on Hardy vs. Coleman during conditioning drills.
Onside Kicks
"My life before the Cowboys was, 'Buy it, then figure out how to pay for it,'' Jerry Jones said with a nod to Stephen's influence and the sound notion that the best way to manage finances is to draft well. "The 'ol cap will get ya if you think like that."