FISH LAST-MINUTE DETAILS
Whats this talk about Cowboys going after Michael Brockers? We'll stay on top of this tonight, but the Cowboys liked him at a time when he might've been a nose guard under Rob Ryan. Why would they give up much value for a guy who (I think) would be a 1-tech in Dallas? ... The Cowboys are very plugged into La'El Collins -- and see him as a first-round offensive-line talent with position flex, but how far will his unfortunate circumstances cause him to fall? ... Don't care what anybody else writes: If in the unlikely event Cleveland wants to give away Johnny Manziel later in the weekend, the Cowboys will answer that phone ... I can easily see Will McClay with another desk-pound shout of "He's a QB hunter!'' and the Cowboys taking DE Randy Gregory. ... If Minny really starts shopping Adrian Peterson today (and I'm skeptical) why would they want Dallas' 27 when they should be asking Miami, Atlanta, San Diego and others with better picks to offer? ... I'm not sure why prominent mockers are sending S Landon Collins and 1-tech DTs to the Cowboys at 27. ... No matter whether Eagles boss Chip Kelly does or doesn't make that rumored trade, it will be proclaimed as a GENIUS move by a national media attracted to bright, shiny objects ... How far can Dallas swap down from 27 at and still land someone from the group of Gregory, Ray, Byron, Davis, PJ, Kendricks, Shaq, Benardrick or a RB? Hmm. ... Only thing that sucks about "Draft Day'' is that Kevin Costner movie.
THE DRAFT
The NFL Draft has been in New York since 1965. From 1936-64, Philadelphia, Pittsburgh, Chicago, Milwaukee, Washington, D.C., and Los Angeles alternated in holding the draft.
This is the fifth time in league history the draft will be held in Chicago. The last time the NFL draft was in Chicago was in 1964 at the Sheraton Chicago Hotel. At that draft, the Cowboys selected Hall-of-Famers Mel Renfro, Bob Hayes, and Roger Staubach.
New York, Philadelphia, and Chicago are the only NFL cities to have hosted the NFL Draft and then win either an NFL Championship Game or Super Bowl.
Since 1994, the NFL Draft has been capped at seven rounds. Here is a list of how many rounds previous drafts had:
1936 – 9 rounds
1937 – 10 rounds
1938 – 12 rounds
1939-42 – 22 rounds
1943-48 – 32 rounds
1949 – 25 rounds
1950-59 – 30 rounds
1960-66 – 20 rounds
1967-76 – 17 rounds
1977-92 – 12 rounds
1993 – 8 rounds
1994-present – 7 rounds
WHO'S BEEN FIRST?
In the past four drafts, the Cowboys have taken as many offensive linemen in the first round as they had in the entirety of the franchise: three.
In the first round, the Cowboys have taken two picks at three different positions, each being tied for the lowest number of picks in team history: tight end, center, and quarterback.
The Cowboys have taken 10 defensive ends with their first round picks, the most of any position group in team history.
Both of the Cowboys' first round quarterbacks, Craig Morton and Troy Aikman, went to Pac-12 schools.
The Cowboys have drafted six Hall-of-Famers in the first round, the most since 1960 and tied with the Pittsburgh Steelers for third-most in NFL history.
In 1991, the Cowboys had three first-rounders, the most ever in team history.
Jerry Jones owns the longest drought without a first round selection, and it happened twice: 1995-96 and 2000-01.
Jerry has had six drafts without a first round pick. In Schramm's 29 years as general manager, this only happened four times.
In club history, the Cowboys have had 24 picks taken between 20 and 29. The only All Pros were running back Calvin Hill and Dez Bryant, while defensive end Anthony Spencer, cornerback Mike Jenkins, and tight end Billy Joe DuPree made five Pro Bowls altogether.
If the Cowboys stand pat at 27, it will be just their third 27th overall pick ever. The other two were center Robert Shaw (1979) and cornerback Aaron Kyle (1976).
Last time the Cowboys had the 27th pick was in 2010, but Dallas shopped the pick to New England, who ended up selecting cornerback Devin McCourty.
Dallas has had the number one overall pick three times in franchise history: 1974, 1989, and 1991. Only in 1989 did the Cowboys actually "earn it" with a 3-13 record the previous year.
A mail-it-in line from draft experts is that Jerry Jones "loves his Hogs," partly because Dallas took Arkansas running back Felix Jones in the first round in 2008. Not only was Felix the first (and only thus far) Razorback since 1989, he's just the second Hog selected in Cowboys history.
Jason Garrett and Jimmy Johnson are the only Cowboys head coaches to have a first round pick in their first four drafts.
The Rams have the most number one overall picks in draft history with six.
There have been eight running backs taken in the top-5 since 2000, but only LaDainian Tomlinson taken by San Diego in 2001 has won a rushing title in his career.
COMING IN SECOND
The Cowboys have taken 12 linebackers in the second round, the most of any position group in club history.
Hall-of-Famer Larry Allen is tied for second for the most All Pros by a second-rounder with six.
The last second-rounder the Cowboys drafted that eventually made the Pro Bowl was tackle Flozell Adams from the '98 Draft.
While Dallas has only taken two quarterbacks in the first round in club history, they have taken three in the second round: Sonny Gibbs (1964), Glenn Carano (1978), and Quincy Carter (2001).
The Cowboys have taken more quarterbacks in the 12th round than any other round in draft history. Shortening the list to seven rounds only, the Cowboys have taken a quarterback three times in three different rounds: second, fourth, and sixth. None of those quarterbacks won a playoff game.
Julius Jones is the only second-round Cowboys running back to ever record 1,000 yards in a season.
No Hall-of-Fame quarterback has ever been drafted in the second round of the NFL Draft.
With Tex Schramm as general manager from 1959-88, the Cowboys selected drafted one tight end in the second round. Since 1989, when Jerry Jones took over as general manager, Dallas has drafted four in the second round, tied with the St. Louis Rams for the most in that span.
Since 2006, Dallas has drafted three tight ends in the second round. The only other teams to take even two tight ends in that time are Denver and St. Louis.
In club history, the Cowboys have used five second-round picks on tight ends, the most in any round. Only the sixth round ties that mark with another five selections.
The Cowboys have had six second-round picks since 2006, tied with the Jets and Bears for second-fewest in that span. Only the Saints have had fewer with four.
ROUNDING THIRD
With 10 Pro Bowls, Jason Witten is behind only Hall-of-Famer Will Shields' 12 Pro Bowls for the most by a third-rounder in league history.
Witten is also tied with tackle Erik Williams for the most All Pros by a third-rounder in team history with two.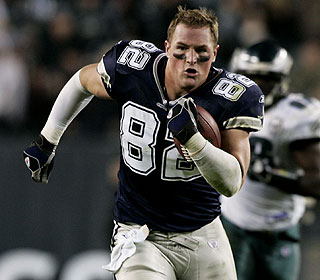 Witten leads the team in most games played by a third round selection with 191. Danny White is second with 166.
FINAL ROUNDS
Linebacker Anthony Hitchens is the first fourth-round rookie since 2005's Chris Canty to play all 16 games for the Cowboys. He is also the first such rookie since 2001 LB Markus Steele to start 10 or more games.
The Cowboys have drafted 16 linebackers in the fourth round, the most of any position group in that round in team history.
The Cowboys have only had three fourth-rounders who made Pro Bowls: tackle Pat Donovan, running back Marion Barber, and defensive end Tony Tolbert. None of their fourth round selections have ever made All Pro.
The Cowboys selected Hall-of-Famer Bob Hayes in the seventh round with the 88th pick. On the very next pick, the Detroit Lions drafted Wichita State tackle Bill Parcells, who would eventually coach the Cowboys from 2003-06.
Last year, the Cowboys made five selections in the seventh round, the most in team history.
MISCELLANEOUS FACTS
The Dallas Cowboys did not have a draft class in their inaugural year of 1960. The only other team in NFL history to not have a draft class its first year were the 1950 New York Yanks.
The Cowboys have drafted more players from the University of Tennessee than any other school with 18. Second is UCLA with 16, and Florida and Arizona State are tied for third with 14 apiece.
The Cowboys have selected more players from the University of Texas (nine) than any other Texas school. However, not one of those nine players made a Pro Bowl.
The last time the Cowboys drafted a kicker was 2009 with Dave Buehler, and have taken eight in draft history. The last time Dallas drafted a punter was 1975 with Mitch Hoopes with him being the third in the franchise.
The Cowboys drafted guard Billy Shaw in the 14th round of the 1961 NFL Draft, but the Hall-of-Famer instead chose to play for the AFL's Buffalo Bills.
The Cowboys have never had a future Hall-of-Famer taken immediately after their draft selection, unless it was a future Hall-of-Famer himself. This happened in the 1964 draft when Dallas took cornerback Mel Renfro and Washington took safety Paul Krause the next pick.
The Cowboys have had a future Hall-of-Famer drafted before their pick eight times in club history.
Since the departure of Jimmy Johnson in 1994, the Cowboys have not selected a Miami Hurricane.
After having only six selections in the 2010 draft, the Cowboys have followed up their drafts with total picks of eight, seven, seven, and nine.
The fewest picks the Cowboys have had in a draft class was five in 2000. The average tenure of those players was three seasons, and only two of them played in the NFL after their Dallas days were done.
Since 1994, when the draft went to seven rounds, the most picks the Cowboys have had in a draft is 12, which occurred in 2009.
Dallas Draft Watch Party
The gang will assemble at 6:30 Thursday at
The Maverick Bar (1616 Hebron) for our CHQ Draft Watch Party
sponsored by
Jim Ross & Associates, Attorneys at Law...
...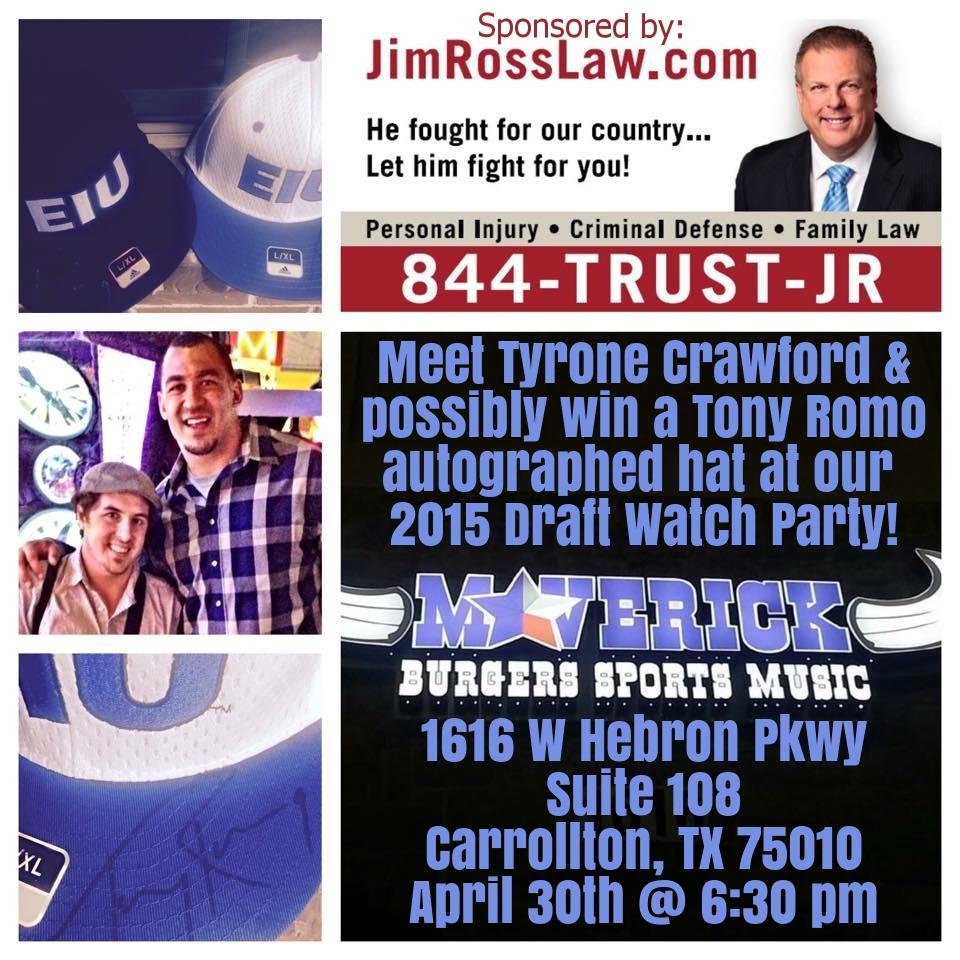 Jordan Ross and Mark Lane will be your hosts ... Special guests include Tyrone Crawford ... goodies include autographed stuff from guys like Tony Romo ... and Fish and Jeff Cavanaugh will swing in late, too. Come join us!
Onside Kicks
Those
pre-draft visitors and private workouts? That Cowboys list is here
... Fish reports on 105.3 The Fan that the Cowboys' position on Adrian Peterson is unchanged from months ago. No movement -- not even phone calls between the parties. Jerry's lieutenants continue to rule here ... More of our
Cowboys Crunchtime Podcast series is here,
featuring Fish, KD Drummond, Bob Sturm and more ... Catch
Fish and Dez playing Twitter footsie with the "official'' news of the non-existence of the Unicorn Video
... We have
the inside story on Hardy vs. Coleman during conditioning drills.