Over the last several weeks, as the draft has drawn near, we at CowboysHQ have focused on getting to know Those
the players who were on the Cowboys list of 30 official visits to Valley Ranch
, knowing that through the
"6 Draft Tendencies and Tells"
the Cowboys have drafted 8 players in the last two years who are a part of the pre-draft visit group. However, as we reported eight days ago, they have their eyes on
a pair of pass rushers in the top 3 rounds
" with off-field concerns.
One of those was Frank Clark", who came to Valley Ranch, and whom, according to CowboysHQ sources, the Cowboys staff has become "comfortable" with as a person and love as a player on the field. The other? Nebraska's Randy Gregory, who Fish says this afternoon he can visualize being taken at No. 27 with scouting guru Will McClay pounding the table with a "He's a QB Hunter!'' declaration. (As Will did 12 months ago with Demarcus Lawrence.)
Name: Randy Gregory Position: Defensive End School: University of Nebraska Height: 6'5" Weight: 235 LBs Intangibles/Honors: Second team All-American (FWAA) - 2014 Third team All-American (AP) - 2014 First Team All-Big Ten (Coaches & Media) – 2013& 2014 Bednarik Award Semi-Finalist - 2014 Lott IMPACT quarter finalist - 2014 Sophomore Defensive Player of the Year (College Football News) - 2013 Nebraska Defensive MVP - 2013 Allegedly failed multiple drug tests in his time at Nebraska Tested positive for marijuana usage at the NFL combine pSparq Score: 138.5 Z-Score: 1.4 NFL Percentile: 92.2 pSparq is an approximation of the "Sparq Score" metric invented by NIKE (with the help of former USC and current Seattle Seahawks Head Coach, Pete Carroll), designed as a way to standardize athletic testing of High School athletes and interpret their athleticism with a sport specific formula. By standardizing a single metric composed of multiple athletic test results, it becomes possible to compare players to the athletic testing scores of players in past draft classes, and to provide context as to how a player will compare athletically to his peers at the NFL level. The Z-Score represents the number of standard deviations (sigma) above or below the mean at a particular position that player falls, 84% of players will have a Z-score of less than 1, 98% will have a Z-score of less than 2, and 99.87% will fall below a Z-Score of 3. There are currently a total of four players who are "3 Sigma Athletes" in the NFL, JJ Watt, Calvin Johnson, Evan Mathis, and Lane Johnson, along with one from the 2015 draft class, Byron Jones. For more on pSparq,(and the man behind the math Zach Whitman) check out 3sigmaathlete.com
Measurables vs others at his position:
Note: This spider graph provides a visual representation of a players' measurable traits, and combine results.  The filled in area of the chart, as well as the number in the light grey circle represents the percentile among the players peers by position.  A score of 85 here represents that out of every 100 players at his position, the player has a better result in that test than 85 of those 100.
Force Player?: Yes Note: Force Players and its predecessor Math Rushers, is a filter developed by Justis Mosqueda of Draftbreakdown.com which uses combine (or proday) athletic testing results in an attempt to predictively indicate the Edge rushers who have the necessary traits to be difference making players for a defense. For more information on Force Players, how they're classified, and the correlation to success for edge rushers, along with the full list of 2015 forceplayers, as well as a comparison of force players to non-force players for the last decade, read Justis' breakdown on Rotoworld and listen to the Justis' appearance on Josh Norris' Process the Process Podcast
Games Studied: Michigan State, Wisconsin, Miami, Michigan (2013) Pass Rush: Randy Gregory was a pass-rushing machine at Nebraska, totaling 18 sacks in his final two seasons as a Cornhusker. The huskers' coaching staff used Gregory at both left and right defensive end, and as a "spinner" out of certain 3-man fronts. He has the burst off the snap, the length to extend to keep blockers out of his chest, the explosiveness in his lower body to convert speed to power, the flexibility to bend and sharpen the corner, and the lateral agility to change directions and take advantage of heavy footed blockers. He is at his best as a rusher when he can line up wide, play on an island against a tackle and use his athleticism. He is violent with his hands, and strategic in how he uses them to keep blockers from latching on to him. His favorite rush move is an inside swim move designed to get OT's to over-set to get in front of him, which opens up the inside lane straight to the QB. He has a lot of success with this move and uses it to be very disruptive in the games I studied. The problem I have with that particular move is how much he raises his pad level as he executes the move. He almost hops up and shuffles as he crosses the tackle's face, which combined with the arm over swim move, creates a big target for the blocker if he can stop his momentum and get his hands on Gregory. I specifically chose to watch the Michigan game in 2013 because I wanted to see what he'd do against a top flight, top of the first round left tackle in Taylor Lewan (chosen 11th overall in the 2014 draft), and although there are a couple of snaps where he was able to be disruptive, there we several snaps that highlighted my biggest concert with Gregory as a rusher, and that is the fact that as soon as a high quality left tackle gets ahold of him, he is absolutely dead in the water. Run Game: Playing full-time defensive end in the Big 10 at 225-235 pounds is not an easy thing to do, there were times especially when a blocker was coming at him heads up when Gregory did a good job of using his explosiveness off the snap, and his long arms to put himself in a good position to shed the block and make plays against the run, but there were also times, especially when facing a down block, where he just didn't have the sand in his pants to hold up at the point of attack. He played inside aligned in a 5 technique when Nebraska would play an Under front, and when he was down inside like that he got bullied by both tackles and guards who drove him off the ball. He did show the ability to bend at the waste to get his hands down against a cut block, while keeping his eyes on a ball carrier and make the play.
Conclusion/Cowboys Projection: For the majority of the draft process, Randy Gregory was considered to be a pretty surefire top 10-15 pick in this draft. His upside as a long athletic rusher is such that with a relatively clean off-field profile, he would be worth the pick very early in day one of the draft. However, with a failed drug test (marijuana) at the Combine, along with admissions to teams that he had a problem with recreational marijuana usage while at Nebraska, the possibilities are increasing that he is available when Dallas picks at number 27. Considering their desire to improve the defense, and add potential cornerstone players to their defensive front similarly to how they added Tyron Smith, Travis Frederick, and Zach Martin to the offensive line. I don't see a scenario where a talent like Gregory is available at the 27th pick and he isn't the Cowboys selection. In my opinion he would join Rod Marinelli's rotation of Rushmen, and take mostly situational pass-rush snaps in year one, while the team develops him with hopes of becoming a three-down player by 2016.
Dallas Draft Watch Party
The gang will assemble at 6:30 tonight at
The Maverick Bar (1616 Hebron) for our CHQ Draft Watch Party
sponsored by
Jim Ross & Associates, Attorneys at Law...
...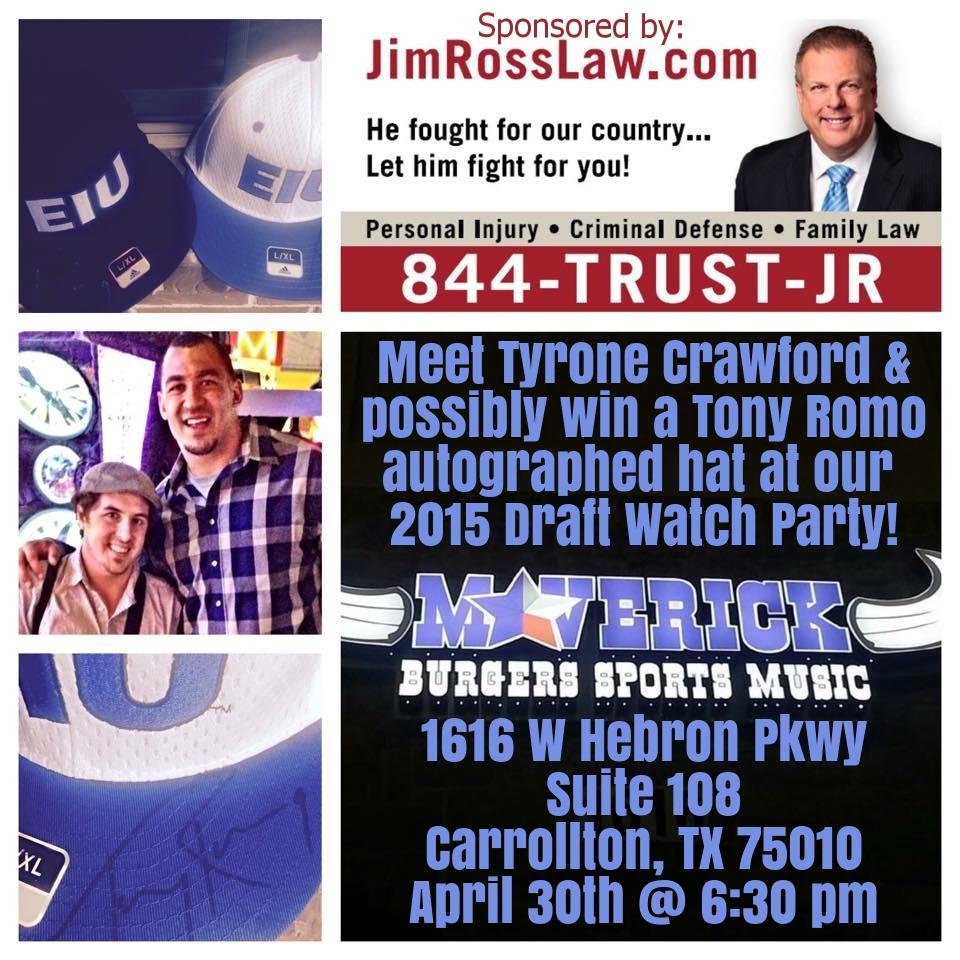 Jordan Ross and Mark Lane will be your hosts ... Special guests include Tyrone Crawford ... goodies include autographed stuff from guys like Tony Romo ... and Fish and Jeff Cavanaugh will swing in late, too. Come join us!
Onside Kicks
Fish reports on 105.3 The Fan that the Cowboys' position on Adrian Peterson is unchanged from months ago. No movement -- not even phone calls between the parties. Jerry's lieutenants continue to rule here -- though we will stay on top of that tonight if anything changes ... More of our
Cowboys Crunchtime Podcast series is here,
featuring Fish, KD Drummond, Bob Sturm and more ... Catch
Fish and Dez playing Twitter footsie with the "official'' news of the non-existence of the Unicorn Video
... We have
the inside story on Hardy vs. Coleman during conditioning drills.