Cowboys 'Best O-Line' Talk
With surprising grace, rookie offensive lineman
La'el Collins
glided around left field during the Cowboys' Reliant Home-Run Derby benefiting the Salvation Army at Globe Life Park, the 6-5, 310-pounder smoothly shagging balls for veteran teammates at the plate.
Meanwhile, with equal grace, slightly more senior members of the
Dallas Cowboys
' O-line fielded questions fueled by Collins's stated desire to be a part of the "best offensive line in NFL history."
.@70LaelCollins & rookie club members with our guests from @SalArmyDFW at #ReliantHRD pic.twitter.com/5sVXqQPKhx

— Dallas Cowboys (@dallascowboys) May 19, 2015
"You know that's not something that I personally am going to say," center Travis Frederick said. "I know we have a long way to go to reach anything like that. For us to come in and try and do what we want to do -- and what that is is do as well as we did last year and continue to improve -- we have a long way to go. So we're just grinding continuing to work on technique and strength and speed and hopefully we can have another good year."
Frederick, like guard Zack Martin and tackle Tyron Smith, are all first-round picks in their early 20's and all three made the Pro Bowl last year. Collins, 21, has that same level of talent but was acquired as an undrafted rookie as he slipped through the draft while being questioned regarding the homicide of an acquaintance. He truly might be part of something special; the 2014 Cowboys line was already elite.
"Our group sets a very high standard for how we work, and (the rookie O-linemen) have come in and done that," said Martin of newcomers Collins, Chaz Green (third round) and Laurence Gibson (seventh round).
Tyron Smith "big-brothered'' Collins when the Baton Rouge native was recruited to USC before opting to stay home to attend
LSU
. But Smith got another crack at
luring Collins when he was part of the Jerry Jones-led contingent inviting Collins to join Dallas.
"It was his decision," said the soft-spoken Smith. "It was nothing we had to do."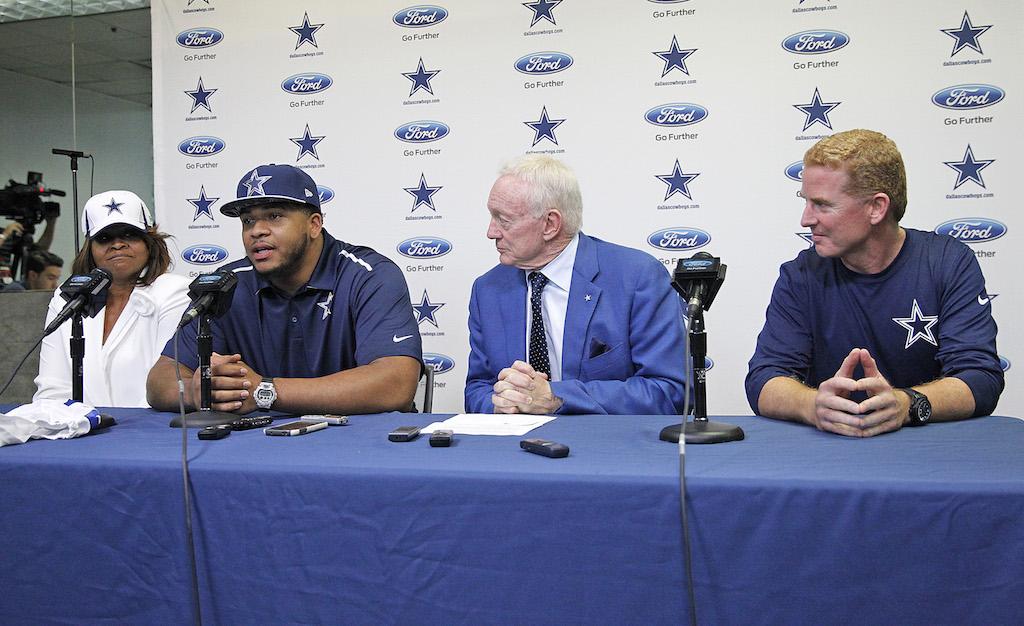 Frederick made it clear in his media visit — and likely has done the same in his discussions with his new young teammates — that "best-line-in-football'' stuff doesn't happen as a result of simply saying it, or dreaming about it, or even aspiring to it.
"We certainly have a lot of talent in that room," Frederick said. "A lot can be said about the guys who are there, but there are also a lot of times when talent goes wasted if it's not put to good use. Hard work beats talent when talent doesn't work hard.''
Gregory Deal Details
NFL sources told me on Wednesday that the Cowboys' signing of second-round pass-rusher Randy Gregory to his four-year contract totals $3.8 million and includes a $1 million signing bonus.
Dallas considered the Nebraska star as a top-10 player on its board and contemplated picking him with the 27th overall selection in the NFL Draft. Instead, the Cowboys chose cornerback Byron Jones. But when Gregory kept sliding — in part due to a failed drug test at the NFL Scouting Combine — Dallas took him with the No. 60 overall pick.
Gregory says he's "barely scratched the surface as a player and a person,'' and the Cowboys agree, with defensive line coach Leon Lett and two other ex-Cowboys stars, Michael Irvin and Charles Haley, in line to mentor him.
Ben Tate, Felix Jones in Town
The Cowboys are working out running back Ben Tate this afternoon, sources tell us, as a part of a group session for veteran free agents. Tate is a 5-11, 220-pounder who's bounced around the league for four seasons after being drafted in the second round out of Auburn by the Texans in 2010.
At Auburn, Tate gained 3,321 yards in his career and 1,362 yards as a senior. He missed his rookie season in Houston with an injury but went on to gain 1,992 yards (4.7 per carry) as Arian Foster's backup the next three seasons.
Tate then signed a two-year, $6.2 million contract with the Browns to start 2014. He was an early starter but watched his workload decline significantly as the Browns worked rookies Terrance West and Isaiah Crowell into the lineup. Tate was released, claimed by Minnesota, released again and claimed by Pittsburgh, and now, about to turn 27, is trying to reinvent himself.
The same goes for ex-Cowboy Felix Jones, also part of this afternoon's group workout. None of this is indicative of Dallas' sudden disdain for its present stable of backs. It's part of an ongoing attempt to "kick the tires'' on unsigned vets ... not unlike what Dallas did almost exactly a year ago with Arizona-ex Ryan Williams, who was eventually signed to the practice squad.