Hall-of-Fame running back Marcus Allen is a Raiders legend. Still keeping up with the Black and Silver, Allen has seen enough of new Cowboys running back
Darren McFadden
to know if the 27-year-old is a bad runner or has suffered from bad fortune.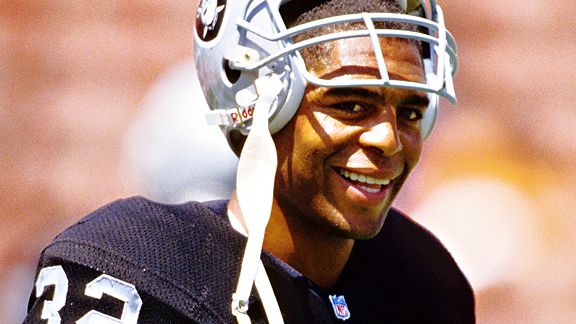 "I like Darren," Allen said. "Obviously his Achilles heel has been his health. Staying on the field I think has been his biggest challenge."
McFadden has only played a full NFL season just once in his seven seasons, and that was his final year in Oakland. The former Razorback gained 534 yards and scored two touchdowns on 155 carries. As the season progressed, second-year back
Latavius Murray
took more carries away from the seven-year veteran.
Said Allen: "Everyone knows he has the skill. And when he's had the opportunity to play and stay healthy, I think he's performed."
And certainly nothing's been given to McFadden in Dallas in terms of "opportunity to play.'' As we note
here in "Truths and Fibs about the Cowboys' RB Situation,''
Dallas' draft plan was to find a runner who could beat out Joe Randle (who the Cowboys would prefer win the job) and McFadden (who figures here in a complementary role). Oh, and then there are the ever-present rumors of Dallas' "contingency plans'' (Fish's words) to trade for a No. 1 back.
But you can't blame McFadden for wanting more.
"For me, I feel like I have a lot to show to myself, as far as being healthy and going out there and putting together a full 16 games to show people what I can do being healthy and behind a good offensive line,'' he recently told NFL.com. "I did [play 16 games last year], but it wasn't 16 games of how I would have wanted it ... I still don't feel like the world has seen the best of Darren McFadden."
In 2010, McFadden played and started in 13 games for Oakland. Not only did he rush for 1,157 yards and seven touchdowns on 223 attempts, but he also caught 47 passes for 507 yards and three scores. With pedestrian signal-callers such as a washed-up
Jason Campbell
and journeyman
Bruce Gradkowski
under center, McFadden did his part to help the Raiders finish 8-8 in the AFC West.
Along with being a Raiders running back, Allen shares something else with McFadden: being a
former
Raiders running back. After playing 11 seasons in Los Angeles, Allen went to arch-rival Kansas City. Allen missed only three games in his five seasons with the Chiefs, went to the Pro Bowl, set a career-high with 12 rushing touchdowns in a season, led Kansas City to the playoffs four out of five of those years, and challenged the
Buffalo Bills
in an AFC Championship game.
Allen knows the curative powers of going to a new team, and predicts that will be just as helpful for McFadden as the Cowboys' young, road-grading offensive line.
"Leaving one place and going to another does rejuvenate you, not just the offensive line, but going to a new place," Allen said. "It's a whole new start. It's a great feeling that you get."
Last season, the Cowboys offensive line paved the way for
DeMarco Murray
to set a Cowboys record for rushing yards in a season with 1,845, which also won Murray the league's rushing title. Additionally, the line kept a 34-year-old quarterback coming off a second back surgery upright for most of the year.
Tony Romo
only missed one game in 2014 as opposed to half a season as many analysts predicted in preseason.
Allen believes the new "Great Wall of Dallas" is good, but he won't swig all the blue Kool-Aid.
"They pale in comparison to Emmitt's group. Let's not put them in the Hall of Fame yet."
As long as they can put Dallas in the playoffs yet again, but with a rejuvenated McFadden and maybe a running-back-by-committee approach toting the rock, Cowboys fans (and Marcus Allen) will increasingly buy into the comparisons.