Charity Clean-Up
While all eyes are on football today ... the Cowboys trying to progress from our recent work
with our Cowboys Projected Depth Chart and "54-Man'' Roster
... we don't want to let it slip by that the Dallas Cowboys last week raised $50,000 for the Salvation Army in their fourth annual Reliant Home Run Derby at Globe Life Park, home of the Texas Rangers.
Free safety J.J. Wilcox, who played baseball at Cairo High School in Georgia, raised $9,700 alone as he hit 13 home runs and two in the final round to win the competition.
"It took me back to my old glory days in high school," Wilcox said. "I thought I was a stud, but not much of a stud. It was fun to go back and reminisce a little bit."
Head coach Jason Garrett finished second in the derby with four home runs and $7,200 raised. But even before the final showdown with Wilcox, Garrett knew he had stiff competition with the third-year safety from Georgia Southern.
"It took me two swings in the batting cage to know J.J. Wilcox was going to win," said Garrett. "I mean, he looks like a natural. He has such great explosiveness as an athlete, and you saw it right away. He put on a clinic out here."
In terms of home runs, Jason Witten had more homers than his head coach with six, but the 11-time Pro Bowler had fewer hits overall.
Tyrone Crawford finished the derby with two home runs, while Travis Frederick, Tyron Smith, Zack Martin, Barry Church, Terrance Williams, and Brandon Carr each had one apiece. Still, the lesser Cowboys had fun helping out a good cause.
"It's a great opportunity for us to come out here and try and do something we're not used to and make a little bit of a fool of ourselves and raise some money for the Youth Education Town," Frederick said.
Wilcox becomes just the second safety to win the home run derby, supplanting 2014 champion Barry Church. Past winners include ex-Cowboy Jason Hatcher and Coach Garrett.
Weeden's Views
In the ramp-up to
this week's OTAs (in which Dustin Vaughan is getting some positive stroke from CHQ)
, the 105.3 The Fan gang caught up with Brandon Weeden, who shares his Cowboys thoughts below:
WHAT HAVE YOU LEARNED IN LAST YEAR? -- "I told Tony [Romo] and our quarterback coaches this the other day. I've learned more about the quarterback position and about football, offense, and X's-and-O's in the last year than I have in probably the last four years of my being the starter and playing. So, we got a great staff. They try to... very detailed. Tony's helped a lot. Obviously, he's a very smart brain, mind of the quarterback position. So, I've learned a lot. It's a great organization. For myself, it's been great."
DEZ NOT BEING THERE -- "It's hard. Right now, he's not missing out on a whole lot. We're not doing a whole lot as far as team stuff. Yeah, more than anything, I would say Dez is a leader of that group. And I think they're kind of missing that vocal guy that kind of pushes everybody. That part of it, that will all come together when he comes back. In all honesty, we're not doing enough to say it's killing us to not have him out there. As much as we would love to have him out there, it's part of the business and just the way things go. When he starts to come back, he's going to start to make that core better and is going to be the best player on the field. Yeah, it's, like I said, that's the NFL these days and the way things work. And he's a hell of a talent."
HOW LONG DOES IT TAKE TO KNOW A ROOKIE WILL HELP YOU? -- "I think every guy is different. When
Zack Martin
came in, you could tell from day one this guy was going to be a stud. Then there are some guys that it takes a couple years to kind of, maybe a receiver to pick up the speed of the game or coverages and stuff like that. But I think the guys are successful. I mean, Zack Martin is a Pro Bowler. With guys like that, you can tell from when they walk in the door and see them perform that they're going to be the guy. Rookies, I mean, I remember my rookie camp three years ago. My head was spinning. You have so much thrown at you. I'm just trying to get a play called, much less what route is on the field and throw it on time and on target. It's challenging. It's a big jump from college football to the NFL. If guys just have to adapt and understand the speed of the game and know where they're at day one, they got a chance."
DO YOU FEEL FOR JOHNNY FOOTBALL? -- "Yeah. Absolutely. I mean, people were talking about this a while back. To play the quarterback position at this level, you have to have really good players around you. And hopefully they all stay healthy for 16 games or more. So, up there, with
Josh Gordon
out and
Jordan Cameron
leaving and all these other elements, you're only as good as the guys around. There's very few guys in this league that make the guys around you: the Bradys and the Brees and guys like that. Tony has done it his whole career. Sometimes, as a rookie, and to have guys that may not be marquee-type players and expect them to go out there and bear the weight of the franchise on his shoulder and the expectations. And especially him, with all the [inaudible] that comes with him. He had no chance to live up to the expectations. So, yeah, it's very, very hard. I did it for two years, and just wasn't able to get it done. I feel for the guy. Cleveland is a tough town. If they're not winning games, and they haven't won in a long time, you know, it can crumble really quick."
Onside Kicks
The Cowboys are always looking to churn the bottom of the roster, thus today's signing of wide receiver A.J. Jenkins, the former 49ers first-rounder. But the top of the roster is vastly more important, and that's where the biggest stories are inside Valley Ranch. ... Those stories include: The healthy return to the field of Sean Lee, the standout linebacker who missed all of last season after injuring a knee at these same OTAs; the development of rookies Byron Jones, Randy Gregory and La'El Collins; and maybe most importantly, the grabbing of the brass ring by running back Joe Randle, being given the first shot at replacing the departed rushing champ DeMarco Murray. ... Of course, wide receiver is also a storyline -- but that's about Dez Bryant, franchise-tagged and without a contract and therefore expected to stay away from these workouts. In his stead, coaches believe Devin Street can excel alongside Terrance Williams. Cole Beasley remains a constant in the slot. Undrafted rookies like George Farmer are in play ... And now too so is Jenkins, the speedster who is just 25 but who has yet to produce in stints with San Francisco and Kansas City and is largely a "camp body'' at this point.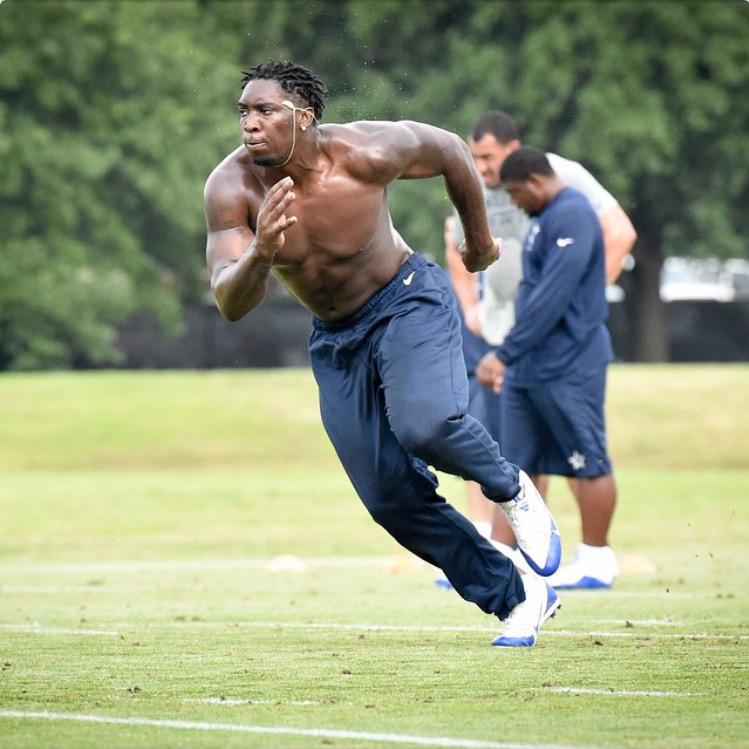 Third-round pick Chaz Green signed his four-year deal (slotting puts it in the area of $2.8 mil), leaving just Byron Jones and Damien Wilson as unsigned rookies ... Greg Hardy will miss OTAs on Thursday in order to attend his appeal hearing regarding his 10-game suspension ... We noted this morning the progress Mo Claiborne is making from injury and it seems he worked at some level on Tuesday. ... The above photo suggests another truth we've heard about: Demarcus Lawrence looks, well, more physically mature. ... Cowboys seventh-round offensive lineman Laurence Gibson underwent surgery for a broken finger and will likely miss the remainder of spring work.