Cowboys Top 10
Leading up to the franchise tag deadline on July 15th, Michael Irvin took to Twitter to express his concerns with the
Dallas Cowboys
offseason.
Guys Im hurting 4 US #CowboysNation I was hoping 4 a better off season Wit us Talking #SuperBowl. NOT ALL THIS NEGATIVITY! We deserve better

— Michael Irvin (@michaelirvin88) July 15, 2015
I understand that Michael was letting his emotions get to him as he waited to see whether or not "his son,'' Dez Bryant, would receive an extension. However, even if Dez hadn't been extended and ended up playing under the franchise tag, that wouldn't take away all of the incredible moves this front office has made throughout the offseason. In fact, this has been one of the team's best offseasons in recent memory. "The Playmaker" was a legend on the field, but with all due respect, his opinions on front-office decisions are quite flawed ... because he's so driven by emotion.
Another thing that Irvin has disliked about the team's offseason is the fact that they "lost" DeMarco Murray to the Eagles. When that happened, Irvin was adamant that the Cowboys had made a terrible mistake and that the Eagles were now the favorite to win the NFC East. I have a completely different view on that situation. First of all, the Cowboys didn't "lose" Murray, they let him go. They were not going to pay big money to a 27-year old, injury-issue'd running back who was coming off a 392-carry year - and rightfully so. Anyway, after seeing Mr. Irvin's most recent tweet, I got to thinking about the Cowboys offseason. The more I thought about it, the more I loved it. This is a team that has struck a perfect balance between capitalizing on their franchise QB's short window, and planning for the long-term future - all while remaining fiscally responsible.
(Check out KD's cap-related stuff for the Cowboys here.)
While some folks, like Michael, might be worried about the state of the Cowboys, I think this is a team that is on the rise - and here are 10 reasons why I think the Cowboys will be even better in 2015 than they were in 2014.
1. DOMINANT OFFENSIVE LINE


The Cowboys already had one of the youngest (and arguably the best) offensive lines in the NFL in 2014 - sending three OL to the Pro Bowl. That wasn't good enough for Jerry, though. The Cowboys went out and signed La'el Collins, giving them four 1st round talents blocking for Romo and the RB's this season. The best part? All 4 of them are under 25. I wouldn't take any other offensive line in the league.
This group was good in 2014, but they haven't even begun to reach their full potential - which
Jerry and others think could end up being the best offensive line of all time.
2. IMPROVED DEFENSIVE LINE


The defensive line is vastly improved from 2014 - Jeremy Mincey, the team's best edge rusher last year, could be the 4th best in 2015 - behind Greg Hardy, Randy Gregory, and a bigger/more experienced Demarcus Lawrence. Tyrone Crawford will have a full offseason to develop at the 3-tech DT spot and the team has high hopes for Terrell McClain at the 1-tech. That's not even mentioning guys like Gardner, Whaley, Bishop, Russell, Crawford, Coleman and Obada who could all turn into very solid rotational players. It all starts up front and the Cowboys are making sure their covered on both sides of the ball.
In fact,
there are a bunch of kids who might be ready to step up, from the 2014 class alone.
3. A HEALTHY TONY ROMO


Tony Romo had an MVP-caliber season in 2014 despite coming off his second back surgery in as many years. He is now fully healthy and has been able to push himself this offseason.. The best of Romo could very well be ahead - just like he told us in Oxnard during last year's training camp. Tony isn't showing any signs of slowing down. He knows the clock is ticking and will do everything in his power to accomplish the ultimate goal of winning a championship.
4. COACHING CONTINUITY


The coaching staff will mostly remain the same, which is important. Jason Garrett, Scott Linehan and Rod Marinelli all received extensions and will have more time to build their team and implement their schemes/philosophy. Romo can continue developing chemistry with his offensive coordinator and the defenders can keep learning from defensive guru, Rod Marinelli.
Continuity is one of the most overlooked aspects in all of sports and
Jerry made sure that the three most important coaches to this team will be sticking around for a while. ... and he paid a handsome price to do so.
5. RANDLE AS MURRAY?


Joseph Randle is arguably a better scheme fit for the Cowboys zone-blocking scheme than DeMarco Murray was. Some fans might have an issue with that statement, but that doesn't mean it's not true. Many of us were even saying it all throughout the 2014 season. Randle's tremendous vision allows him to recognize lanes and hit holes much quicker. He's also more dangerous in the open field. Randle could potentially take that extra "meat off the bone'' that was left there by Murray last year.
This isn't meant as an insult to DeMarco, but rather as an endorsement of what a keep-his-head-on-straight Randle might be capable of. Really,
the "insult'' is this idea that, say, Chris Johnson is ready to show up and be a hero ... when that's not Dallas' plan at all.
6. STUD LINEBACKER DUO


Assuming both of them remain healthy, we'll finally see
Sean Lee
and Rolando McClain on the field together starting in Week 5 vs the Patriots (after McClain serves his 4-game suspension). This is something fans have been dreaming about since last season. Lee is moving to the WLB spot, which should limit the risk of injuries and (hopefully) allow him to stay healthy for a full year. If that happens and McClain shows up like he cares, the Cowboys could have one of the best linebacker duos in the NFL.
I'd be fibbing to skip over the "if's'' here. But I'm hopeful ...
7. DEZ IS GONNA DO WHAT DEZ DO


Dez Bryant has improved each year in the NFL and could be playing with a bigger chip on his shoulder than ever before after being robbed of a career-defining moment in Green Bay in January. After receiving a 5-year, $70 million contract, Dez finally has the long-term security he's been seeking and can now focus completely on football. All signs point to another epic season for this team's "X-Factor." In fact, if Dez matches his 2015 touchdown total of 16, he would set a new franchise record for career receiving touchdowns. That would be quite an accomplishment for a just sixth-year player.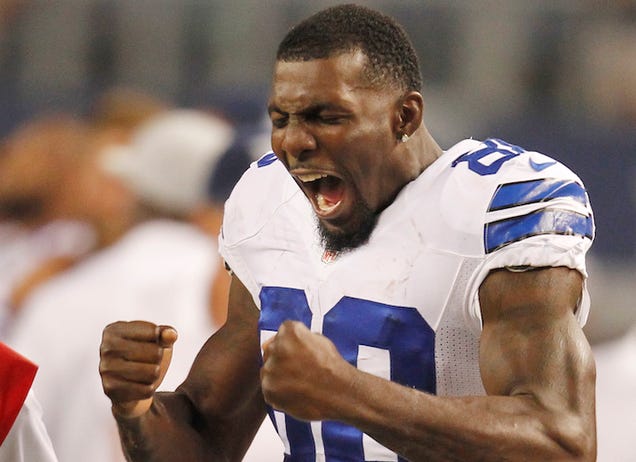 "We're Super Bowl-ready,'' seems to be Dez' post-contract mantra.
His numbers say the same thing.
8. THE ADDITION OF BYRON JONES


The Cowboys improved their secondary with the addition of Byron Jones - a potential lockdown cornerback to pair up with Orlando Scandrick and Brandon Carr. If the Cowboys can get something out of Morris Claiborne, who is coming off another injury, they can even use Jones as a free safety - which he played to start out his college career. Jones has an incredibly rare combination of freak athleticism, tremendous work ethic and high football IQ that could make him a star in the NFL, regardless of his position. The Cowboys suddenly have a little more flexibility in the secondary.
9. THE FRONT OFFICE
Will McClay, Stephen Jones, Jerry Jones and the rest of the front office have done an absolutely outstanding job over the last couple of seasons - which is why Jerry was named the Executive of the Year for 2014. They've put together one of the youngest and most complete rosters that the Cowboys have had in a long, long time. In fact, they've built one of the youngest, most complete teams in NFL right now, which should allow the Cowboys to compete for a playoff spot for years to come.
Fish likes to say that it's "not Jerry stepping back; it's his lieutenants stepping forward.'' This sounds like a smart way for the front office to use all its tools.
10. UNLIMITED POTENTIAL


The vast majority of the roster - aside from the Tony Romos, Jason Wittens and Orlando Scandricks - have just experienced their first winning season/postseason. They now know what it takes to get to the playoffs and do some damage and they're hungry for more. This team got a much needed boost of swagger, confidence and experience that will help them continue their upward trend.
The idea of "five Super Bowls'' -- the words of an enthused Jerry in a phone call to the just-signed Dez - is a bit much. But Irvin's negativity is too much in the other direction. Hunger for a second straight year of true contention seems reasonable ... and their belief in their potential seems reasonable, too.
Cowboys Crunchtime Podcast
Show Rundown
Breaking Down The Dez Contract | 01:35
Impact on the 2015 Cap | 04:35
How Cowboys View The Salary Cap | 05:37
NFC Competition & Early 2015 Schedule | 06:10
Commercial Insert | 08:27
Cowboys Insider Mike Fisher | 08:33
How The Last Two Weeks Went Down | 09:27
How The National Media Covered The Negotiation | 12:20
Greg Hardy's Appeal, Future & Pass Rush Impact | 17:10
Rolando McClain Doesn't Love Football | 25:50
Do Fish & KD Matter? | 33:05
Tony Romo Update | 35:55
Wrap Up & Outro | 38:00