Fish on Hardy
First, from inside
Dallas Cowboys
headquarters at Valley Ranch, let's have our own Mike Fisher check in on the Greg Hardy latest:
There is no standardized NFL punishment for those alleged to have wavered from the straight-and-narrow. In the case of the New England Deflatriots, their owner Robert Kraft, essentially "on trial,'' gets to first share a friendly dinner and a reported "hug" with commissioner Roger Goodell.
A courtroom plaintiff allowed a warm embrace with his judge and jury?
Greg Hardy isn't quite that "connected," I guess.
The latest chapter in the star pass-rusher's attempt to return to the field comes this morning when he has his "day in court" with a Washington DC appeal before Goodell appointee Harold Henderson.
Hardy - who has been a Dallas practice-field force since signing as a high-profile free agent from Carolina -- will miss OTAs today, of course, as he works to undo some of the damage caused by his involvement in a domestic-violence case. He and the Cowboys would also like to use the hearing, which started at 9 a.m. Dallas time, to undo some of the 10-game suspension handed down by Goodell.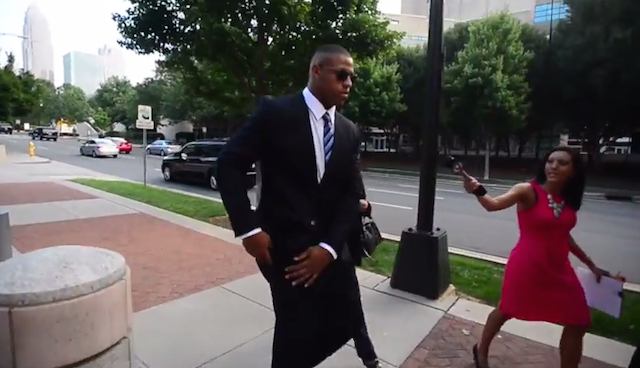 Hardy's appeal could focus on a "punishment-doesn't-fit-the-crime" argument based on the NFL's own personal conduct policy. I'm no defender of Hardy's involvement in a heinous situation, and if the "going rate" for such an incident were two games, or 10 games, or 100 games, I would accept that. But this? This is a Play-Doh Policy, open to interpretation, malleable, and arguably susceptible to favoritism.
Greg Hardy is getting his hearing. He might have a better chance on Thursday if he was getting a hug.
Moose on Hardy
Now to ex-Cowboys fullback and NFL on FOX analyst Daryl Johnston, who says he would like to see Greg Hardy get involved in the Dallas-Fort Worth community in thwarting domestic violence.
"I'd love to see Greg Hardy get involved with some of the organizations here locally," Johnston said. "There's some great organizations when you talk about domestic violence that he could be a spokesman for. There's a number of them that would really, really kind of send a good message, not only to other players in the NFL, but other men who are struggling with that issue."
A Mecklenberg County, North Carolina court sentenced Hardy to probation in July 2014 for domestic violence against then-girlfriend Nicole Holder. Hardy spent 15 games on the commissioner's exempt list. Even though charges were dismissed against Hardy on February 9 due to Holder's failure to testify, the stigma of domestic violence marks Hardy in an age when the NFL has inadequately addressed the issue.
Though the Hardy signing would be a "tough sell" to Dallas and the Cowboys fan base due to Dallas Mayor Mike Rawlings' efforts in raising awareness for domestic violence, Johnston believes the club nonetheless made an informed decision.
"I know that the organization was going to do its due diligence and talk to everybody that Greg Hardy had been associated with and see what kind of character he has," said Johnston. "And they felt comfortable bringing him here. And Dallas does have great resources for players to overcome issues in their past."
One of the ways that Johnston believes Hardy can move past his off-field issues is to be an active part of the Dallas-Fort Worth community.
"I would like to see him be a part of the community,'' DJ said. "Everybody knows that the decision comes down to your production on the field, and the pass rush and the defensive line in general. He's a perfect fit for the Rod Marinelli defense. We all know that part of it.
"Now, I'd like to see him a positive role model in the community. Whatever way he feels is the best way to do that, I'd love to see him do that. And I've already heard great things from people who are in Valley Ranch right now with his work ethic and everything that's going on."
Witten on Hardy
Tight end Jason Witten recently expressed his satisfaction in the way Hardy has been working with the club, especially after being suspended for the first 10 games in 2015.
"I'm really pleased with how he's approached himself and worked and the kind of teammate he's been," Witten said. "The next day he got suspended, the next day, he was in there working out. I think that's the kind of mentality he has is the kind of work ethic he's trying to prove."
We've got
more on the Hardy angle from Witten -- who himself has a background that includes being victimized via domestic violence as a child -- here.
Marinelli on Hardy
At some point, issues of behavior dealt with, it'd be nice if the Greg Hardy story is about football. For D-coordinator Rod Marinelli, that's the singular concern.
Hardy's "work ethic ... he comes to work every day,'' Marinelli said at Wednesday's OTAs. "He doesn't say much. He's a detail guy. He's got talent. The guy really loves football.''
Starting today, we get a glimpse of just how much Dallas Cowboys football Greg Hardy will be allowed to love.
Related Story: Rookie Days As Part of Cowboys RBBC?

Related Story: Cowboys 'In The Thick Of It,' Says Roger
Related Story: Cowboys Crunchtime Podcast - Inside OTAs