It was almost exactly a year ago when the
Dallas Cowboys
opened up their backyard at Valley Ranch to a very low profile workout candidate, washed-out Cardinals running back
Ryan Williams
.
The Cowboys took that look not really because they needed running back help; they employed
DeMarco Murray
at the time. They wanted to learn things they did not know about Williams …
Williams ended up excelling that spring, earning an invite to Oxnard training camp, getting cut in the preseason, and then being scooped back up and spending the season on the Dallas practice squad. This off-season I reported Williams received a $240,000 bonus to keep him here and keep him in the running for a 2015 job.
On Thursday, the Cowboys continued that same exact kick-the-tires process by working out a handful of former first-round and second-round picks at the running back and wide receiver spots who are presently street free agents.
Here's the Who's Who ... And what CowboysHQ.com has learned went down:
*Among the invitees was Felix Jones, a Cowboys first-round picks in 2008, he looked too heavy to play when Dallas finally let his time expire in 2012. Jones did nothing for the
Pittsburgh Steelers
in 2013 and was out of football last season. So why the workout? Sources tell us the Cowboys as a courtesy to Felix and his agent.
*Ben Tate, one source informs me, was fairly impressive in the workout designed to demonstrate that the former
Houston Texans
standout retains some explosiveness. Tate was a second-round pick of the Texans in 2010 but last year failed to produce while playing for three different teams.
*Daniel Thomas was the
Miami Dolphins
' second-round pick in 2011 but played poorly enough that he essentially expired on two separate contracts there. Interestingly, he was once considered on par with
Lamar Miller
, the 1100-yard Miami rusher who may later this summer make sense as a Dallas contingency trade target should Joe Randle and
Darren McFadden
not prove productive.
*Speaking of the incumbents: ESPN has gone unnecessarily nuts with the notion that these tryouts are a direct reflection of Cowboys dissatisfaction with their present stable. Our aforementioned Ryan Williams example, as well as personnel department sources, confirm that this is largely part of the "365-Day Talent Acquisition Business."
There might be kicker tryouts in the coming weeks. Does someone think that means
Dan Bailey
has fallen out of favor?
*Among the most popular questions I get during this process center on Chris Johnson and
Ray Rice
.
"Why not give them a chance?"
That demonstrates a misunderstanding of the purpose of these workouts. Had they occurred during the regular season (as some surely will) it would be an indicator of a vacancy needing to be filled. But now? It's all exploratory.
And the absence of Johnson and Rice means Dallas feels no need to explore.
In those two cases specifically, it also means Dallas is not especially attracted to the players. I have no idea what the usually respectable John Clayton is trying to pull here ...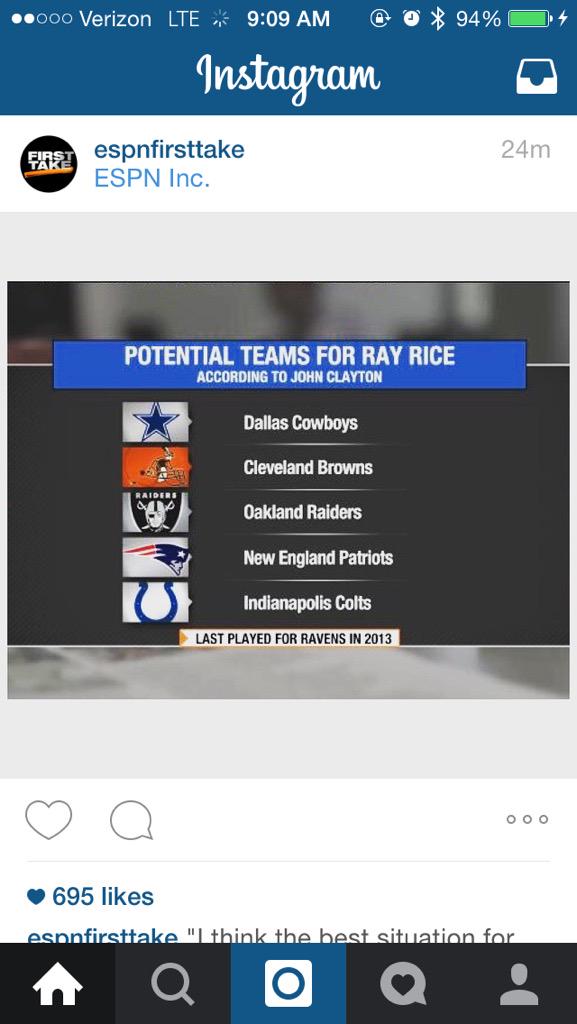 But I assure you he didn't pull Rice-to-Cowboys from anybody inside Valley Ranch.
*Cowboys Nation is so obsessed with the idea of replacing DeMarco that other non-running-back workout invitees were largely ignored ...
*That goes for wide receiver
A.J. Jenkins
, a first-round pick of the
San Francisco 49ers
in 2012 who has never produced ... But certainly demonstrated his speed on Thursday.
*And it goes for wide receiver
Kris Durham
. Durham performed well for offensive coordinator Scott Linehan when they were both with the
Detroit Lions
. In 2013 he caught 38 passes for 490 yards and two touchdowns, including a notable comeback win over the Cowboys in which he caught four passes for 54 yards. Durham is a 6-6, 220-pounder who was with the Tennessee Titans last year. He might be a candidate to help in Dallas -- in theory, he's more ready to play than, say, UDFA
George Farmer
. (Ideally, you'd like that extra receiver to also be a return guy ... and
I will tell you there is a lot of Valley Ranch affection right now for UDFA Lucky Whitehead).
But that doesn't mean Durham rolls in here and takes Dez Bryant's job. Heck, it doesn't even mean he takes
Devin Street
's job. (The offensive coaches think Street is comparable in talent to
Terrance Williams
and simply needs a shot at showing it.)
So again ... you are kicking the tires in an attempt to answer questions (and I bet none of this workout guys are signed anytime soon) ... not in an admission that your present roster definitively doesn't already have the answers.