Cowboys OTA coverage today is brought to you by
The Maverick Bar, 1616 Hebron
, where on Wednesday night we'll hang out with Cowboys ex Cory Proctor ... and on Thursday night, with Cedar Hill football coach Joey McGuire ... all part of the work of Jamie Kelly and her online radio gang ...
And then Friday and Saturday live music along with the 200-inch TV screen and the best burgers in town! Join us!
The Ultimate Team Sport
Football is the ultimate team sport. In order for a team to succeed, each player must do the job at a high level. If one guy makes a tiny mistake, it can ruin an entire play. That process is intricate enough that it doesn't just apply to when the Cowboys, Giants, Redskins and Eagles play one another ... it applies to today, as Dallas works through a second set of OTAs. ... tiny things that all must come together.
Having said all of that, there are definitely some positions that are more vital than others - three in particular. Quarterback, offensive line and defensive line. If a team has top-tier talent in those areas, that team has a very good chance of succeeding. In fact, the team with the best overall talent at those positions is often one of the favorite teams to win the Super Bowl each year. Let's take a look at the NFC East to see which team hits the trifecta?
Let's start with the quarterbacks.
The Quarterbacks
The Cowboys have
Tony Romo
, the Eagles have
Sam Bradford
, the Giants have
Eli Manning
and the Redskins have RGIII. Tony Romo led the NFL in passer rating, completion percentage and YPA in 2014. He also has the 6th best career completion percentage and 2nd best career passer rating of all-time. Bradford is a talented guy, but has had a lot of trouble staying healthy during his NFL career - playing in just 7 games in the last 2 years and zero in 2014. Injuries aside, Bradford still hasn't lived up to the expectations of being the 1st overall pick, even when healthy. He has a career passer rating of 79.3 and a completion % of 58.6 and has only had a 90+ season passer rating once in his career. Manning has won two Super Bowls, which should never be overlooked, but much of his postseason success is due to the dominant pass rush he had during his Super Bowl runs. Eli has thrown less than 14 interceptions just twice in his 11 year career. He's also thrown more than 30 touchdowns just twice as well and has only had 3 seasons with a passer rating over 90. RGIII missed 7 games in 2014 and was even benched in favor of
Kirk Cousins
and
Colt McCoy
. He has 20 touchdowns, 18 interceptions and 8 lost fumbles in the last two seasons.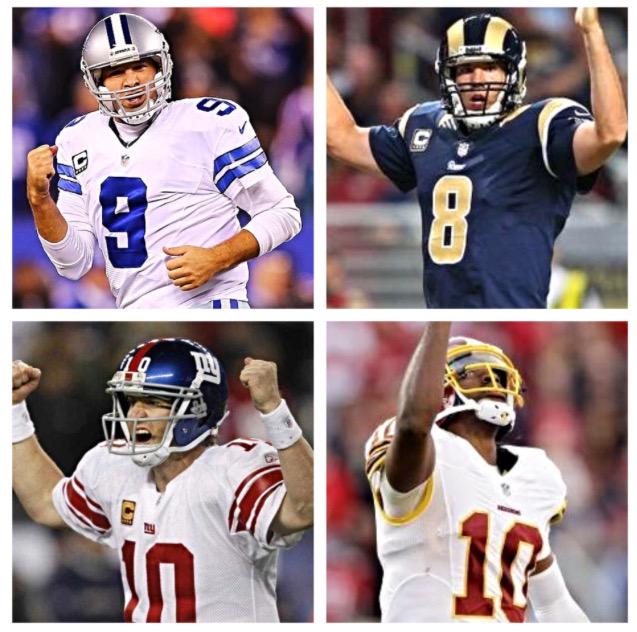 We all have our biases, but ... this one has a pretty clear winner. Tony Romo is the best quarterback in the division. If not for
Aaron Rodgers
, Romo very well could have come away as the NFL MVP last season. Bradford has talent, but he's no more than a slightly above average quarterback when healthy - at least at this point. RGIII is in danger of becoming one of the (relative-to-draft-position/trade-pieces-sacrificed) biggest busts in recent memory. Eli Manning supporters will all point to his two Super Bowl rings, which are certainly impressive, but that doesn't make him a better quarterback than Tony Romo. Playoff success is the result of a team effort. When you talk about individual stats, Tony Romo is clearly the better quarterback in just about every area. ... and now needs more playoff success to back that up.
Romo's self-eval here? "I think a lot of improvement comes from asking yourself the right questions and figuring out what you need to do to be better," Romo said. "I think a lot of guys just don't understand how to ask themselves the type of questions to try to figure you how to improve. That's something I've done well over the years to try and figure out how to be better each year. That's the goal really -- to be better than the previous year."
The O-Line
The Cowboys have four first-round talents on their offensive line, all of whom are under 25 years old. The projected starters for next season allowed a combined nine sacks, 14 QB hits and had 23 penalties called against them in 2014. (This includes La'el Collins' stats from LSU.) The Eagles starters allowed nine sacks, 11 QB hits and had 26 penalties called against them. The Giants allowed 16 sacks (Pugh gave up six on his own), 21 QB hits and had a whopping 34 penalties. They were the 23rd-ranked run game in 2014. The Redskins offensive line gave up 13 sacks, 15 QB hits and 22 penalties. They were in the middle of the pack with the 19th ranked rushing attack in the NFL last year.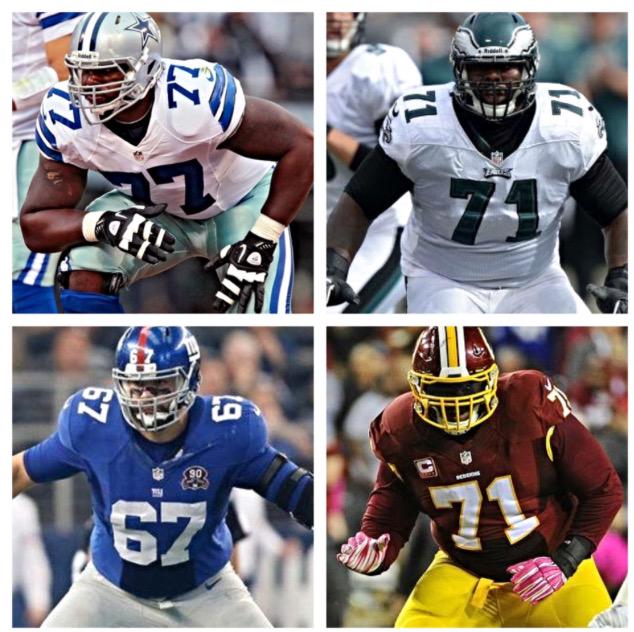 There are some other good offensive linemen in the division, but this is another pretty clear winner. The Cowboys not only have the best offensive line in the NFC East, but they could be the best group in the entire NFL. They paved the way for the NFL's leading rusher and the second-most team rushing yards in the league. They also created enough time for their MVP candidate QB to throw to an All-Pro wideout who led the NFL in receiving touchdowns.
From Frederick: "There are a lot of times where talent goes wasted if it's not put to good use. Hard work beats talent when talent doesn't work hard. We have a long way to go, and we're going to continue to work and continue to try to get better."
Now onto the defensive line.
The D-Line
The defensive line was arguably the biggest weakness for the Cowboys in 2014. It's amazing how much can change in an offseason. The team signed Hardy, a troubled but elite pass rusher, in free agency. Hardy had 15 sacks, 27 QB hits and 45 QB hurries in his last full season. Then they drafted
Randy Gregory
, a top-10 talent, when he fell to them in the second round. Gregory had 17.5 sacks and 25.5 TFL in his last two years at
Nebraska
. They also have
Demarcus Lawrence
, who they expect to make a huge jump in his 2nd year, team sack leader
Jeremy Mincey
, and
Tyrone Crawford
who should be even better at DT with a full offseason to work at the position.
The Eagles re-signed
Brandon Graham
this offseason, who had 5.5 sacks and 8 QB hits in 2014. They also have
Connor Barwin
, who had 14.5 sacks and 29 QB hurries last year, as well as
Bennie Logan
,
Fletcher Cox
and Cedric Thronton. The Giants have a pretty strong unit led by
Jason Pierre-Paul
, who returned to form with 12.5 sacks, 38 QB hurries and 3 forced fumbles last year. The team drafted the talented
UCLA
pass rusher
Owamagbe Odighizuwa
in the 2nd, who had 6 sacks and 11.5 tackles for a loss last year. Throw in
Cullen Jenkins
,
Johnathan Hankins
and
Markus Kuhn
and that's an impressive group. The Skins also have a pretty strong DL.
Ryan Kerrigan
led the team with 13.5 sacks and a ridiculous 51 QB hurries last year. They also have
Jason Hatcher
and
Terrance Knighton
. Then they went out and drafted Preston Smith and signed Stephen Paea to strengthen their line even more.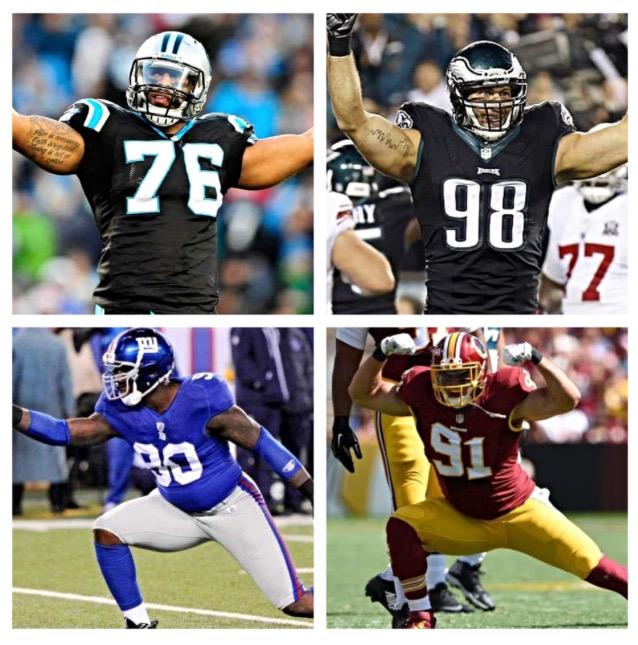 It isn't as easy to determine a winner here as it was for QB or OL. There are a lot of very good defensive linemen in this division. Based on potential, the Cowboys defensive line has a chance to contend for honors here, too, though.
Greg Hardy
is arguably the best pass rusher in the division. He has 26 sacks in the last two full years and has the ability to take over games. (All of this pending his appeal results.) DeMarcus Lawrence was drafted to eventually replace
DeMarcus Ware
. From what we've heard from teammates and coaches, Lawrence is ready to make a big jump. Some worry about Gregory's lack of size, but he is still a first-round talent. Regardless of what size he is, he has a knack for getting after the QB. Then they have Tyrone Crawford, Jeremy Mincey, Terrell McClain and several other guys who could all have a big impact in 2015.
The word from Mincey: "Randy Gregory is coming along. Really solid pass-rusher. They had me and Mr. Kraken (Hardy) here working together. You know what I mean? A lot of good, man. We've got a lot of depth, a lot of players you can trust. I think we'll make some impactful plays for the Cowboys."
These are the positions that are most closely tied to winning in the NFL. It all starts up front, on both sides of the ball. A strong offensive line gives your QB time in the pocket and opens up holes in the run game. A strong defensive line can limit a running back's production and make teams one dimensional.
If your team is strong in these three areas, the rest of your team will benefit and look that much better. The
Dallas Cowboys
seem to have top-notch in these areas ... with these OTAs offering a chance to fine-tune the "trifecta'' and much more.
See what Cowboys fans are saying here!
Related Story: Inside The OTAs from A to Z

Related Story: Dez and Switzer and the Cowboys' 'Butterfly Effect'
Related Story: Cowboys Oxnard Camp Schedule
Related Story: Inside Sean Lee's Successful Return
Related Story: Cowboys Sign Ex-Saints LB