Cowboys OTA coverage today is brought to you by
The Maverick Bar, 1616 Hebron
, where all this week we'll be hanging out with former Cowboys like Cory Procter and Patrick Crayton ...
And then Friday and Saturday live music along with the 200-inch TV screen and the best burgers in town! Join us!
FishTip 1: Tony's Best?
Tony Romo
said last summer that we'd see "the best version'' of him in 2014. We scoffed.
We're dumb.
Romo led the
Dallas Cowboys
to the playoffs in the best season of his career as he was in the running for NFL MVP after leading the league in passer rating, completion percentage and YPA and throwing for 34 touchdowns with just nine interceptions.
Now 35 years old, could Romo be even better in 2015?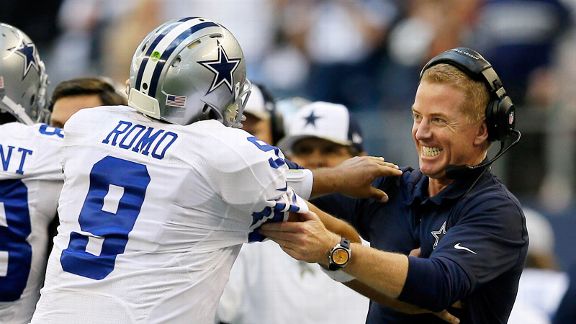 We're seeing and hearing nothing but positives through the three OTAs. "Leadership'' and "maturity'' and "command'' and all that, yes. But mostly ... "health.''
For the first time since 2013, Tony Romo isn't recovering from a back surgery during the offseason. This has allowed him to take part in OTA's, which is something he wasn't able to do in each of the last two seasons. In 2013 and 2014, Romo had to limit himself throughout the offseason and was even put on a "pitch-count." Now that he's fully healthy again and more than a year removed from his latest surgery, Romo can start pushing himself once again. If he accomplished what he did last year with limited preparation time and a broken back, imagine what he'll be able to do this year with a full offseason and a better overall team around him.
"It's definitely the best offseason I've had," Romo said. "It's the first one I've had in three years. I like to work. I like to grind. I like to push the envelope in a lot of ways. I haven't been able to do that in years past.''
Romo's "best offseason''? With all due respect to this notion that Weeden is "the team's most improved player'' (huh?!) ... The Romo angle is your top minicamp angle.
Read more about reasons for Romo optimism here.
FishTip 2. DezWatch
Dez Bryant
Bryant has yet to sign his franchise-tag tender while awaiting what he hopes is a Cowboys-For-Life deal that looks something like this)
and is telling CowboysHQ.com of his idea of a boycott.
Going into this week, I might have said it would not surprise anybody if he shows up, as he did twice during OTAs, simply as a show of team unity.
My thoughts are altered on that, naturally, having
spoken to Dez on Friday afternoon in this exclusive interview in which he told me the concept of a regular-season boycott is "Legit. It's not bogus.''
And when I asked him whether skipping Week 1 really accomplishes anything (after all, the contractual deadline is July 15; protesting after that accomplishes nothing), he added, "It could be longer than just the opener.''
The speculation will continue. But Dez' words are Dez' words. They must be weighed.
FishTip 3: And The D Leader
The Cowboys know what they've bargained for by almost reluctantly bringing
Rolando McClain
back for another season under the terms of a vet-minimum one-year deal. The middle linebacker is required to attend this week's workouts, but …
"Rolando is doing a good job with his rehab, and we'll see what his plans are for next week,'' coach Jason Garrett said before the weekend.
McClain marches to the beat of his own drummer — though temporarily he isn't doing much marching, the result of a clean-up right knee surgery. Privately, the Cowboys would prefer his rehab take place at Valley Ranch, not home in Alabama, where McClain has been while skipping all three rounds of the voluntary OTAs. was not sure if the linebacker will make an appearance.
But this week?
"Well, the minicamp is mandatory," Garrett said. "It's the only thing in the offseason that is mandatory, so it's important for us to make sure that's clear to everybody and express that to our players. There are some specific situations where things that you do in a mandatory fashion don't always happen. You know players miss practice during the season for different reasons and those are mandatory. So we'll work through the specific situations as we go.''
As you wonder what will unfold with Ro, remember our exclusive look at this offseason angle:
Dallas remained uncommitted to bringing back McClain throughout much of the free-agency period before eventually setting on a cheap deal that is advertised as being worth $3 mil but really contains a base of just $750,000.
The Cowboys also bought themselves insurance in the veteran Brinkley and have been getting good snaps in the middle from the youngster Hitchens, too.
You think you know what's going to happen here? You don't know Ro.
FishTip 4: But There's Sean Lee
The Cowboys view Sean Lee as a "100-miles-per-hour'' guy. But last week at OTAs, the magic number for the rehabbed linebacker was "seven.''
The standout linebacker, who missed the 2014 season with a torn anterior cruciate ligament in his left knee, has been a limited participant in practice this spring. But his time is coming, with seven-on-seven drills last week and maybe a ratchet-up starting this week.
"Things are going smooth,'' he said. "Hopefully it will continue to progress. I feel good. I feel great. I am ready to go."
The governor is still there. But we are getting closer.
"He's just getting the feel and his feet back under him," coordinator Rod Marinelli said. "He's 100 miles an hour and he's got to knock the rust off and that comes in training camp."
OK. But a little bit of the rust, I bet, gets knocked off today.
FishTip 5: But There's Devin Street
Dez Bryant
has admirably made appearances at Valley Ranch - even suiting up and participating in drills at times, and having a positive impact.
So other wide receivers will get more opportunities on the practice field. One of those is second-year wideout
Devin Street
.
While some observers are excited about the newer toys (Dallas paid UDFA Farmer as if he's a real prospect but he's done little; UDFA Whitehead does show promise as a specialist but he's still back-of-the-pack) we think Street has a real shot at pushing Terrance Williams for more playing time in 2015. Street -- who caught just two passes for 18 yards last year as a fifth-round rookie -- is fully aware of the opportunities in front of him and is prepared to make the most of them.
"With the absence of Dez, I'm definitely getting more reps with the first team," Street told CowboysHQ in a 1-on-1 interview. "I'm going up against the first-team defense too. Last year I only went up against (Brandon) Carr and (Orlando) Scandrick every now and then. This year I'm going against them on almost every rep. I've been getting some great work and it's only making me better."
Whether he's playing as the second, third or fourth wide receiver, Street says he's prepared to show what he's got. And of course, at the moment, with no Dez, he's playing the "first or second'' wide receiver.
"My job is to dominate," Street said. "I'm not worried about the guys that they brought in this year or the guys that have been here. They're all my teammates and I try to help them as much as I can, but at the end of the day, I am trying to go out there to execute and dominate on every single play."
FishTip 6: Rookie Positions
The Thursday signing of first-round defensive back
Byron Jones
is a move that completes all the deals with their 2015 rookie draft class.
Jones, a UConn product who was the No. 27 overall pick, gets a four-year deal worth $8.6 million, including $7 million guaranteed and a signing bonus of $4.5 million.
"Whatever they want me to do,'' Jones said shortly after the draft, "I'll do it all.''
And here we are, knowing that offenses will cause you to play a Nickel D 60 percent of the time. So does it matter, really, whether Byron is a corner or a safety? And what if Claiborne is healthy sooner rather than later (something I'll eyeball today)? For now, what matters is I bet Jones will be on the field 60 percent of the time. At least.
'
Meanwhile, another "first-rounder'' (not taken until all the rounds were over is La'el Collins. I'm told the coaching staff is now caught up to what the scouting department determined long ago. With Free out, Weems will get lots of work at right tackle. Collins? While he's athletic and has position flex, he's a guard. It's where he'll excel. It's intellectually challenging enough. It's where he needs to stay. Oh, and off the field, he needs to be more careful with his choice of ladyfriends, maybe, too.
By the way: I know fans want to know all about the guys who will be running behind that offensive line. I'll keep you posted here
and on Twitter at FishSports
on everybody from
the Baylor kid Seastrunk
all the way up to
"Meatbone'' Randle, who reportedly had his Dallas fun over the weekend clubbing with Floyd Mayweather.
FishTip 7: Pass-Rusher News
The Cowboys' "money alignments'' can include names like Mincey, Lawrence, Tyrone Crawford and
Greg Hardy
, all lining up in positions of strength, four pass-rushers across the front. (With pass-rush depth from Jack Crawford and Ben Gardner, maybe?) Of course, we don't know Hardy's fate yet, as the NFL takes its sweet time in arbitration. So make sure to throw another name into this "QB Hunter'' group: Rookie Randy Gregory, who I'm told has excelled in the classroom, showing off that Wonderlic score and an old SAT score that was high enough to surprise some, and working his way up towards 250 pounds, too.
One Cowboys scout says he was in attendance at Nebraska games when Gregory (presently 243 and looking awfully light) played at 250 and manhandled tackles who later were first-round NFL picks. The scouting department's view on Gregory: He's a D-Ware Starter Kit. No, not Ware as you know him now ... but rather, Ware when he was coming out of Troy. Same body type, same smarts, same quickness, same motor, the scouts believe.
He, and the rest of the Cowboys, get to show all of it off this week in minicamp, Tuesday and Wednesday we're at Valley Ranch. On Thursday we're at AT&T Stadium. CowboysHQ.com will be there for every moment, at at 11:30 a.m. daily you can hear my live sideline reports in 105.3 The Fan.
See what Cowboys fans are saying here!
Related Story: Knowing The OTAs from A to Z

Related Story: Dez and The Cowboys and 'The Butterfly Effect'
Related Story: Cowboys Oxnard Camp Schedule
Related Story: Inside Sean Lee's Successful Return
Related Story: Do The Cowboys Have The Best 'Trifecta' In NFC East?