FISHTIP 1: Cowboys Comfort
I wrote a week ago, before the Jones family went on vacation for the July 4 weekend, that the
"Cowboys Are 'Comfortable' With Dez' Contract Progress,
so much so that there is a belief that a Cowboys-For-Life deal gets done sometime between the time the family returns (which I do not believe is today) and the July 15 deadline.
Does that mean "done'' definitively this week? No, but that's the goal. That's what you might want to prepare for.
And what of all this "animosity'' and "Dez is broke'' and "Jerry's putting the screws to him''? Semantic nonsense, mostly. Does Bryant "need the money'' that comes with a seven-year, $100-mil deal? Yeah. I suppose so. Would Jones take advantage of him because of that need? That wouldn't be a very good way to forge a healthy long-term partnership with another man. And one more thing: If you "need'' money, who would you even listen to a low-ball offer when you can simply sit back, eventually sign two tenders and get a guaranteed $27 mil over the next two seasons?
Would $27 mil allow a football player to pay for his Bentley? I believe it would.
And I believe my reports of "comfortability'' will prove to be more telling than conflicting reports of trouble. And while I love all Americans, media guys still pumpin' pout this Dez Bryant-Walmart-Unicorn-Video-level bullshit should be deported. We should get Donald Trump right on this.
FISHTIP 2: RB Search
Our man Jordan Ross writes
here that he predicts Joseph Randle has over 1,000 rushing yards and a higher average YPC than DeMarco Murray did in 2014.
We've listed this as one of a "Six-Pack of Bold Cowboys Predictions'' but by "bold,'' we don't mean "outrageous.'' Randle has all of the physical tools to have a breakout year for the Cowboys. In fact, Ross is ready to argue that he might even be a better scheme fit in Dallas than Murray was. Randle averaged 6.7 YPC in 2014 and had a higher elusive rating and breakaway percentage than DeMarco Murray. He also averaged more yards after contact than Murray. The main aspect of his game that will allow him to have success is his outstanding vision. Murray sometimes danced in the backfield or picks the wrong running lane, while Randle might show himself to be more quick and decisive with where he wants to go.
Proving that thesis is one challenge. The other challenge with Randle is whether or not he can keep his head on straight.
But if not? The Cowboys turn the page. There are other safety nets on the roster and there will be other safety nets around the league. But first crack goes to good ol' "MeatBone'' and all he has to do is show up to work every day and the wolves will be kept at bay.
FISHTIP 3: Oddsmaking
The Cowboys have 10-1 odds to win Super Bowl 50 . The Packers are the favorites to win Super Bowl 50 and Dallas is fifth in this Vegas-based chase. ... all the more reason to be "all-in'' around here, except for the fact that I've known and covered Jerry Jones for 26 years now and he's never not been "all-in'' on everything.
FISHTIP 4: RIP, Buck
The Cowboys lost an incredible member of the family over the weekend with the passing of our great buddy Buck Buchanan, the long-time team equipment manager who passed away at 82 after living a full and wonderful life and making the lives of those around him full and wonderful, too.
William T. "Buck" Buchanan proudly served his country in the United States Air Force Special Services, earning status as a Senior Master Sergeant before retiring in 1973. After retirement he worked as the equipment manager for the Cowboys from 1973 until 1994. (With his son, Bucky, then taking over the "family business'' alongside Mike McCord.)
Buck's legacy is in part about more than Super Bowls; there are 1000s of links in a championship chain, and he was one of them, no doubt. But Buck -- with a warm, grandfatherly style that he made available not only to Cowboys players and coaches but to their wives and children ... and to this reporter's two young sons as well ... that's his legacy.
I visited with a couple of Buck's family members over the weekend to express this sentiment and I'll say it again here: When my sons Nate and Tony were, oh, ages 4 and 6 and 9, Buck welcomes them into his locker room, lavishing them with stuff little boys cherish: Bubble gum and wristbands, mostly. I believe those boys, now ages 25 and 22, still have Cowboys wristbands stuffed into the back of their sock drawers because they symbolize something. Not just the Cowboys; Buck himself.
Thank you, Buchanan family, for loaning to us this grand man's warmth and generosity. RIP, Buck.
FISHTIP 5: More Money Than You Think
Our KD Drummond has a working mathematical theory
about "Rolando McClain's Suspension and All That Money''
and I'll leave the math to him.
Allow me to handle the logic.
Once Ro realizes that he's going to play Games 1, 2, 3 and 4 for free ... but that if he gets caught doing drugs a second time in second months he'll be suspended from "having to'' play in those freebies ... what's to stop him from getting caught on purpose? And whatever his motivation is for having flunked a fourth test in four NFL seasons ... There are only two reasons for Cowboys to cut Rolando McClain:
*He doesn't give a crap.
*He doesn't give two craps.
But the Cowboys do not plan to cut him and his $750,000 vet-min salary. He'll stay around. He'll shrug his shoulders. They'll shrug theirs. Brinkley will be the middle linebacker. Lee will be on the weakside, Hitchens competing at SAM ... and Dallas will get out of Ro whatever he's willing to give whenever he's in the mood to give it.
FISHTIP 6: Sean On The Rebound
Meanwhile, Sean Lee tells me that once we get to Oxnard, he'll be going 100 percent.
"It's the only way to play football,'' Lee tells me. "When it's time to practice, you practice. When it's time to play, you play. I'm ready to go.''
So no bubblewrap on Sean, despite the fact he's missed 34 games during his NFL career (more than two full seasons). The Cowboys will "monitor'' him but they won't "governor'' him. Because he only knows one way to practice and one way to play and how can we fault Sean Lee for that enviable trait?
FISHTIP 7: America's Team
Folks who don't root for or follow the Cowboys are never going to get this. And that's going to have to be OK.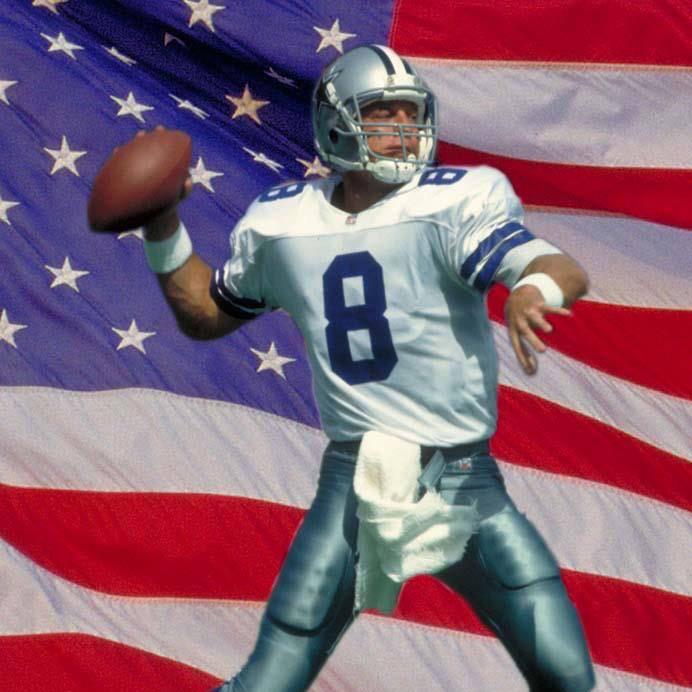 But on July 4 weekend, somebody posted this photo on social media and Troy Aikman himself was so moved that he re-posted it. And maybe it's misplaced patriotism because "it's only football'' but I don't care. That think right there is a chunk of good old-fashioned Americana and I'm good with it.
FISHTIP 8: The Myth of Cap Hell
Where does the
"Cowboys Cap Compared to Champs?'' KD has that Premium goodness here.
Where do the Cowboys compare to the rest of the NFL in terms of the cap right now?
Average.
Dallas' cap situation is "average.''
This is my latest plea to ignore the bleating of the national naysayers and do your own research into how NFL money works ... with the assistance of CHQ, at your service, as always!
FISHTIP 9: The Cowboys/Mavs Family
As we reported first here at CHQ, the Cowboys did indeed pitch in to help the Mavs with their best Summer Shopping ever, Jerry Jones and Dez Bryant part of the orchestrated and successful plan to lure center DeAndre Jordan from LA to Dallas. I know specifically that Tony Romo phoned Jordan, and listen, this is a hell of a weapon. In the future, it needs to be used. All of the time. Every time. Romo on the phone, Dez in the weight room and Jerry Jones -- if it's my team that needs a boost -- right there in LA where Mark Cuban was, a-geein' and a-hawin' at Bootsy Bellows and on Manhattan Beach and at Chandler Parsons' pool parties.
Did all of that help bring Cowboys fan Jordan back to his native Texas? All I know is I wish Romo, Jerry and Dez would've been part of previous LeBron recruiting pitches, and that I hope next year they get hold of Kevin Durant's phone number.
FISHTIP 10: Word on Hardy
We are all well-aware of Hardy's current 10-game suspension and we are all well-aware of his ability to provide Dallas with a double-figure sack season ... if.
We also know that Hardy's contract with the Cowboys has incentives for each sack he records, and that he'll also be determined to play at a high level so he can earn a big deal somewhere when he becomes a free agent next offseason.
But what we don't know is if the 10-game suspension will hold, whether there is any sort of equitable system in place for the NFL in these cases, and what in the bloody hell is causing overseer Harold Henderson to have waited five weeks now with no word on a ruling on Hardy's appeal of those 10 games.
I'd have no problem with the NFL installing an across-the-board rule regarding domestic violence that penalized a player 10 games or 100 games or 1000 games. But this reeks of "the fix,'' of WWE Wrestling, of a system too bendable and too malleable and too open to invitations of accusations of bias and even corruptness. Rule, already, Rule that Hardy gets 1000 or 100 or 10 or 1. But rule.