What's the deal with the deal?
The
Dallas Cowboys
and
Dez Bryant
have until 3 p.m. Wednesday to move from the franchise tag (one year) which will have him play the season under a $12.83 million price tag ... to a "Cowboys For Life'' deal that will keep him under contract for the long-term.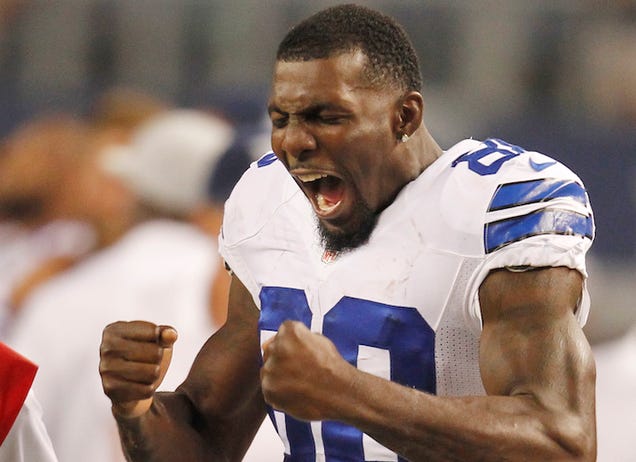 There is no disagreement regarding the general wishes here.
"We think Dez is a unique player and certainly a big part of what we do in terms of what we've done, our success, and certainly going forward,'' COO Stephen Jones told us recently. "We ... continue to work on doing something long term for Dez."
What happens if they don't agree?
Dez will be a Cowboy.
Nevertheless, he told me, in his own words, about his willingness to boycott the start of the season.
But wait ... what about today's "breaking news'' on a Dez boycott?
Sources: @DezBryant personally called Cowboys EVP Stephen Jones to say he won't attend camp, will miss real games unless signed by Wed.

— Ed Werder (@Edwerderespn) July 13, 2015
Is this a different story than a month ago? A different threat? A renewed boycott idea? Or the regeneration of an existing idea and an established story? Jeff Cavanaugh on 105.3 The Fan makes a key point: Dez' side got this out there 30 days ago. And again today. That doubles up the "pressure.'' Heck, as far as Dez' side is concerned, another news outlet should "break'' it again tomorrow!
But wait ...
.@DezBryant contacted #Cowboys SJones last wk to re-issue boycott threat? 'No, he did not,' Jones tells me. 'That's inaccurate.' @1053thefan

— mike fisher (@fishsports) July 13, 2015
That's right. Stephen tells me no such contact occurred and no such renewed threat occurred. (The Cowboys are of course aware of our initial report from 30 days ago.)
Anyway ... a true boycott? That seems unlikely, especially as there will be no point to doing so after July 15. It would cost him money (about $755,000 per game) and it would cost his teams chances at victories ... that's not Dez' intent. But, just to cover the base: in a worst-case scenario, a miffed Dez would, in order to get "credit" for a league year, sit out no more than 10 games so as to be active for at least six regular-season games. UPDATE: Dez has reiterated his month-ago threat via Twitter today:
As much as I love football...on my beautiful babies.. I apologize #cowboynation but I will not be there if no deal #fact

— Dez Bryant (@DezBryant) July 13, 2015
No matter what ... here could be a dark cloud that hangs over Oxnard, and even over the organization. I know owner Jerry Jones is aware of this possibility and wishes to avoid such negativity.
#Cowboys Jerry says he's 'sympathetic' to @DezBryant desire. 'I would like nothing more than to have long-term security w Dez.' @1053thefan

— mike fisher (@fishsports) June 17, 2015
In any event, if July 15 comes and goes with no deal, a moratorium kicks in; the sides will be barred from any negotiations until the end of the league year.
What happens if they do agree?
Dancing in the streets. The Cowboys will have secured the services of one of the finest players in the sport, a heart-and-soul guy for this organization for years to come.
Agent Tom Condon tells SiriusXM: "Dez understands this is business. We're going to try to figure something out here and work with Jerry and Stephen and get something done.''
To Dez, though, this is more than a business. It's his passion. It's his life.
Are the Cowboys using that "passion'' against him?
Many stories have been written about how Jerry is "screwing Dez'' or how the "Dez Bryant Walmart Unicorn Video'' is an issue here or how "Dez will sign any deal because he's broke.''
Some of this is bogus, some of this is normal and some of this is an issue of semantics.
In Jerry's 26 years, he's almost never made "negative negotiations'' part of his style. Behavioral concerns here? Yes, just as there are/were concerns with making sure Dallas and Tyron Smith and Dallas and Tony Romo were getting into together before those monster deals were done. Dez needs money? I bet, right now, as you read this, he's thinking of, oh, purchasing a very expensive automobile. He will "need'' the money for that, yes.
Everybody voicing opinions..13 mil is cool but Where is my security? I'll wait ...5 years without complaining..So how am I selfish? #family1

— Dez Bryant (@DezBryant) June 17, 2015


Clearly, this father of three young children wants something more than a new car.

But he's going to get the money for that whether he gets a new deal or plays under the tag. So if Dez has been eating nothing but Top Ramen in recent days, well, his bank account is about to expand comfortably. Either way.

How might a deal be structured?

A deal like this will normally include a rather large portion of the first three years as guaranteed salary, money the player will get no matter what (to a degree). There is a great deal of conjecture regarding what Dallas has offered and what Dez wants. But both sides have played it close to the vest regarding revealing those desires. I believe reports of Dallas only offering $20 mil guaranteed are incorrect for two reasons: One, that's less than Dez would be guaranteed by simply signing back-to-back tags (totaling $28 mil). Two, the Cowboys back on October 26 thought they all-but had an agreement with Bryant ... and he would've never come that close to agreeing to a deal featuring just $20 mil guaranteed (I believe) ... so most logic suggests the guarantee is going to have to be larger than that.

How large? CHQ thinks it can all look something like this: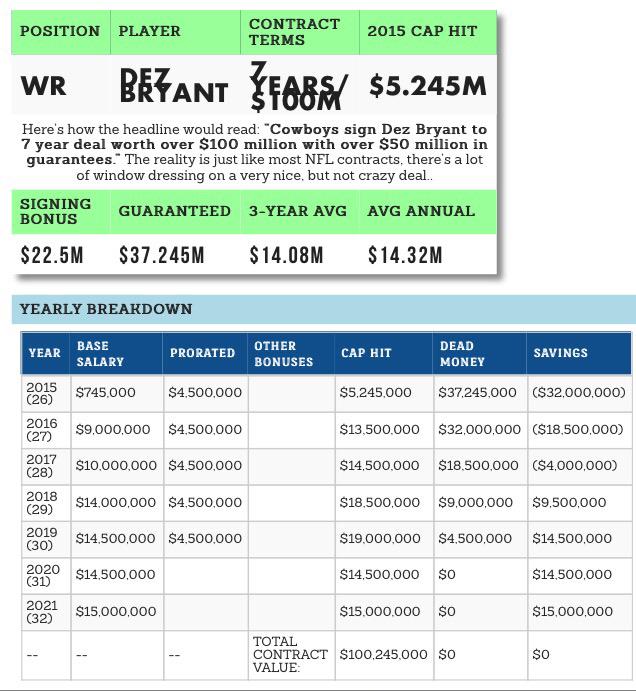 This is our concept, of course. Not Condon's. Not Jerry/Stephen's. But we think it's viable ... and have thought so for the last 11 months.

What are the obstacles?

In the simplest form: Guaranteed money and years. There is some sort of "pain threshold'' on the guarantee that each side much find. There is some sort of "escapability'' in terms of years that might be found, too.

What are the obstacles -- complexity version?

Demaryius Thomas, Julio Jones and A.J. Green come into play. The NFL has entered an era where the passing game is king. All four players entered the league within a year of each other. Bryant and Thomas are currently franchise tagged while Jones and Green are eligible for extensions heading into the final season of their respective rookie deals.


Along with Pittsburgh's Antonio Brown and Detroit's Calvin Johnson, these players sit atop most observer's hierarchy of NFL wideouts. Brown is playing under a contract he signed prior to ascending to the upper echelon of receivers. Johnson solidified the pace for receiver contracts when he inked a seven-year extension in 2012 for over $113 million. That total number matched what Arizona gave Larry Fitzgerald's deal he signed in 2011. (Note: Fitzgerald renegotiated his contract with the Cardinals this offseason, shrinking his hit to $10 mil per year).


The Calvin Johnson deal averages $16 mil a year and included a $48.7 mil guarantee. It doesn't take "collusion'' to see that the Cowboys don't wish to pay Dez $16 mil a year.

I think the "comfortability'' that I've reported on regarding both sides' direction of this thing is a bigger, better story than interference from stuff like "collusion.''

Who is running this show?

Stephen Jones is the point man for the Cowboys. Agent Tom Condon is the point man for Dez. There is a great deal of misunderstanding here because Dez' "management team'' changes in recent months have also included the employment of Jay-Z's Roc Nation. But Jay-Z isn't negotiating the contract here.

But at what point do people besides Stephen and Condon get involved? Does Jerry ride in on a white horse at 2:59 on Wednesday? Does Dez run storming into Valley Ranch at about that same time ordering Condon to say "yes''?

Dez has told me frequently that he's "in charge'' of his own future. And Jerry is still "in charge'' of the Cowboys. This is a storyline worth watching.

What about that collusion thing?

Somebody allegedly is accusing the Cowboys and Broncos of allegedly colluding regarding Bryant and Thomas. Meaning, let's say, John Elway and Stephen Jones discussed making sure we're all in agreement here on staying way south of Calvin's money.

I'm not saying that illegality didn't happen. I'm saying I don't understand who benefits from the accusation and I'm saying I don't see how it either speeds or slows talks. Do you think Dez Bryant wants the collusion charge to get in the way of his deal? Do you think Jerry wants the collusion charge to get in the way of his deal?

Why not just "Pay The Man''?

Hopefully, I'm illustrating here that "Just Pay The Man'' is simplistic nonsense, a bumper-sticker rallying cry that is meaningless. These are complicated, life-changing, franchise-changing decisions being made as you read this. They have to be right for both sides. They need to be right for both sides.

Paying Dez "the wrong amount'' won't be the right thing for the team. Just as accepting "the wrong amount won't be the right thing for Dez.

Why the wait?

It was shortly after the Joneses purchased the Cowboys in 1989 when assistant GM Bob Ackles took Stephen Jones under his wing and taught him that in negotiations, every time one side picks up the phone to pitch a number, that side "loses.'' It was about a year later, in May 1990, when I was sitting in Jerry Jones' office as he was working on a new contract for some innocuous player (I think it was Ike Holt) and I asked Jerry, "Why not just pick up the phone now and do the deal?''




"Mr. Mike,'' he responded, "Deadlines Make Deals.''