The
Dallas Cowboys
face a 3 p.m. Dallas time "Dezline'' today and they think they have a model for how to do this
Dez Bryant
deal right, in the form of
Tyron Smith
's deal from last summer. Smith's 10-year deal (characterized as a $110-million agreement) featured what some observers consider a (relatively) small guarantee of $22 million. That number comes from the $10 mil signing bonus from the summer of 2014, plus his salary for 2014 of $1 mil, plus his salary for 2015 of $10 mil.
But in the Cowboys' view (and in Smith's, too), his actual guaranteed money totals $40 million. Where does the extra $20 mil come from?
Smith's deal includes $10 mil guaranteed if he's on the 2016 roster on the fifth day of the new league year. And almost $10 mil more is guaranteed to him for being on the 2017 roster on the fifth day of that new year.
Add it up: It's $40 million.
Sources tell me, in short, that Smith's deal equals "$40 million guaranteed for injury'' (meaning if the player is hurt he cannot be released and he gets his money) and "up to $32 million guaranteed for skill'' (meaning that he'll fall short of the $40 million if he gets cut due to poor performance).
This language, this detail, is why there is a discrepancy in the reports of what "guaranteed money'' was given Tyron … and what "guaranteed money'' actually means to Dez. And it's also why I'm reporting on 105.3 The Fan that there was a wee-hours negativity inside Valley Ranch going into today.
Wee-hours negative vibe at VRanch. Why: #Cowboys try to stay firm at line-in-sand offer to #DezBryant ..Not a 'flexible' feel. @1053thefan

— mike fisher (@fishsports) July 15, 2015
There are other features of Tyron's deal likely being used as a model here that Bryant's side dislikes. For instance, Smith's contract is extremely escapable in its final four years; there's no dead money penalizing the team should it part ways with the Pro Bowl tackle. And certainly Tyron's $12.2-mil average per year is not what Bryant has in mind (though we don't think that level of lowballing is going on here).
So can a Dez deal look something like this (note that we've used $38 mil as the guarantee):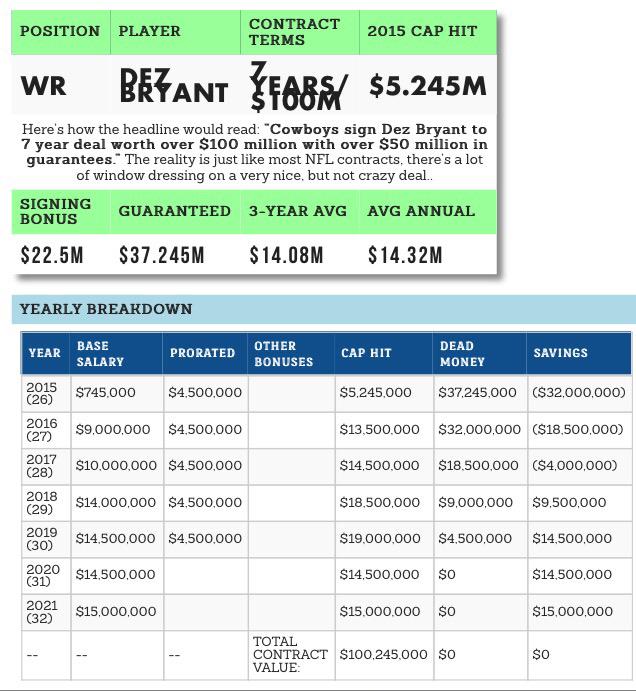 Yes. It can look like this. With $35 mil or $38 mil or $40 mil or more guaranteed. But HOW will it be guaranteed? That's the argument.
A few other items:
*Ian Rapoport
notes that Dallas' offer is "more than $12.8 mil a year.''
That's a magic number in a sense, because that's the figure Dez would be asked to play for under the tag in 2015.
*However, as
KD points out here, there is a loophole in post-July 15 negotiations.
Dez and the Cowboys cannot negotiate a "Cowboys For Life'' deal after today. But they can negotiate a one-year deal for 2015 … and that one-year deal could include a promise to not tag Bryant in 2016, among other things.
As much as I love football...on my beautiful babies.. I apologize #cowboynation but I will not be there if no deal #fact

— Dez Bryant (@DezBryant) July 13, 2015
*Is
Dez serious about his boycott idea? He said it to me a month ago
and he's reiterated it since. One smart Valley Ranch voice things Dez is such a prideful man that he'd be reluctant to not back up his own words. The ramifications of that: Michael Irvin thinks Dallas is an 8-8 team without Dez. And there go lots of dreams, up in smoke.
*So Dez would really forfeit game checks of $755,000? Well, go back to that loophole. If a one-year deal can be negotiated, and it occurs after missing Week 1, Dez could simply ask that his new contract pay him $755,000 more than he'd asked for a week earlier. Miss two games? Demand $755,000 times two …
*What of the idea that Dez "needs the money''? A person close to Bryant suggested to me that this is where the power of Jay-Z and Roc Nation come into play. No, they aren't in charge of negotiations; agent Tom Condon does that. But Jay-Z and Roc Nation are fully capable of "funding'' Dez while he sits, waits or boycotts.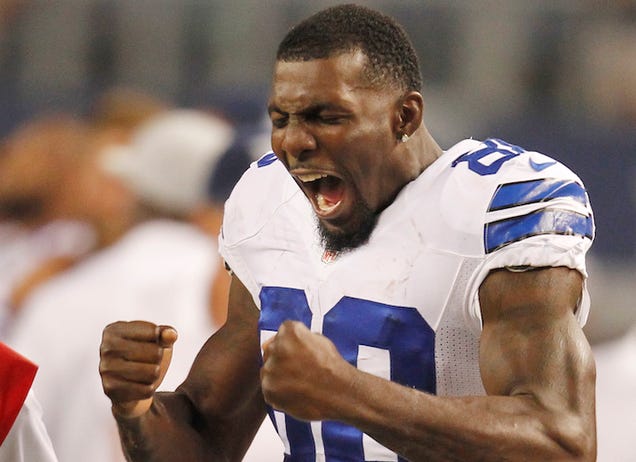 *Is the NFLPA a factor here? Yes, in the sense that they're adding to the clown show. Their threat to file collusion charges if Dez (and Denver's Damaryius Thomas) don't get new deals is laughable … not because I know whether there was collusion but rather because if the teams are in violation of a law, the NFLPA should file charges no matter what. Furthermore, what if the teams offer incredibly fair or generous deals (by whomever's standards, but let's say it's the Calvin Johnson deal averaging $16 mil a year and including a $48.7 mil guarantee) and the players turn them down? The NFLPA would look foolish filing charges against the teams because "no-deal'' then would not be the fault of the teams.
The NFLPA has muddied the waters of an extremely complicated matter, the crux of the problem being that question that seems so simple … "What is guaranteed money?''