I first encountered Charles Haley in 1988, when I was new on the
San Francisco 49ers
beat. First day: I saw him grab his manhood with his fist, shake his package in the direction of a befuddled young female reporter and scream/bellow, "The f—— b---- was staring at my c---! Get that b---- outta here! She's a f----- perv! She wants my f—— c----!''
Ensuing Chapters of Charles: I saw the first-hand evidence of the All-Pro pass-rusher using his Lil' Haley to water the hand-crafted wood floors in the office belonging to team president Carmen Policy. I learned that Charles attempted to strangle coach George Seifert during a film session. I learned that one of the great Ronnie Lott's official jobs was to keep Charles tamed. And I learned something that still disturbs me: On my final 49ers experience with Haley at the Pro Bowl in Honolulu, when I was on a team bus one seat ahead of his, eavesdropping as he plotted to arrange from the 49ers' front seven to be a "Soul Patrol.'' Meaning, he wanted to orchestrate the departure of his white teammates. (Joking, you say? OK. But will you at least trade me bus seats next time?)
In 1990, I moved to DFW to cover the
Dallas Cowboys
. Haley would be nothing but a nightmarish memory, somebody else's problem, a guy I was pretty sure skipped taking his medicine. (For two full years!) I would be free to empathize ... from a distance.
And then, in '92, Charles Haley came to Dallas. As his reputation as "crazy'' (the word used by best pal Lott then and now) preceded him, I was the first and only reporter to greet him at his locker.
We were one-on-one. The tension built. No media members wanted any part of it as they lingered on the outskirts. Charles got revved up, opening by braying something about what an a------ I was in San Francisco and then hooting something about how Troy Aikman couldn't carry Joe Montana's jockstrap and I was writing it all down.
And Haley barked, "Hey, m------------, I didn't say you could write this down, m----------! DO YOU HEAR ME, MOTHERFUCKER?''
The verbal barrage continued. I kept writing. A notepad full of "m—————s.''
I did not opt to reason with a man who would, a few weeks later, find a huge bushel of bananas in his locker, a jokey gift from defensive-line mates who acknowledged his ... um ... Neanderthalic approach to life. I absorbed the MFs, and somehow located the resolve to say:
"Charles, you keep talking. Please. Say anything you want to me. Call me anything you want. And you know what? I'm going to write down every word. And if my editors allow it, this interview, word-for-word, is going to be in the gah-damn newspaper tomorrow morning. Go.''
He kept m-------ing me. I kept writing. Now, I was nervous ... but it wasn't that hard to take notes: How hard is it to simply scribble "MF'' over and over?
It is a credit to my employer at the time, the Fort Worth Star-Telegram, that the piece really did run. As a straight news story, with no embellishment and no judgment. Just my questions and his answers, jagged but pure, all serving as Charles Haley's introduction to his new community.
Welcome to DFW, m-----------.
Why did I go through with it? Three reasons:
1) The result was a revealing story that offered great insight into the star the Cowboys had just acquired.
2) Hey, I promised him!
3) Critics of the media often come at us because we "buy ink by the barrel,'' and all that stuff. But actually, in any battle between "the jocks vs. the media,'' the geeks with pencils don't usually win. So when truth is on our side — plus, he mentioned my mom in a derogatory way! — we can't be blamed for swinging that truth like it's a medieval flail.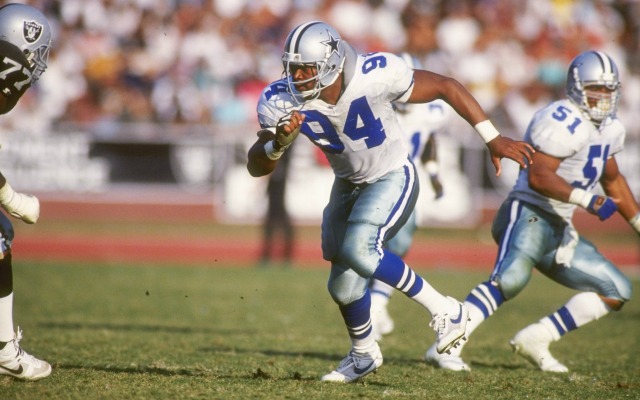 Charles and I spent the rest of his playing career in an unholy truce. … until around 2000 or so, when I inadvertently encountered Haley ... and it was a near-death experience.
I was sitting at a round-table booth at a local saloon called Humperdink's when Charles and I exchanged icy glances from across the room.
And here he came. At me. At a high velocity.
What was in my mind? "Soul Patrol'' ... "bananas.'' ... "no meds.'' ... "bananas.'' ... "m---------.'' ... "bananas.''
What was in his mind? In a literal flash — bright lights and beer pitchers and girl screams and a mushroom cloud of four huge bodies swooping over my booth — the menacing Haley, fueled by liquor and anger at being pestered for 10 years by some pencil-wielding m---------, had lunged toward me, up and into my booth, only to be intercepted by his evening escorts, Leon Lett, Erik Williams and Michael Irvin.
I lived.
And so has Charles Haley, lived a fascinating life of struggle and strife and now, the ultimate in football success, the Hall of Fame jacket that matches well with his five rings. I am happy for him and I am proud of him, because he talks a lot about "growth'' now and I think he has lived it. There is medication for his bipolar disorder and there is a next generation to mentor (
Greg Hardy
and
Randy Gregory
know him in Dallas and
Aldon Smith
probably needs to get to know him better in San Francisco) and there is his beautiful family to raise.
As he said to the DMNews recently, "When I see guys having issues, I tell them the people I went to (for counseling) and how, now, I'm successful," Haley said. "It didn't affect how I played. I could still be aggressive on the field. But I could listen off it. That was my problem. I never listened. I was always aggressive.''
I am a witness to that. So are the people who love him most.
"He frustrated people around him,'' ex-teammate Russell Maryland told me this week. "He frustrated his coaches. His friends. And me. But if he was kinda 'crazy,' he used that crazy. And look where he is now!''
As Charles said himself this weekend, "I didn't play well with others.''
Where is Charles Haley now? Making nice with the media. (Even me, as you see above.) Being fitted for a much-deserved (based on the HOF rules which are all about on-the-field production) gold jacket. Tinkering with an acceptance speech almost certain to be outrageous (but hopefully not overloaded with m————s.) Taking his rightful place among the game's greats.
And, I hope, not in debt at Humperdink's, where back in 2000 the apologetic saloon manager generously put all my charges on Haley's tab.
Related Story: Dez CHQ Exclusive: He Explains The Cover Of The Rolling Stone
Related Story: Cowboys Video Watch: Darren Woodson To Cowboys Ring
Related Story: Hardy Has 'Banner' Day Helping Tease Eagles