Let the
Dallas Cowboys
competition begin.
The Cowboys' practiced on Saturday and running backs were suddenly everywhere. There was
Joseph Randle
, showing no real ill effects from the oblique strain that essentially sidelined him for half-a-day. There was
Lance Dunbar
getting some work in, his ankle seemingly fine. And for the first time, there was
Darren McFadden
, the Cowboys' veteran running back who has been absent since the start of training camp with a hamstring injury but now activated off the PUP list and champing at the bit to help.
McFadden talked about "hustling and grinding with my teammates'' but there's more to that in play. He's got something to prove to critics who view his injury-plagued history as an albatross to the Cowboys, who signed him this offseason. He's got the talent, as a former first-round pick, to be something more than the third-stringer he might be at present. This is a seven-year veteran who an expert like ex-Cowboys scout Bryan Broaddus openly states is more talented than Randle ... but who needs to get on the field to even enter the conversation here.
The Cowboys have gone slowly here; McFadden could've returned last week, and wanted to do so, but COO Stephen Jones told our Mike Fisher of 105.3 The Fan that management simply didn't need to see him at anything less than 100 percent. And while there continues to be public clamoring for more "name backs'' to be added (odd in many senses, including the one that would acknowledge that McFadden might be exactly that), this isn't going to be the Rice/Johnson/Jackson show.
The Cowboys will take their time. Make their evaluation. See what they get from this trio especially starting this week with workouts against the visiting Rams.
"He'll be kind of eased in,'' coach Jason Garrett said of McFadden. "All those guys will be in individual, see how they do in individual, see if you want to do a little bit more with them today. Hopefully they'll get a chance to do more tomorrow and just build it up as it goes."
And to "ease'' that easing? This team will keep three running backs. No. 4 on the roster is rookie Gus Johnson, who has a dinged shoulder and could miss a few days. So Dallas has signed two new running backs ... but again, no Rice/Johnson/Jackson in the bunch. Rather, the newcomers are Texas A&M's Ben Malena and Michael Hill of Missouri Western State.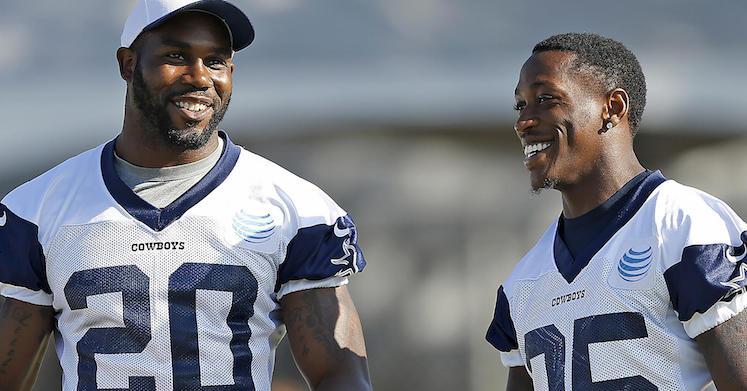 That level of signing almost serves as a vote of confidence for the three guys above them. The Cowboys need to see much more of McFadden and company ... but at least on Saturday, they saw all three of them together, in some capacity, for the first time in camp.
Related Story: When Charles Haley Tried To Kill Me
Related Story: NEW: The CowboysHQ App! Come get it!
Related Story: Cowboys lose to Chargers but here's what to judge
Related Story: Top 10 Observations from Cowboys in San Diego