By Mike Fisher
ARLINGTON - I asked Sean Lee - kiddingly labeled a 'robot' by teammates  if he'd like to take a moment to mechanically pretend this wasn't a very big deal. After all, it'd been 22 months of moments since the erstwhile star of the Cowboys defense had last played in an NFL game.
"You know, that's what I was trying to make it: Just another football game,'' Lee told me after starting and participating in just one fourth of the plays in Saturday's preseason loss to Minnesota. "Just another football game. A preseason game. Getting ready for the year.
"But it was a little different.''
"Different'' because Sean Lee, who has the playmaking gifts to be a Pro Bowl linebacker for the Dallas Cowboys, has never been gifted the good health to reach that potential. That most recent setback came in the spring of 2014 when he tore his ACL in OTAs. And injuries in the 2013 season cut his year short, too.
So is he ready now to be fully Sean Lee?
"Two weeks from now I'll be ready to go,'' he said, obviously targeting the regular-season opener on Sept. 13 against the visiting Giants. "I still have a lot of work to do. I still have room to improve. I still have to get better conditioning wise but I think I'm on track to be ready."
Lee will be the weakside linebacker now, moving out of the mixmaster that is the middle linebacker spot. In theory, it frees him up to be even more of a ballhawk and a playmaker, a trait that showed itself even during this cameo in a 28-14 loss to the Vikings in which Lee effectively fought off blockers to notch a trio of tackles.
"The first series was a little different but after that I kind of fell back into it," Lee said. "Adreneline rush through the pregame, through the warmups, then you get out there and you take the first hit. It's football, something you've done a lot."
And is weakside something he's "done a lot''? 
"There's still some little adjustments, but I've played a lot of this," Lee said. "I've played weakside before. I've played it in college, I've played it when I first got to the NFL. Certain defenses, certain alignments I've played before, although things are a little bit new. So the more I play the more I think I'll get more comfortable."
If Dallas' plan comes together fully, Lee is healthy enough to do his thing. Eventually, Rolando McClain is in the middle doing his (and him not starting the season on PUP is a huge development). Yes, Anthony Hitchens, Kyle Wilber, Andrew Gachkar and Damien Wilson are among the other potential effective guys in the linebacking corps. And indeed, it was Gachkar who joined the two big names in the starting alignment on Monday at the AT&T Stadium workout ...
But this defense has a chance to make yet another leap up the NFL charts and Lee is a natural captain of it …
"Sean Lee,'' teammate Jeremy Mincey tells me with admiration, "is a robot.''
Ah, if only that were true, there would not be the injury history and there would not be an absence of Pro Bowl berths. But there would also not be Lee's introspection as he works every day to get better, just as he worked every day over the course of 22 months to get healthy.
"At times, a little bit rusty," Lee said in judging his Saturday work. "I think as I got into the flow of the game I got better and better, but I only played 15 to 20 plays. It's about playing 60, 70 plays, being able to do that effectively.'' 
That is coming. It'll be different. And it'll be a very big deal.
COWBOYS AWARDS: 2014's Cowboys award winners were recognizded as the Cowboys Kickoff Luncheon on Wednesday: The offensive line won the offensive MVP; Orlando Scandrick and Jeremy Mincey are the defensive MVPs); LP Ladouceur is the special-teams MVP; Tyrone Crawford is the Ed Block Courage Award winner.
Joe Randle, Greg Hardy and Randy Gregory were absent from the luncheon. No biggie, just personal business. What they missed was a very emotional Scandrick pledging his love for this team and vowing to return better than ever ... and coach Jason Garrett's version of a prediction: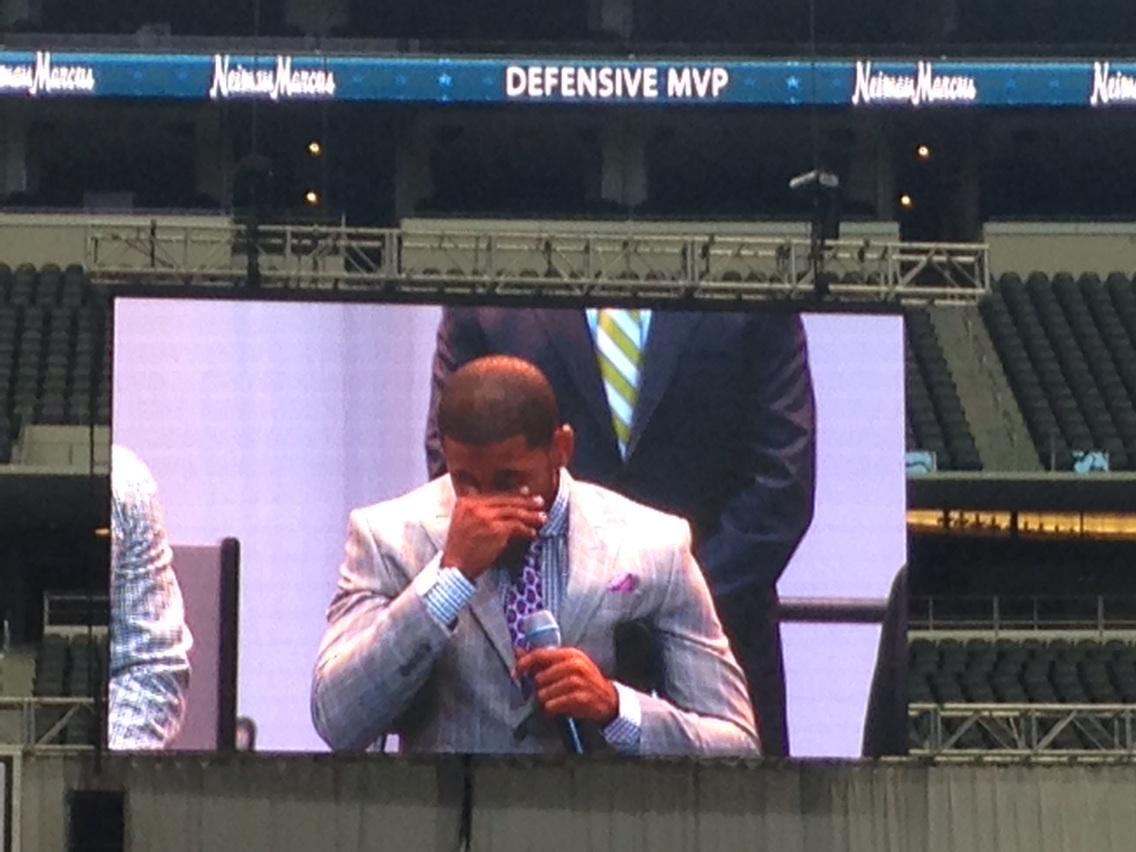 "This is the time of year when bold predictions are made,'' Garrett told a huge crowd of fans and sponsors at AT&T Stadium. "We ain't making any of those. But we're gonna make you proud this year.''