ARLINGTON - Tom Brady has a winning smile, a winning record and a win over the NFL in court. Is Greg Hardy ready to follow suit - and are the Cowboys encouraging him to do so? 
Dallas Cowboys defensive end Greg Hardy was absent from Thursday's preseason-closing win over the Texans. It had nothing to do with legal entanglements; he was excused to be with his girlfriend, who is having a baby.
But legal entanglements might still be in the offing.
Hardy and his representatives have long-considered challenging the NFL's four-game suspension of him due to a domestic-violence case. Hardy initially received a 10-game suspension from commissioner Roger Goodell in April for violation of the league's personal conduct policy but then arbitrator Harold Henderson reduced that punishment to four games in July. In his ruling, Henderson mentioned something about a "baseline (being) announced as a six-game suspension.'' And there is another thought that at the time of Hardy's involvement, a two-game suspension was the "going rate.''
All of that — and now  Judge Richard M. Berman Thursday vacating of the league's four-game suspension of the New England quarterback earlier today for "DeflateGate'' (the against-the-rules deflation of game balls) — makes this a Wild, Wild West of jurisprudence.
And Cowboys ownership is staying away from picking sides in the gunfight.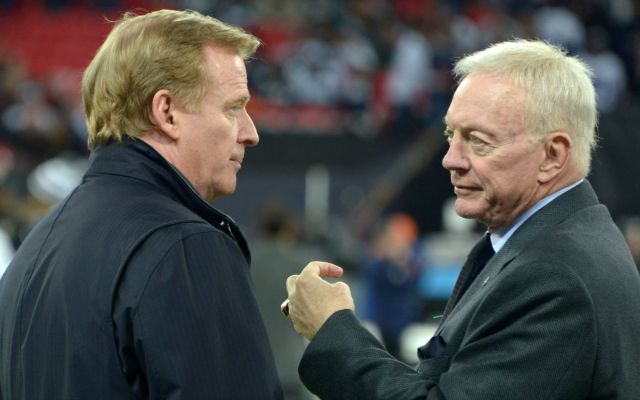 Hardy has the backing of the NFLPA, which is prepared to argue — should the player choose to do so — that his punishment should reflect the penalty (two games) of the time. Think of it this way: If you got a speeding ticket in 2014 because you were driving 10 MPH over the posted limit of 55 … and then in 2015 there is a new posted limit of 45 … Should you pay a ticket based on being 10 MPH over or 20 MPH over?
The league's track record in trying to win in these situations now, in both the court of public opinion and the actual courts, is woeful. Ray Rice. Adrian Peterson. Tom Brady. The commissioner fined the Atlanta Falcons for pumping too much artificial noise into their game-day stadium and I bet if the Falcons took that before a judge, they'd get their money, and their noise, back.
So why don't the Cowboys (who will now see Brady when his Patriots visit AT&T Stadium in Week muscle up and help Hardy argue and win? Two reasons:
One, the unpredictability of a timetable. Maybe a judge would keep the four games in place … and depending on his hurry, that judge might invoke that punishment for playoff games rather than the four games to start the season, as is now the case. 
(Again, it's the Wild, Wild West; Peterson's case took 100 days. Rice got no help from a judge. What if Hardy's suspension was applied to the Super Bowl? Or to the 2016 season? Would that be justice? Would that be fair to his next team (he's playing on a one-year deal in Dallas now)? Would that unfairly impact the contract bids Hardy might field?
Two, as much as Cowboys management would like to have Hardy's brilliant talent available for all 16 games, Jerry Jones is — by virtue of his heart, head and pocketbook — a supporter of Roger Goodell.
"That's why you pay the big bucks, to deal with the big problems,'' said Jones of Goodell, well-aware of the fact that his commissioner earns around $42 million in annual salary. "He's doing an outstanding job. You know that you're going to make some decisions that are very unpopular with (some owners). This (DeflateGate) is the case.''
So Jerry Jones supports Greg Hardy. But cannot publicly pick his side.
And Jerry Jones supports Roger Goodell. And cannot publicly endorse the concept of an anarchistic league that suddenly hasn't either the competence or the authority to discipline its own employees.
It's a potential gunfight. But Cowboys ownership is keeping its weapons holstered.
OTHER COWBOYS STUFF ...
*KD has the job winners and losers from the Cowboys' victory over the Texans
*Jordan Ross rips to pieces the Eagles-based argument that Bradford is better than Romo
*We're hanging out at The Maverick Bar tonight in Carrollton ... live music and sports ... join us!