IRVING - Dez Bryant has, in his mind, a thirst than cannot be quenched, a hunger that cannot be sated, and critics who can not be satisfied. The Dallas Cowboys All-Pro receiver is trying to learn that he's only in charge of two of those three things, as he explains in a conversation that includes our 1-on-1 interview leading up to the Giants opener:
"I'm learning not to pay too much attention (to critics),'' Dez told me. "But I know if something touches me, or makes me feel a certain way, I know I'll go to another level that I never thought I could.
"And that's your ass. I'm gonna show it on Sunday.''
Football, of course, is the easy part. It's always been the easy part, even back when he was a Lufkin, Texas, prepubescent who took to the fateful decision to steal a pair of shoulder pads because his family was too destitute to finance his dream.
"It's been good," Bryant said Tuesday in an at-large interview he conducted with the media at Valley Ranch separate from an exclusive sit-down with CowboysHQ.com. (See the DallasCowboys.com video here.)  "Just out there doing what I love to do, play this game of football going up, catching it, high-fiving my teammates. You know, just being out there and balling again."
Bryant, at 26 considered by most to be among the game's handful of greatest talents — at the receiver position to be sure, but beyond that, too — has been "limited,'' if you will, by a hamstring injury tied to the decision to keep him out of the four preseason games. He told me a month ago that he was prepared to "be on fire'' whenever the coaching staff decided to unleash him.
That time wasn't then. That time is now.
"Yup,'' caged since Aug. 6 but possibly in the best shape of his career after a month of training in Oxnard under the grinding supervision of Cowboys trainer Britt Brown. "Patiently waiting. Feels good to be out at practice. Better yet, feels good preparing for the first regular season game. Just excited to be back with my teammates."
In the at-large visit, Bryant attempted to be unemotional and less-than revealing, a continuation of his protest against some media members who he believes have been unfair in wrongly psychoanalyzing him and blaming him for any and all Cowboys controversies (the training-camp fight with the Rams among those; here's the Morning News' take, which Bryant continues to find bothersome. The CHQ take on Dez' role in that fight is here ... and ere's KD Drummond on what Dallas does NOT have a Dez 'Passion Problem' at all.
In our one-on-one, Bryant addressed those critics — and whether he pays too much attention to them. His full explanation:
"If it catches my eye … I like to interact with my fans on Twitter,'' he said. "If it's something, I might shed a little light on it. I'm learning not to pay too much attention. … But I know if something touches me, or makes me feel a certain way, I know I'll go to another level that I never thought I could.
"And that's your ass. I'm gonna show it on Sunday.''
Bryant insists there is no rhythm problem with QB Tony Romo, despite the spring contract dispute (solved at the deadline with a new five-year, $70-million deal) and the relative inactivity of camp. He expects to show that on Sunday, too.
"The real thing about Tony and I is we know each other very well,'' Dez said. "We have a great relationship off the field. When you have that, it's the best thing you can ever have. Things become naturally easy whenever you have that type of relationship.
"I wasn't too frustrated. Romo wasn't too frustrated. I jumped back in and we do what we normally do.''
What Romo and Bryant "normally do'' is form one of the NFL's most lethal pass-and-catch combos. Bryant led the NFL with 16 touchdown catches in 2014. He also had 88 catches for 1,320 yards and was named All-Pro for the first time while earning his second Pro Bowl spot. 
That makes him part of what owner Jerry Jones has called the "face of the franchise.'' I asked Bryant what that means to him.
"That's pretty cool,'' Bryant said. "But I'm me. The same guy. Nothing's changed. Keep my head down. Don't too much pay attention to success. Never satisfied. Never complacent. Want to keep grinding and try to be the best for my teammates and the team try to bring the best out of me … and see where we can go with that.''
Dez on other subjects:
*Bryant was asked about Super Bowl-or-bust promise but wouldn't go there, saying, "We believe in the work we put in, and our work will show – it'll show. If you put enough work in, good or bad, we'll see. But we believe in our work, and we'll see where it'll take us."
*He was asked about his relationship with coach Jason Garrett and was effusive in praise, saying, "He helped me understand a whole bunch of things. I actually do give him a whole lot of credit. Me understanding the offense more, It took time. Because he's a perfection-type guy. The structure he lays out in front of us, it makes sense. If you want to be a better person, I'd advice you to listen to him, because the things that coach Garrett teach and preach is amazing. I love him. I love him.''
*Bryant also touched on the notion of being "happy vs. satisfied'' as a result of his contract.
"Who wouldn't be happy?'' he said. "Of course I'm happy. But I'm not satisfied. I'm not satisfied with what I've got. It makes me wanna go harder. Become a better player. It makes me want to be a better player. As good as you feel you have it, Good luck. trying to find yourself. I just believe in building on success.''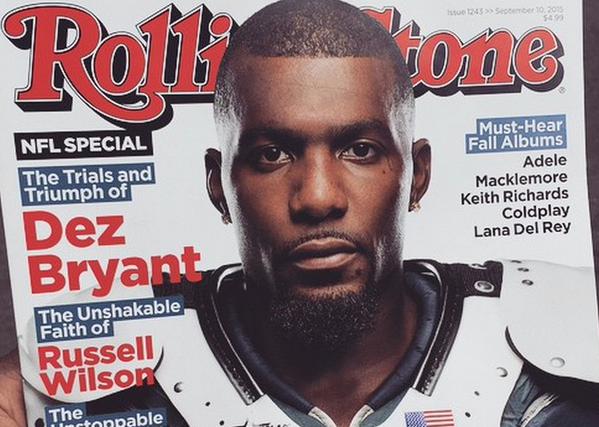 *Bryant told me many of his teammates were already aware of the story of his difficult upbringing that was detailed in Rolling Stone ("Real recognize real'') and believes the article says plenty about his controversial relationship with former advisors whom he now vigorously distrusts,.
"I ain't asking for no apologies or none of that,'' he said. "You can't judge a book by its cover. There's a reason if you see someone being (a) certain way, there's probably a reason for the actions. And I think that's where my passion comes from I direct it in something that I love, and that's football.''
*I asked Bryant about the "identity'' of the Cowboys offense — is it "run-oriented'' still? — and he also talked on the identity of the team overall.
"Same thing. We do what we do. We run all day. Coach preaches that. … When our number is called, we've got to come through and make plays. … We all set the identity for the Cowboys. Every individual in this locker room has to be at their best and bring their 'A game' ever day. We all rely on one another. You have to have a high standard for your self. We have a high respect for each other. We have to be a Grade-A on Sunday.''
And finally, back to the core of what angers Bryant right now … and what drives him always. In our one-on-one, I suggested that the faulty psychoanalysis might cease if he'd make a bigger point to explain that it is his fatherhood of Zayne, Dez Jr. and Isabella Rose that drives him to be "straight and great,'' as I put it.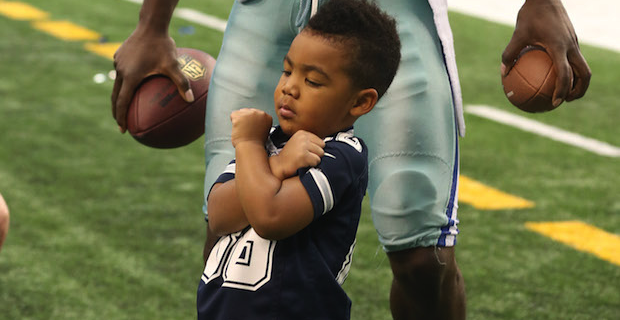 "Yes, damn right ... you're exactly right,'' Bryant said. "You're exactly right. Whenever I do see critics and they're saying bad stuff, (the) first-thing come to my mind: 'My babies watch TV.' And they ask questions. And they see stuff. And they ask questions that they shouldn't be asking me? Oh, man. That makes me play harder. That's what I'm doing it for. They bring the edge to me. That's where the passion and love for the game is. It's for my babies.''