Cowboys owner Jerry Jones doesn't want to start the first four games without free agent defensive end Greg Hardy, but respects his decision to not appeal his four-game suspension any further and will help him get past it.
"This thing that he's been involved in has really been onerous for a lot of people, I'm sure, but certainly for him, Jones said on 105.3 The Fan's "G-Bag Nation" Friday. "And he'd like to help him get it behind us, and I'm going to help him do that and just move on. We're going to be ready to have him when he gets in the fourth game."
Hardy issued a statement on Thursday indicating that he would not appeal the NFL's decision to suspend him for four games for violating the league's personal conduct policy related to a domestic violence conviction in 2014. Meanwhile, CHQ reported on Tuesday that Dallas essentially knew Hardy was not going to appeal and we offered insight into what Dallas' defensive front will look like.
"While I am terribly disappointed to miss the first four games of this season, I am absolutely determined that my issue is not going to be a distraction for the Cowboys," Hardy said via the NFL Players Association. "I have enormous affection and respect for everyone here, and having seen the impact a court case can have on an NFL organization, I believe it is in the team's best interest for me to announce that I will not pursue any further litigation. Everything I do from this point on will be designed to bring glory and pride to my family, their family and this team."
For not even playing a meaningful down for the Dallas Cowboys, Jones already refers to Hardy as a "star."
"He really is impactful to the team just right down to the intangible of a given drill," said Jones. "He makes a difference out there. And he makes a difference not only with his attitude but his actual skill. So, he's a star for us. And you don't want to not have him, but I think that he had really given a lot of consideration.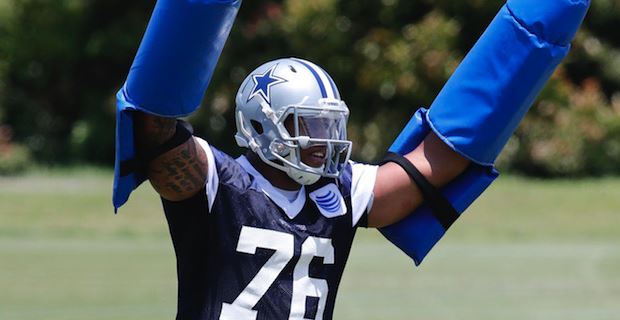 "It means we are of course seeing an outstanding player and an outstanding individual with the Dallas Cowboys."
Are there positive behavior signs? Some Cowboys fans might argue "yes'' based on his banner/charity donation detailed in the above video.
Hardy was convicted of domestic violence on July 15, 2014 for assaulting Nicole Holder, his girlfriend at the time. After Week 1, The Carolina Panthers placed Hardy on the NFL commissioner's exempt list where he missed the rest of the season and playoffs. The case was dismissed on Feb. 9, 2015 after Holder failed to appear in court during the jury trial. On April 22, the league suspended Hardy for 10 games without pay in 2015, though it was reduced to four on July 10. (Our extensive look at the Hardy timeline is here.)
We've been told the Cowboys desired to let Hardy's public profile shrink for now, and that's part of the reason he didn't appeal. At the same time, depending on whether Jerry is right about the essence of Hardy's character, it's possible his one year with Dallas isn't his only year with Dallas.