TYRONE CRAWFORD DEAL
Tyrone Crawford has signed a five-year extension worth a potential total of $45.675 million, with $25.7 million in guaranteed/virtually-guaranteed money AND ... to repeat: this is NOT a "five-year deal.'' This is a SIX-year deal, an extension that keeps him with Dallas through 2020.
https://twitter.com/TCrawford98/status/642812099102687233
"Hard work pays off!'' Crawford tweeted on Saturday. "Blessed to be a Cowboy for the next five years!''
It did indeed pay off; this total blows away most of our predictions, and Fish exclusively reports the breakdown thusly:
*A signing bonus of $10 mil
*2015 salary of $675,000
*2016 salary of $6.75 million
*2017 salary of $7.25 million
*2018 salary of $6 million
*2019 salary of $7 million
*2020 salary of $8 million.
 The 25-year-old hasn't yet had a big season by the numbers, with just three sacks last year. But the Cowboys are betting on him on the come, in a big way.
And considered in another manner: Crawford making $6-to-$7 million at the ages of 30 and 31 could be a steal.
Said Stephen Jones on the eve of the deal: "He represents everything we want to wear the star.''
RB REALITIES
The Cowboys are trying to be tight-lipped about who will be the starting/lead running back Sunday night against the New York Giants at AT&T Stadium. That goes all the way up to owner Jerry Jones, who wouldn't offer any clues with 105.3 The Fan's "G-Bag Nation" on Friday.
"I think you'll see a situation where we have our first offense and what field position we have," Jones said. "That could have something to do with it. Secondly, these guys bring different things to the table. So, I think if we get it going early in a series or a drive, then I see the staff ... staying with what's really working for us. We'll play that one by ear."
In other words, as our Mike Fisher keeps reporting, the same running-back-by-committee approach that we've discussed for the last eight months — unchanged.
And Cowboys sources tell CHQ something else is unchanged, too: Joe Randle remains the "chairman of the committee.''
Dallas currently has four running backs on the roster in Randle, Darren McFadden, Lance Dunbar and Christine Michael, who was acquired via trade with Seattle for a seventh-round pick in 2016 (in part as insurance against Randle's reputation as a behavioral knucklehead).
 In training camp, Randle didn't run away with the competition. But in practice all this week, he's been the first guy, ahead of McFadden, who team sources say has taken the second turn in practice with a special emphasis on participating in blitz-pickup situations.
Dunbar is the sub-package guy. And Michael is not expected to be activated just yet.
But Jones is telling the truth about the "hot-hand'' approach for the active runners on Sunday.
"The good news is that I see circumstances beginning, let's just take the first quarter and the first two or three series of the first quarter. I see circumstances where you could see them all out there with our gameplan."
That's not tight-lipped. And that's not bluffing. It's even conceivable that on the first play of the game, Dallas is in a sub-package or even an empty backfield. But despite all the in-house attempts at espionage and all the outsiders' attempts at guessing, the "lead back'' (if not the "first-play-of-the-game back'') is scheduled to be Joe Randle.
Said Randle: "I'm not really worried about (the question marks because the coaches) are going to do their job, I'm going to go out there and take advantage of all the opportunities that I get.
"If there's a hole, I'm going to make sure I hit that thing and do what I do. I'm going to make sure I'm doing the right thing without the ball and make sure I'm doing the right things all together."
Oh, and here's Dez telling CHQ about the running-game plan: "Same thing (as last year). We do what we do. We run all day. Coach preaches that.''
DEZ PUTS CRITICS ON BLAST
Dez Bryant has, in his mind, a thirst than cannot be quenched, a hunger that cannot be sated, and critics who can not be satisfied. The Dallas Cowboys All-Pro receiver is trying to learn that he's only in charge of two of those three things, as he explains in a conversation that includes our 1-on-1 interview leading up to the Giants opener:
"I'm learning not to pay too much attention (to critics),'' Dez told me. "But I know if something touches me, or makes me feel a certain way, I know I'll go to another level that I never thought I could.
"And that's your ass. I'm gonna show it on Sunday.''
Our must-read visit with Dez is here.
STEPHEN JONES ON SUSPENSIONS
The Cowboys will start the 2015 season with two defensive playmakers serving four-game suspensions in defensive tackle Greg Hardy and linebacker Rolando McClain. However, Chief Operating Officer Stephen Jones thinks the team's depth will mitigate against those two losses.
"I think we through a little bit of that last year with Orlando [Scandrick], and certainly came in knowing that was going to be the case where we weren't going to have these two guys," Jones said. "But at the same time we developed some depth in training camp and really fired up about Randall Gregory and of course Tyrone Crawford and DeMarcus Lawrence have come a long way. And we've got a wily veteran in Jeremy Mincey. It's a good crew of defensive linemen who are ready to go in there and make a big difference."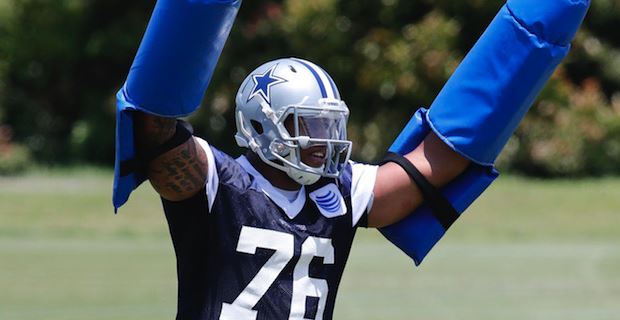 Gregory, a projected first-round defensive end out of Nebraska, fell into the team's laps at pick 60 during this year's draft. Lawrence was a second-rpund pick from 2014 the Cowboys traded up to select, and he did not disappoint in the playoffs with a game-sealing sack-fumble and recovery of Matt Stafford of the Detroit Lions in the wildcard round.
Crawford is entering his fourth season and the team expects 2015 to be his breakout year, while Mincey provides leadership and led the team with six sacks last season. The team believes this unit can sustain the loss as Hardy serves is suspension for violating the league's personal conduct policy.
"Same thing at linebacker," said Jones. "We drafted a good player in [Damien] Wilson. We got Sean Lee back who we didn't have last year. I know our guys will be ready to play."
Dallas took Wilson with their fourth-round selection, while six-year veteran Sean Lee is returning from a torn ACL sustained last off-season during OTA's. The Cowboys also have second-year linebacker Anthony Hitchens, a versatile player, in their linebacker corps to fill in while McClain serves his suspension for violating the league's substance abuse policy.
Meanwhile …
JERRY VOWS TO HELP HARDY
Cowboys owner Jerry Jones is vouching for the character of suspended star Greg Hardy, calling him 'an outstanding player and an outstanding individual.' If the vision is correct, maybe this isn't just a 'rent-a-player' after all. The Premium story is here.
JASON GARRETT FRIDAY PRESSER NOTES
ROMO, DEZ CLICKING TOGETHER – "Just simply practicing together. Again they've practice togethers a lot in their careers. They've played in a lot of games together. We want guys out there practicing every day. Sometimes you're not able to do that and then when they get a chance to come back to work together it's good to see it. Both those guys are really good players and think they have a really good feel for each other. That's one of the reasons that makes them so good and productive when the game starts."
DEZ'S CONDITIONING – "Seems like he'll be ready to go, yeah."
ON GAVIN ESCOBAR – "One of the things we try to emphasize with everybody is just take advantage of the opportunities when you get them. And he's been one of those guys throughout his career all the way back to his rookie year whenever he's gotten chances, he's done a good job with those opportunities. Obviously Jason Witten is our starting tight end. Obviously we have lot of weapons on offense that we want to try to get integrated into what we're doing come gameday. We want to run the football. We want to throw it to different guys. He's one of those guys. And whenever he's had  chances he's ready for them and he seems to take advantage of them."
GOING TO CHANGE HOME ROUTINE SINCE YOU WENT 4-4? -- "You know at different times over the course of the last few years we've tweaked with schedules and those kinds of things. But we don't really believe in change for change sake. If we feel like there's a reason to do something, we'll certainly do it whether we're playing at home, playing on the road. We've done that. But we're not just going to kind of arbitrarily start trying things or experimenting with things. We like our routine. We like our schedule. There are a lot of reasons why you have success. There are a lot of reasons why you don't win games. I think our guys understand how to prepare. We just need to go play well come Sunday night."
WHAT ABOUT FAN BASE REJUVENATION LATE LAST YEAR? -- "Again, not really thinking much about last year. Really focused on today and that's really what our priority is right now. We have great fans. The Dallas Cowboys is a fantastic organization, one of the great organizations in all of sports. Great history and tradition with our team dating back to 1960. This is the 56th team. Dallas Cowboys. The 56th version, and we're proud to be a part of it, and we appreciate all the support our fans have given us through the years. Now we have to go play well and we have to go do our part."
HOW ARE THE ROOKIES THIS WEEK? -- "Really just focus on the task at hand, which is preparation. Prepare yourself on Wednesday, on Thursday, on Friday. Make sure you know what you're doing and use the experience you've had up to this point to go play. You're here for a reason. You didn't sneak into the back of the building. You didn't steal a locker, steal a jersey. You're here for a reason. We like you. We're giving you an opportunity and be ready for that opportunity."
ON MO AND SEAN LEE RETURNING -- "I think they're highly respected guys on our team, respected by coaching staff, respected by their teammates and a lot of that has to do with how they worked to get through some of the adversity they had. Injuries are a part of the game, the best players, the guys who are most mentally tough, come back and they respond to those injuries, they come back better than ever. We believe both of those guys will do that, they certainly work hard on their own, they've worked hard with their teammates to come back and get themselves ready for this opportunity."
WHAT ABOUT MILLS' INJURY? -- "He had a foot issue that we felt like was going to be not a big problem, but it flared up a little bit. So we anticipate him being able to do something today."
DO YOU HAVE HEADSET ISSUES? -- "That's certainly been a part of having to deal with game day situations throughout my career as a player and a coach. What we try to focus on is controlling what we can control and be ready for whatever situation arises and be able to handle it the right way."
ON TWO-POINTERS AND LONGER PAT's -- "I don't know if it's changed very much. I think the essence of your question is the fact that we moved the extra point back. … [when to go for it, when not to] I don't know if that's changed. To me, the analysis comes down to how much confidence you have in your kicker's ability to make a 33-yard extra point and we have a great deal of confidence in Dan and that whole operation, he's done a great job for us, so we anticipate handling those situations like we've handled the other ones in the past. I do think there might be some game circumstances that change as a result of this, the percentages of making these 33-yard extra points is about a 5 percent difference than the traditional extra point from the 2-yard line. So that's historically, we'll see if it changes this year and we'll adjust accordingly."
REDBALL WALKOFF
EVER HELD ONTO A PLAY FOR MONTHS AND THEN USED IT? -- "Oh absolutely and often times you carry plays from week to week to week to week and you carry it over the course of the season. First of all you want to get that play ready, game ready. Often times you put some things in the game plan and you look at it in practice and you say that's not quite ready and you'll keep it up for the next week and you'll keep it up for the next week until it feels ready to be used in a game. But then situationally when is the right time to use something and again I don't know what play you're referring to but I'm sure it was something they felt was appropriate for that week and they had spent a lot of time getting game ready and they called it and I would imagine it was successful."
HOW OFTEN ARE THERE HEADSET ISSUES? -- "Uh, I'm not the expert on that."
EVER HAD ANY AT AT&T STADIUM? --  "I'm sure we've had headset issues before. The biggest thing we try to do is stay focused on handling that communication if the electronics aren't what we need them to be."
JERRY ON SEAN LEE
Sunday night, Linebacker Sean Lee will make his second Opening Day debut after a season-ending injury, and Cowboys owner Jerry Jones expects to see a vastly improved version of the six-year pro.
"I think we're going to get a better Sean Lee than we had on the field then," Jones said. "And I think it's a case of continuing. We all saw it, if you looked. It was out there. But we've never had anybody rehab work harder, work harder on the intricacies of his game on the fact that he moved over from the middle to the weak linebacker and the homework he does in that area."
Lee's own thoughts: "The knee feels great. I think we've done so much training and so much practice that I don't even think about it when I'm playing.''
Lee will move from his middle linebacker spot, a position he played for Dallas since 2010, to a weakside linebacker spot that is more coverage-based. The move is expected to keep the oft-injured yet playmaking defender away from unnecessary contact.
On the first practice of OTA's in late May last year, Lee blew out his left ACL and was gone for the upcoming season. Jones admits he should have encouraged the Penn State alumnus to get his left knee, which only had 20 percent of the ligament remaining, worked on.
"You knew, we knew that he had this tear in his knee when we drafted him. And we thought that we would fix it at some time in the future," said Jones. "The mistake that I made was when he fixed his elbow, we should have had that knee done too. But Sean needs to be here saying that and he might disagree."
With Lee returning against the New York Giants Sunday night at AT&T Stadium, Jones expects his team to include a "major, better defense."
Added Lee: "I feel like I've done as much as I could to get ready for this game.''
ONSIDE KICKS
Fish says to look for Dunbar as Sunday's No. 1 kick returner and Beasley as the No. 1 punt returner as Lucky has yet to gain the coaching staff's trust … Want to know how the D-Line will align come Sunday night? We've got the Jeremy Mincey scoop here … Condolences to the family of Cowboys exec Will McClay, whose father Melvin recently passed away … Giant rookie safety Landon Collins says that if Tony throws at him, 'He won't be happy.' We think Dallas will go ahead and try, anyway. … Osi is picking his old Giants by "three touchdowns'' despite the fact that Dallas has won four straight in this series and that New York is missing big weapons in JPP, Cruz and Beason. … Yes, Brandon Carr is aware of OBJ. But no, he's not "afraid of the dark,'' as B-Carr explains here. … Jerry Jones is in good spirits following another hip-replacement surgery.  … The 2015 Cowboys captains are Romo, Witten, Lee, Church and Bailey. ... Our Q-and-A inside the Giants is here. ... The 105.3 The Fan coverage from AT&T Stadium starts at 3:15 with coverage that features our own Mike Fisher, plus Verne Lundquist (in for Brad Sham) alongside Babe Laufenberg for the 7:30 kickoff.
THE FINAL WORD
"The thing I love about football is it's a 'show-me' game. Everything else is elevator music: Nobody listens to it.''