Jason Garrett knows this. Chip Kelly knows this. Jerry Jones knows it in a way that has him saying on Friday he wouldn't trade Romo for any QB. The dying memes demonstrate that the NFL world is catching on. Tony Romo is 'elite.' "Tony Romo has been an elite quarterback for a long time," said Eagles coach Chip Kelly as he prepared for Sunday's Cowboys-at-Philly visit, the latest chapter in this rivalry (chronicled nicely here by Mark Lane). "He's as good as anybody playing right now.''
This is news only to those who have reflected on Cowboys failures by turning Romo into a cartoon character. 
Like jerky salesman Stephen A. Smith.
https://twitter.com/1053SS/status/644567726627753984
Or Philly troll Howard Eskin.
https://twitter.com/howardeskin/status/643288819148701697
But Romo as the leader of a team with talent? That was the case last year when Dallas was 12-4 and Romo was an MVP finalist. And it's the case now - though the injury absence of Dez Bryant brings the demands on the QB to another level.
"Tony, "said Cowboys coach Jason Garrett matter-of-factly. "has been playing at a high level for a long time.''
You saw that in the opener against the Giants, a 27-26 final-minutes dissection of a foe. …
https://twitter.com/NFL/status/644526244684402690
And you've seen it consistently when Romo is healthy … and when Romo is on the road.
The health: When Romo was fully healthy last year during the regular season, his team did not lose. Check out Jordan Ross' research on health/rest …
https://twitter.com/TheJordanRoss/status/644605312016719872
Oh, and his team was 14-2 in those games.
Dallas is 1-0 now, and part it all of this is the streak the QB is on. Romo has a 100+ passer rating in seven straight games (including playoffs) and that's the longest active streak in the NFL; New England's Tom Brady is second with three straight. Romo has a 90-plus passer rating in 10 straight road games; If he achieves a 90-plus rating today he'll tie Denver's Peyton Manning for the longest streak in NFL history.
Said Romo: "Really we're just focused on ourselves … As far as the other stuff, that's for you guys (media). … I don't analyze that. I have a job to do. It takes up enough of my time, getting myself ready to play. I don't analyze what everybody else is thinking.''
(We, of course, are in charge of that analysis -- which includes this "Behind Enemy Lines'' visit between our KD Drummond and Philly writer Jimmy Kempski and Mark Lane's fun piece on the Top 7 Rivalry Games between the two teams in the Garrett-esque Era.)
That collection of comments is about all the sidebar issues that can surround and engulf a quarterback. It can be about the absence of Dez Bryant, it can be about opposing a pal in Cowboys-turned-Eagles runner DeMarco Murray, it can be about the memes, which inch a little closer to dying with every Romo success — which Kelly anticipates will continue.
"I've always been a big fan of Tony and just how he plays the game at quarterback,'' Kelly said. "He has an unbelievable understanding of what they're doing. He gets them always into the right play, always in the right protection and he can make all the throws. He's playing as good as any quarterback in the National Football League."
Getting the protections right (as noted here by Peter King) is one of the reasons Dallas eats up a great deal of clock on offense — maybe a good policy against the speed-it-up Eagles. But ultimately, being in position to win in the fourth quarter may be the key to this game, in which NFC East rival Philly is favored by five.
Why is the fourth quarter so important? Ask the Giants, last week a Romo victim as he notched a 24th career fourth-quarter comeback win, putting him in yet another "elite'' category.
Rome's talent, Kelly said, "really manifests itself at the end of games because he's just so strong with it, to go along with the skill set of being such an accurate quarterback.''
Kelly notes that Romo is not a "run threat,'' but that his danger comes in being "so nifty in the pocket and extending plays. … That's a big, tall test for us: Trying to corral him.'' 
https://twitter.com/biglfljr/status/644836459015307264
It's about the many gifts that makes Tony Romo "elite.'' And robbed of what Romo calls the "heartbeat of the team'' in Dez, the Cowboys need to make sure today's game is still a game in the fourth quarter … so this quarterback has a chance to once again prove the Eagles coach and the Cowboys coach right … and prove the memes wrong.
LEARY AND INJURY UPDATE: Left guard Ron Leary, who was sidelined with a groin injury last week, won't eliminate his chances to play Sunday against the Eagles at Lincoln Financial Field.
"I think it'll be the same warm-up and see how it feels and hopefully they think I'm ready to go and then they give me the okay to go," Leary said.


Leary left the 27-26 win over the New York Giants. Guard Mackenzy Bernadeau replaced Leary and helped the Cowboys offensive line hold forth as quarterback Tony Romo led Dallas in his 26th fourth-quarter comeback to start 1-0.

The four-year veteran attributes his maturity as to why he exited the game rather than playing through the injury.

"The other day when I pulled, that's when I kind of felt it give out on me," said Leary. "I mean, I couldn't even run anymore. So, I knew I would be hurting the team by being out there. So, I came out."

Leary is familiar with the intricacies of groin injuries. Last year, Leary strained his groin against Washington in a 20-17 overtime loss. The next week, he missed the game, the only one of the season, against Arizona in a 28-17 loss.

"I think just because I've had it before I know what to do now coming off of everything quicker," Leary said. "I thinking coming out of the game when I did probably kept it from getting as bad as it was last year. So, you know, try to maintain it now."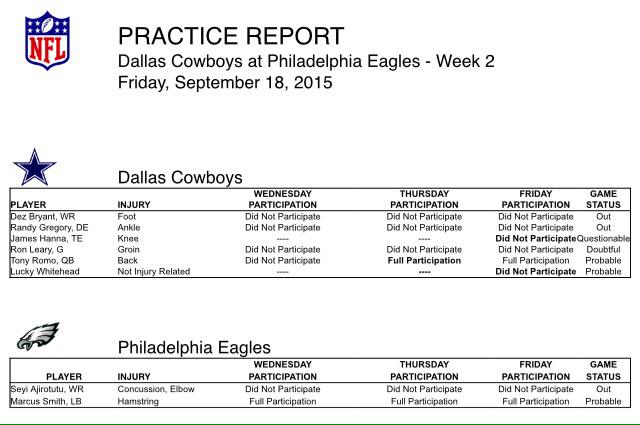 On Sunday afternoon as the undrafted free agent out of Memphis in 2012 will demand to play Sunday if able.
"You always want to play,'' he said. But ... Leary was listen as a ..... in the Friday practice/injury report. 
NO DEZ, SO ...: The Cowboys will be without receiver Dez Bryant who will sit out the next six weeks or so with a broken foot. With a key showdowns upcoming for Dallas, owner Jerry Jones believes the other receivers on the roster can hold forth until Bryant recuperates.
"First of all, let's ask ourselves: do all the ones that have a chance to get the ball, can they catch the ball? And everybody we got out there that has a chance to see the ball can really catch the ball," Jones said on "G-Bag Nation. ''"They've caught, as it would turn out, [Terrance] Williams, who has had the extra work through the training camp. You've heard about that all week. But they can catch the ball. Now, right there is the prerequisite for success."

Williams has played in all 33 possible games for the Cowboys and started in 25 of them. The third-round pick out of Baylor in 2013 has caught 86 passes for 1,417 and 13 touchdowns. Williams also is one of the receivers who has good chemistry with Romo on must-covert plays in ballgames.

Four-year pro Cole Beasley is Romo's third-down option. The short, shifty receiver has caught 95 passes for 965 yards and six touchdowns since 2012. The undrafted free agent from SMU has been one of Romo's third-down options along with tight end Jason Witten and Bryant. Second-year Devin Street has only caught two passes on seven targets in his 17 games played, and new receiver Brice Butler arrived in Dallas from Oakland after the Cowboys traded a conditional pick in 2016.

"They're going to have done their work," said Jones. "They're going to know their routes. They know very well how much each route depends on the other one running his route. So, really, when I analyze it, when I look at their work, not only during training camp but before training camp, I think we have a good chance to have guys in position for Romo to really do well with."

Bryant, who underwent surgery Monday to repair the fracture fifth metatarsal in his right foot, may not even travel with the team on Sunday for moral support. The decision has yet to be made, according to Jones, as of Friday. (Dallas has decided to not put Dez on an IR list, a sign of optimism there.)


Said Stephen on the travel idea: "Let's see how that goes. We want to be sure that we give him every chance to rehab. And you could argue that maybe he could rehab better with the team than without the team, but we'll see how that goes. That has a mixed bag relative to what's the best way to do that for an injured player."
CHQ FILM ROOM: All the way back to the start of the offseason, much has been made of the outlook for the Cowboys' running game, and the guys who would be carrying the ball. Because of the oddities that took place in their week one matchup with the New York Giants, the Cowboys weren't able to lean on the run game the way they did in 2014, leaving many questions unanswered. Ins pite of the limited number of carries, Step into the CowboysHQ film room with Joey Ickes to examine some of the things they did in the run game, and what makes the running backs different types of players.
Dig into CHQ.com for more of the best Cowboys coverage in the land! Get a comfy chair as you enter!
THE FINAL WORD:  "I hate to be a little selfish, but I still haven't had a 100-yard game yet. So it's a lot of things I have to focus on with my game and helping this team win." - Joe Randle.