The Cowboys haven't had a 100-yard rusher against the Eagles since Jan. 9, 2010 when Dallas defeated Philadelphia 34-14 in the NFC Wildcard. Felix Jones rushed 16 times for 148 yards and a touchdown. Does the new running back by committee think that can change Sunday at Lincoln Financial Field?
"Hopefully, we'll find out," Lance Dunbar, who had eight catches for 70 yards Sunday night, said. "We don't know. Our game plan is to, but we don't know."
Added Joe Randle, the chairman of the RBBC: ""I've been waiting for this opportunity. I hate to be a little selfish, but I still haven't had a 100-yard game left. There are a lot of things I have to focus on with my game to help this team win.''
Since 2000, the Cowboys have only had four individual ball-carriers surpass the century mark. Meanwhile, the Eagles have had nine in the same span. However, fullback Tyler Clutts, who would be considered the committee's secretary, says the unit doesn't care about the statistical aspect.
"It's about the end result," Clutts said. "It's about the run game helping get the end result. And the only thing we're concerned about is the win. And then after that, a good rusher continues to help with that. But our goal is to win the game. If we have a 100-yard rusher, we have a 100-yard rusher. But our room is more concerned with running the right way, finishing runs, being on point in pass protection, and helping everybody else do their job."
Speaking of pass protection, the Cowboys running backs will also have a challenge on their hands Sunday as they pick up blocks for quarterback Tony Romo, who will need as much time to scan the field for the open receiver now that wideout Dez Bryant will miss the game due to a broken bone in his right foot.
The task for the Cowboys backs, and primarily the offensive line, will be stiff as they face defensive end Vinny Curry. Since 2013, Curry has four sacks of Romo, a total that only two other players have tied in that span.
Ultimately, it comes down to execution, according to Clutts, and finishing blocks and cleaning up reads, and Darren McFadden concurs.
"For us, we're just going out there and playing our game," said McFadden. "We're going to pick up all blocks like we're supposed to and keep them off our quarterback."
(Want to see how these RBs did against the Giants and how it might work today? Check into the CHQ Film Room here.)
Meanwhile, Dallas D-coordinator Rod Marinelli has a flip-side approach.
Marinelli knows his defense failed to register a turnover last week against the New York Giants, but he still believes in his ability to produce takeaways.
"The biggest thing, the one thing you probably noticed is how the ball came out," Marinelli said. "So, as long as we're going for it, just keep doing that, it'll come out."
On the Giants first drive late in the first quarter, the Cowboys thought they had two fumble recoveries on consecutive plays. The first was when running back Rashad Jennings lost the ball on a seven-yard gain on first-and-10, but New York challenged the ruling on the field and Jennings was found to be down by contact. The second was when receiver Odell Beckham, Jr. caught a pass over the middle in the red zone, but safety J.J. Wilcox collided with Beckham so hard he jarred the ball loose and broke his own nose. The ruling on the field was an incomplete pass, but Dallas challenged Beckham had fumbled. Referee Bill Vinovich sided with the call on the field this time.
"Now, if they're not popping out, then we've come some issues," said Marinelli. "But we didn't have any. Still, we were going after the ball. We were stripping it out. Two of them were close. We challenged them."
According to Marinelli, the mentality is there with his unit to produce turnovers. The technicalities and statistics indicate the defense has failed to produce a turnover after one game, but their hearts and intentions are to come up with fumbles and interceptions.
"Having said that, you've got to get the ball. You've got to to win in this league."
The last time Marinelli's defense failed to record a turnover was in Week 1 of 2014 in a 28-17 loss to the San Francisco 49ers at AT&T Stadium. For the next 17 games, including playoff bouts with the Detroit Lions and Green Bay Packers, the Cowboys defense had at least one takeaway.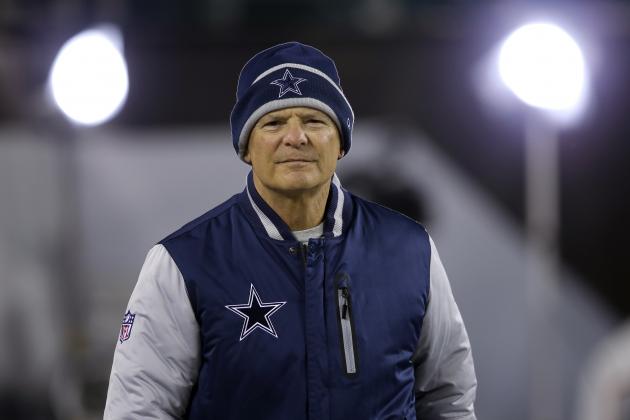 Said Rod: "Just keep believing, keep working, keep taking a swing at it. That's all we can do."
Said Joe: "Right now, I'm just trying to focus on me and perfecting my game so I'm the best Joe Randle on Sunday that I can be. It's not really about stats; the stats will come with execution."
The best Joe Randle. The best Rod Marinelli. May the best stat-chaser - and the Cowboys - win.