5 Reasons the Cowboys Can (and WILL) Survive Without Romo
At least, that's what your average Cowboy fan might say after looking at the current state of their team. I can't say I blame them for thinking that either. On the surface, the Cowboys look to be in serious trouble. However, if you dig a little deeper, there are several reasons for optimism. In fact, I've got five reasons for you right here.
1. Dominant Defense
The Cowboys defense has been outstanding so far this season.
Sean Lee is as dominant as ever. He's currently tied for most tackles in the NFL with 23, has 3 tackles for a loss, 2 pass breakups and an interception. ... and is the NFC Defensive Player of the Week after
a terrific performance in Philly
.
Then there is
Tyrone Crawford, who is on his way to having the breakout season that the Cowboys expected when they gave him his big contract extension
. The team's top 3 CB's - Morris Claiborne, Brandon Carr and Tyler Patmon - have held opposing QB's to a 57.9 completion %, an 82.2 passer rating and just 1 passing touchdown - which was in garbage time vs the Eagles after the game had been sealed. Meanwhile, Barry Church and JJ Wilcox are both among PFF's top 10 safeties thus far. This defense is currently the 8th ranked unit vs the pass, 1st vs the run and 3rd in total defense. We're only two weeks into the season, but that's quite an improvement from last season's 19th ranked unit or 2013's 32nd ranked defense.
On top of ALL that, this defense is playing without Greg Hardy, Rolando McClain and Randy Gregory - all of whom should be back in the lineup within a couple of weeks. That's right - one of the most impressive defenses in the NFL right now is getting major reinforcements and will only get better. If they can continue playing at their current level, the Cowboys have a legitimate chance of remaining competitive. The Cardinals lost Carson Palmer for 8 weeks last season and went 5-3, in large part due to their dominant defense. The Cowboys defense has a chance to carry this team the same way during Romo's absence.
2. Brandon Weeden isn't as bad as you think
When Cowboys fans think of Brandon Weeden starting, they immediately think of the game against the Cardinals last season in which Weeden threw 1 touchdown and 2 interceptions in a 28-17 loss. However, fans tend to forget that the offensive line, DeMarco Murray and Dez Bryant all had bad games too. It's not like Weeden lost that game on his own. The Cowboys were playing against one of the top defenses in the NFL. Hard for a backup QB to have success in that situation. Luckily, they aren't playing any defenses of that caliber during Romo's absence. If you take away that one game during Weeden's time in Dallas, he's thrown 3 touchdowns on 13 attempts with an 86.6 completion % and a perfect 158.3 passer rating. 
Now, I understand that Weeden wasn't great in Cleveland either, but honestly, which quarterback has had any success there in the last couple of decades? But like Stephen Jones said on 105.3 the Fan on Monday, there's a reason that Brandon Weeden was a first round pick a few years ago. That's not to say he's going to put up MVP-type numbers and steal Romo's job, but he is talented enough to "drive the bus" for a while. I already mentioned the Cardinals as a reference point once, so why not do it again? Arizona went 5-3 with Drew Stanton as their starter last year. Stanton threw 6 TD's and 5 INT's in those games. I think it's safe to say that Weeden is a better quarterback than Stanton, even if he's just slightly better. I'm very confident in Garrett, Linehan and Romo's ability to put together game plans that will capitalize on Weeden's strengths and put him in position to have success. With the way this defense is playing, that should be good enough.
Weeden, by the way, is slated to stay the No. 1 guy ... though a series of awful performances could allow room for just-acquired Matt Cassel to jump up. For the time being, though, Cassel will learn the playbook while practice-squadder Kellen Moore spends the next few days, we think, at No. 2.
We've got the full Cassel trade deals and domino explanation here
.
3. Special Special Teams
During the preseason, one of the biggest concerns among Cowboys fans was how bad the special teams unit looked. The Cowboys gave up several big punt/kick returns and just looked lost. But then came the regular season and it was a completely different story. Through the first two games of the season, Chris Jones is averaging 52.8 yards per punt, which is the 3rd highest average in the NFL. His ability to pin opponents back deep in their own territory has been a big part of the Cowboys success this year. Also, the coverage unit is allowing just 5.8 yards per punt return. Then there is Dan Bailey, who has 9 touchbacks on 10 kickoffs and is a perfect 4-for-4 on field goal attempts.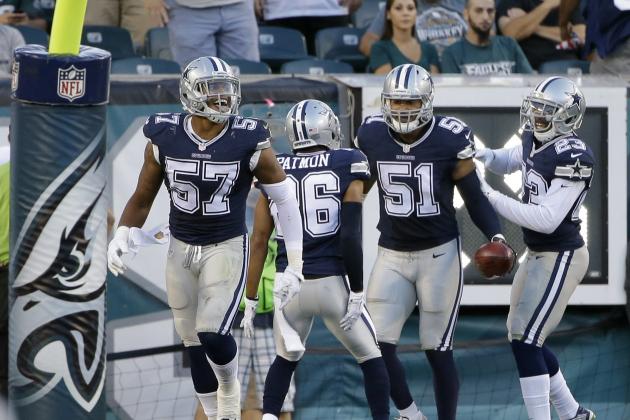 Kyle Wilber has also been huge on special teams. He made a big special teams tackle to pin the Giants inside their own 5-yard line in week 1. Then in week 2, Danny McCray blocked a punt that Wilber then scooped up and returned it for a touchdown. Keeping opponents in bad field position will make things much easier for the defense and should give a banged up Cowboys offense better field position as well.
4. The NFC Least
Lucky for the Cowboys, the 3 other teams in the NFC East have been pretty bad. The Redskins are 1-1, and while they look improved from last season, they're still not a playoff team. The Giants and Eagles are both 0-2. Historically, teams that start out 0-2 have a very slim chance of reaching the playoffs. The fact that the Cowboys have a 2-0 lead on the Giants and Eagles is huge. Even if the Cowboys win just 3 out of their next 7 games, the Giants/Eagles would have to win 6 of their next 7 to move into first place in the division. This could be another season in which a team can win the NFC East with a 9-7 record - which is still a very attainable goal for the Cowboys, in my opinion, who are still the deepest and most talented team in the division. Even without Tony Romo and Dez Bryant.
5. The team buys into Jason Garrett's philosophy
Since Jason Garrett took over as the head coach of the Dallas Cowboys, this team has faced plenty of adversity. In 2010, he led the team to a 5-3 record with Jon Kitna as the starting quarterback after they started out the season 1-7. In 2011-2013, he led the team to 3 straight 8-8 seasons during a rebuilding phase. They were just 1 win away from making to the playoffs in each of those seasons. Then, in 2014, his "process" paid off. The Cowboys went 12-4, including an undefeated road record, and came within a questionable call from making it to the NFC Championship game. This year the Cowboys have faced as much adversity than ever before. They overcame a 2-score 4th quarter deficit to beat the Giants with 7 seconds left on the clock without their top receiver in week 1. In week 2, they overcame a franchise-record 18 penalties and won the game even after losing their starting quarterback. 
Garrett often says things like "mental toughness", "resiliency" and "perseverance", and it's clearly made an impact on this team. These guys simply finds a way to win - no matter the circumstances. I believe that they'll continue to do more of the same over these next couple months with Jason Garrett leading the way.
If the Cowboys can find a way to go 3-4 or 4-3 over the next 7 games, they'll be 5-4 or 6-3 with Tony Romo and Dez Bryant returning from injury for a late season playoff push. The odds may be against them but I, for one, wouldn't bet against this group of guys. So fear not, Cowboys fans! Your team might not be doomed after all!