IRVING - Jason Witten said very little ... but actions spoke louder than words.
Dez Bryant said only one word ... but it was loud.
Witten, wrapped in tape to protect his sprained knee and his two sprained ankles, popped out of the Cowboys' Valley Ranch training room and into the locker room for a quick visit with Fish and Charean Williams of the Star-Telegram to offer some an update on his status.
"It's all good,'' he told them. "I've just gotta work the swelling out. I'll be fine.''
Witten has a streak of 189 consecutive games played (the NFL's longest active streak for a non-specialist). It includes, of course, Sunday's win at Philadelphia in which he led the Dez-less and mostly Romo-less Cowboys with seven receptions for 56 yards. He practiced on a limited basis on Wednesday -- showing up on the official injury report you see below -- and the Pro Bowl tight end plans on playing Sunday against the Falcons. 
https://twitter.com/fishsports/status/646844236940226560
"Toughest guy I've ever seen play football,''  Witten's backup, Gavin Escobar said. "I wouldn't bet against him playing."
Another tough guy is Sean Lee. He won the NFC Defensive Player of the Week for his terrific work against the Eagles. But then because he wore tape on his knee during practice, Twitter went a bit nuts for a moment. But Lee wasn't even listed on the injury report, again, as you can see for yourself.
Dez Bryant (rehabbing from surgery on a broken bone in his foot) did not practice, of course. But he appeared in the locker room, strutting about while leaving his boot back at his locker. Then he yelled "BOOM!'' and marched off to the trainers room ... to do work in a definant non-acceptance of the idea his return to the field will mean a long wait.
Most importantly on this day, though, Brandon Weeden began his on-field work as the temp No. 1 QB with Tony Romo on IR/DTR. Kellen Moore was promoted from the practice squad, but Matt Cassel — acquired in trade from the Buffalo Bills but not at Valley Ranch in time to practice Wednesday — will try to master the playbook quickly enough to be the No. 2. 
Weeden is looking forward to Sunday's game against the Atlanta Falcons at AT&T Stadium in what will be the the first of an eight-week campaign for the four-year veteran. 
"I'm excited about my opportunity absolutely, but for Tony, I hate it," Weeden said. "He's been at this thing for a long time. He has a good team around him. He had a great year last year and just kind of building on it and having a great year this year. I hate it for him, but in this business, unfortunate things happen."
In 2014, Weeden filled in for Romo against the Arizona Cardinals at home in a 28-17 loss. Weeden went 18/33 for 183 yards, a touchdown, and two interceptions against Arizona, inspiring doubt in Cowboys fans as to the 31-year-old's effectiveness as a relief signal caller. However, Weeden anticipates better results this time around.
"I think being here for my second year in the same system, first and foremost," said Weeden, who has a different offensive coordinator every year of his collegiate and professional career. "Being around the same guys, hearing the same language, just kind of being around Tony. I think just being around Scott [Linehan] and how he does things, kind of his mindset going into games with Tony.
"I'm not going to be tentative. I'm an aggressive guy by nature. I always have been, maybe sometimes, truth will tell it, to a fault. But you got to smart at the same time. You have to go out and execute plays."
Weeden has committed a turnover in his past four consecutive starts. It is a streak he would like to end on Sunday because he knows how detrimental giveaways are to the Cowboys' success. Still, Weeden doesn't see playing aggressively as mutually exclusive with protecting the football.
"We preach it around here: the ball, the ball, the ball," Weeden said. "That's the most important thing. The team that wins the turnover battle nine times out of 10 wins the football game. So, you got to be aggressive. When it's not there, you have to be smart in knowing to check it down or whatever it may be.
"But I've got confidence in my arm. I've always had confidence in my ability to throw the football. It's just playing fast, being on the same page from a communication standpoint. Being in the system a second year kind of gives me a little extra confidence going forward."
The former first-round pick out of Oklahoma State in 2012 feels taking first-team reps on Wednesdays since 2014 has helped him mature as a quarterback, and he foresees taking all of the first-team reps in Romo's absence will only help him improve his game.
Weeden is 0-2 lifetime in AT&T Stadium, both as a Browns quarterback and as a Cowboys reliever. He would like to notch a few in the win column before Romo returns. ... and win whatever  competition there might be with newcomer Weeden.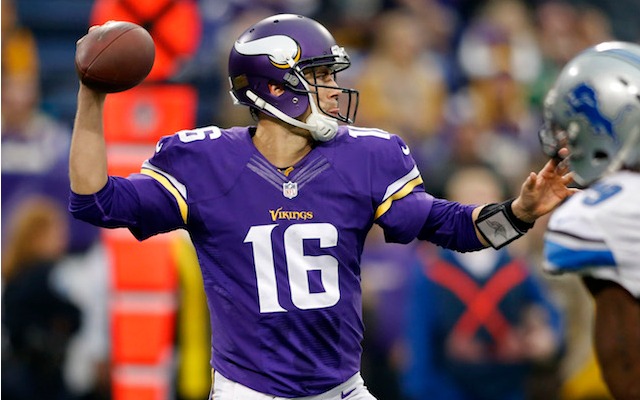 End Randy Gregory (ankle), tight end James Hanna (knee) and guard Ron Leary (groin) did not participate, though Leary predicts he'll be "100 percent'' by Sunday. 
Listen to Fish on 105.3 The Fan today for his daily 11:30 report from the Cowboys practice-field sideline for the latest.