The Dallas Cowboys returned to the field on Wednesday and between Jerry, Stephen and the CHQ staff, we've got you covered.
You get Jerry's injury update above. Below, COO Stephen Jones' words with us in the halls at Valley Ranch. And here: News from the sideline as Dallas began its New Orleans prep (which has its own Drew Brees issues.) Brandon Carr wasn't on the practice field during the media session. And Fish's prediction regarding "competition at RB and QB'' is coming true. (We'll update in a bit.) Ron Leary was on the field, as was Jeremy Mincey. Both of them are slated to start. Randy Gregory (ankle) was not a go, and coach Jason Garrett gave Fish the indication that this is a "later rather than sooner'' deal.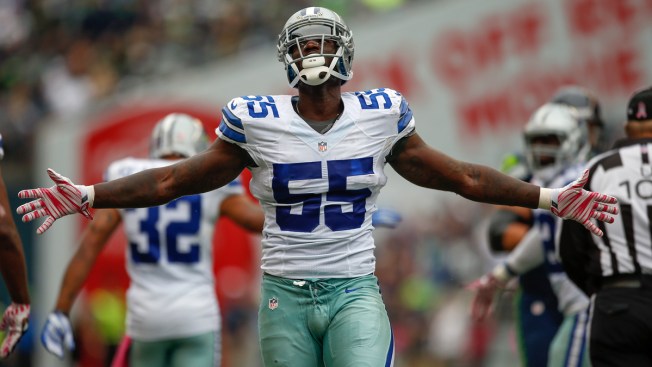 And then there is news on Greg Hardy and Rolando McClain. CHQ has gotten clarification on what they can and cannot do in the coming days as their four-game suspensions wind down.
For Hardy, he cannot play, practice, meet or be at Valley Ranch ... though sources tell us he can and has been in touch with the training staff. (And Jerry is very willing to "help'' the Hardy situation.)
For the also-suspended McClain, he cannot play or practice ... but he can be involved in Valley Ranch work, and Fish spotted him in the weight room as the return clock ticks.
Now to Stephen ...
TELL US ABOUT THE CASSEL TRADE -- "I think the situation with Cassel is give us an option. We are looking at an extended time frame here with Tony being out. We felt we needed to get an option here if things weren't perfect with Weeden or injury. He had a concussion in the preseason and once you have had one you are subject to another. And if you have another it's a longer period of time. There are two moving parts there that we felt getting a guy like Cassel who had had success in league, I felt like it was a good fit for us."
DO YOU HAVE CONFIDENCE IN WEEDEN? -- "Yes we do."

DOES WEEDEN HAVE CONFIDENCE IN HIMSELF? -- "I think he does . He played a helluva  a game the other day. Now we would like to when they start to tighten in on us you have to look to the outside and get it to your outside receivers. And if they are going to tighten in like that you have to make them pay. We got some good outside receivers. We have to get the ball to them. That would be the only negative."

DO YOU EXPECT TEAMS TO DUPLICATE THE ATL PLAN? -- "We fully expect them to. We expect it."

DOES WEEDEN HAVE CONFIDENCE HE CAN MAKE PLAYS ON THE OUTSIDE? -- "I think he is willing to do so and is confident."

WAS WEEDEN'S WILLINGESS TO THROW DEEP AGAINST ATL AN ISSUE? -- "Yeah. I think a little bit of it to is that we coached him to be very conservative, especially when we started off with a good first half. You didn't want to go out and make mistakes that would hand the game to them. So a lot of that was us a little bit about how we coached him all week, too. It was to protect the ball and be conservative. It worked well in the first half. Anyway, we will have to adjust and go from there."
Jump into the CHQ Film Room with Joey Ickes' terrific video breakdown of Weeden's work here.

WHY DO YOU NOT DRAFT QUARTERBACKS? -- "It's a tough thing to answer. I guess you always feel when you have some good ones -- we were doing a lot of quarterbacking in between Troy and Tony. But you're looking at a lot of different way to skin the cat. But once you got a good one like Troy or like Tony, you feel like a little bit you'd like to get some veteran guys in there behind them, like a Cassel, like a Weeden, guys like Wade Wilson  and Kosar. And we had a lot of veteran-type guys – the Beureleins of the world and we didn't really feel the pressure. And then at the same time, when you're using those higher picks, you feel like you want to put good players with them. But I don't know that we are right, we have been right by not drafting them. I won't necessarily say we've been right. But for whatever the reason, we just haven't pulled the trigger and felt like there was a bigger need. But it's something that we'll continue to address."

DO YOU GUYS PREFER A VETERAN BACKUP TO A YOUNG ONE? -- "When we have guys like Tony and Troy, obviously very established. When you don't have a quarterback that's established and everybody has a lot of confidence in, you feel like not only are you kind of building, you're trying to get better. We were doing that a little bit when we didn't have Tony established after Troy left. There were a lot of moving parts trying a lot of different guys... The baseball pitchers and the baseball players. When you do that you're looking for a lot of different ways to do it. At the same time, you're always looking for the right guy. If the guy's not there by the time maybe you're willing to take one in the third of fourth round, you tend to put it off if you will."
Speaking of trades: We've got the goof stuff on this "Forte story.'' Dig in.

ARE YOU GUYS TRYING TO HOLD ON? -- "Hold on? I wouldn't say hold on. We've got to play our ass off. You can't hold on to anything. We're going to play with what we have. We're going to play as hard as we can play."

DO YOU LOOK AT THE SCHEDULE AND DETERMINE HOW MANY WINS YOU NEED? -- "Of course. If we go oh-fer while Tony's out, we're probably out of it. But I don't think we feel like that's going to happen. I think we can win football games with the team that we have. We're going to get better. We're getting guys back starting next week and the week after and getting guys back this week. Should get Mincey back and Leary back. We'll continue to look for ways to get better. Got a player off Kansas City's practice squad to help us there in the defensive line. No, we're not trying to hold on. We're trying to win games."

IT'S JASON'S MESSAGE OF NEXT MAN UP? -- "That's it. We've got to go out there and play hard. There's a lot of teams out there that don't have franchise quarterbacks back there that win games. You've got to find ways to win games."

IT'S EASY TO SAY WHEN ONE GUY IS MISSING -- "But we've got a lot of guys coming back. We don't have eight to 10 guys missing eight to 10 weeks. We're about to get most of them back over the next two weeks, two to three weeks. Last week was tough, but no excuses. We've got to step up. Everybody has issues. We're not the only team in the league to have an issue. So, no one is going to feel sorry for us. So, we've got to get to work."

IS IT WEEDEN'S TEAM UNTIL TONY GETS BACK? -- "I think Jason said that there is always a competition. It's different when you're Tony Romo or you're Tom Brady or Peyton Manning. Everybody knows it's their team. I think Brandon understands Cassel is in here. If he doesn't play well, he knows there's a competition there. I think Jason has been pretty clear about that."
ARE YOU TRYING TO WIN NOW? -- "Anytime a team loses their top pick, I mean their top quarterback, then they've got to go do something. Any team loses a quarterback, you've got to go get another. The question is how you do it. We thought there was great opportunity there with Cassel. Most teams don't want to part with their No. 2 guy, a legit No. 2... We thought it was a unique opportunity... So we just have to see how it plays out. But we thought Weeden played very well."

HOW HAS THE OL PLAYED TO THIS POINT? -- "I think they're playing solid. We just had a great first half and unfortunately we didn't show up in the second half. Just didn't play well enough, but I think most people will take what we did offensively in the first half almost any time. Just didn't finish."

OVERALL, HOW DO YOU FEEL ABOUT THE RUNNING GAME? -- "Good. I think we can get better. And we'll continue to just stick with it and hopefully improve."

WAS IT MORE WHAT ATL DID IN THE SECOND HALF? -- "Yeah, I think a little bit. There's no question they pressured up, closed in, man on the outside, put more people down in there to stop the run. You have a quarterback like Romo and Dez Bryant out there that's harder for a team to do because you make them pay, like what Atlanta did with us with Julio. So, you've got to take the full body of work. Don't just say you'll take things in this particular quarter or this particular half. So, we're still a work in progress. Obviously we've still got some unique challenges and opportunities here over the next couple of weeks, but we feel good about it."


HAD ANY CONTACT WITH HARDY? -- Yeah. He feels good. The trainer is able to contact him to make sure he's feeling good. We have full expectation.''
Our take on the overall message here? Yes, Dallas has "full expectation'' on guys returning. But no, they can't just "hold on.''