DO THE COWBOYS FEEL GREG HARDY'S PERSONALITY IS AN ISSUE? -- 
"Not at all. Zero. Got a lot respect from his teammates, and he's a very competitive guy, obviously wants to win. Frustrations can flow. We've had great football players throughout our ownership that can get fiery on the sidelines. He's not the first to do that, whether it's a 
Michael Irvin, Dez Bryant, a Charles Haley.
 We've had them. I think a lot of that is what comes with what makes them great. They are obviously very much big-time competitors and they want to win and they certainly can get emotional and it's not an issue here. And I think his teammates respect him from everything I heard, their comments after the game. Everybody was supportive of him, and there's no issue here."
WOULD YOU DO A LONG-TERM DEAL WITH HARDY? -- "Absolutely. Very much a possibility, and he's done everything since he's been with us in a good way. I know he'll continue to improve because he wants to be respected and he wants to be a guy who is involved in the community. And I think that will come for him."
MY TAKE: Hardy was inconsolable after the loss ... and I know this because after this emotionally kooky locker-room presser ...
... I visited with him one-on-one about his sideline exchange. He was still emotional about it, not really apologetic about it, and not ready to hear that the interaction with Rich Bisaccia especially was an over-the-top expression of "passion'' that needs to be funneled in a better direction. Stephen is right about this organization's dealings with the emotional likes of stars like Michael Irvin, Dez Bryant and Charles Haley. ... but he's got a short memory, it seems, with the challenges and the drain of doing so.
The idea of re-signing Hardy in Dallas is a sound one, because he is a tremendous football player. And his teammates have no particular problem with him, Sean Lee and Jason Witten and Dez among those expressing support and understanding.
"There's no beef with (Hardy),'' Dez told me after the game. "He's a beast. He loves the game. We feed off of it. It's all great. He's great.''
But even if his message was an attempt at positivity, getting physically involved with a coach is never, ever a good or supportable concept.
Meanwhile, there are now reports that Hardy was "AWOL'' or "MIA''last Thursday, and that this information somehow went completely undetected by CowboysHQ and 105.3 The Fan. In fact, it was at exactly 11:17 a.m. last Thursday when I tweeted that Hardy was absent from practice due to an illness, then I reported it live on the air at 11:31, then The Fan tweeted my report:
And the next morning, I talked to Hardy. We joked about "cold and flu season.'' He said he was over it. And that was the end of it.
(Hardy quite likely missed morning meetings that same Thursday, though labelling his absence "AWOL'' or "MIA'' seems a tad dramatic.
STEPHEN, HOW WAS YOUR EVALUATION OF CASSEL RUNNING THE OFFENSE? -- "I think offensively we moved the ball and did a lot of good things. But you can't turn the ball over at the end of the day. And if you lose that turnover battle, it's pretty good odds you're going to lose, especially if you lose it four to nothing and also give up the big kick return. But there were some things that were positive. I think we got into a good flow there with McFadden and the offensive line running the ball. And Cassel did some good things getting the ball down the field, but we're going to have to protect him better if we want to win a football game. And we just got to keep pushing to get better. I thought defensive we did some good things, but we're still not taking the ball away over there either. So, that's why we are where we are today at 2-4."
MY TAKE: I was listening to Michael Irvin on The Fan say that Dallas needed to stick with the run game more in the loss, because of Cassel's limitations. But wait! I thought Cowboys fans wanted Cassel to replace Weeden so Cassel could "stretch the field more''?
I hate to say I told you so, but ... The Cowboys have two bus drivers. The change from Weeden to Cassel was logical. The belief that Cassel is some magical solution to a team's offensive woes is illogical.
DO YOU HAVE A THEORY WHY THERE'S A DEARTH OF TAKEAWAYS? -- "I don't. I know we're coaching it like we always have. It's always been a number one teaching point for Rod, and I know we work on it, worked on it hard in the off-season, worked hard on it during training camp, and it's just we've been close. Had some opportunities that just hadn't come our way. We've got to get that to happen, and at the same time we've got to protect it."
MY TAKE: The Cowboys lead the NFL in "almost-takeaways.'' And it's no consolation. Because they don't count for crap.
HOW DID LA'EL COLLINS DO IN HIS FIRST START? -- "I thought he did real well. We were just back there watching the tape this morning, and he brings a lot of athletic ability and youth to the table there in terms of what he was able to do yesterday and did some really positive things to help get us going in that running game. I also think we gave, for the most part and until there were some max blitzes, I thought we did a great job of protecting Cassel as well and giving him time to throw the ball. So, as I said, I think we did some good things. Obviously we did the things that get you beat, which is turn the ball over and don't create turnovers."
MY TAKE: My sense is that Dallas made some offensive-line adjustments to ease Collins' load. But Jones is right; the proof is in the rushing-total pudding.
IS RANDLE'S INJURY SERIOUS AND IS MCFADDEN THE NEW CHAIRMAN? -- "I'm not sure yet. We'll see where Joe is. I mean, obviously he started off the game strong as well. I think he had two carries for 22, 23 yards, and was off and running too. But we'll just have to see how that injury is. He was having a lot of tightness and spasms in his back; didn't seem to shake it. And then Darren got a good hot hand, so we really didn't need him yesterday once Darren got rolling. But we'll just play it by ear and see how we do. But it was nice to see us run the ball. We just made too many mistakes."
MY TAKE: RBBC will remain in place. But now McFadden -- with 152 of Dallas'  fat total of rushing yards -- gets a change to be the chairman. ... even if Joe's back-oblique issue goes away.
CAN YOU TALK ABOUT LOSING DWAYNE HARRIS? -- "We know he's a good football player, and they paid him to be the number three receiver. And we really felt like [Beasley] was a better fit for us doing that. And unfortunately, you can't keep everybody. You can't pay Dez what we paid Dez. You can't obviously keep Beasley, which we decided to do and then keep a guy like Harris. We know that he's a hell of a player. He's graded year in and year out our best special teams player, not only as a returner, but as a key guy and as a gunner. He just did it all for us and was a very physical receiver in the blocking game and the running game in terms of his blocking. So, we knew he would be missed. But at the same time, unfortunately, you have to make these tough decisions and we really felt that we wanted to keep -- we made a business decision to keep Cole over Dwayne Harris and completely understand that he's going to do some really good things for the Giants, but of course Cole Beasley's done a lot of good things for us too. So, unfortunately, you don't get to keep them all.
MY TAKE: If there was no salary cap, Harris would still be a Cowboy. There is. So he isn't. The end.
WHAT ABOUT A LONG-TERM DEAL FOR MO CLAIBORNE? -- "Let me tell you. At the end of the year, we're going to have some real tough decisions in terms of what we're going to do with our players. Just as we did last year, we had some tough ones. We knew we were losing a good football player in Harris. When you're having some successes and some guys are playing well, then you have to make those tough decisions, and Mo is having a really good year. He's doing a lot of good things for us in terms of covering some of the top receivers in the league. And I think he's gaining confidence and only getting better. There's a real chance he could be back here next year. We'll just have to kind of see how the rest of the year plays out and we'll make some decisions from there."
MY TAKE: It's easy for us to ask Stephen about this. The true test will come when Mo is asked about it. It's on my to-do list.
WERE YOU NERVOUS ABOUT DEZ ON THE SIDELINE? -- "I support our coaching staff, and I was not nervous. Dez is really close to being able to play. So if he can't get out of the way, then he can't play. But he is close to being able to play a game for us and have no issue. Dez is very positive. He's a competitor. I think those young receivers respond to him. I think our team responds to him. He's an emotional guy, but he's also a guy who is very optimistic and believes in our football team. And I think it's great to have him around."
MY TAKE: My take comes straight from Dez, and my one-on-one visit with him in New York:
"I don't honestly think that it has to be all the way 100 percent for me to get back on the field," Dez told me. "That's my choice, we're going to see about it. If I can go, I'm going to go. ...  "Next goal is to get on the field. I got to continue listening to Mr. Jones and (trainers Jim Maurer and Britt Brown). I think we're doing a hell of a job right now with my foot. ... I think I'm the only one that's being a little bit impatient about the foot. They're really doing a great job of trying to make sure I'm doing the right things properly. I think once I feel good I'm going to get on the field."
https://twitter.com/PatDoneyNBC5/status/658350483061526528
I think Dez really, really wants to feel good on Wednesday so that "100-percent'' risk/reward decision never has to actually be made.
IS BYRON JONES GOING TO KEEP PLAYING SAFETY? -- "I think so. I think Byron is one of those guys doing the right thing right now. I think the biggest thing with him is he does a lot of things well. And I know we got a big tight end we're going to be playing. He did a hell of a job against Gronk and got another big one coming to town in Jimmy Graham. And I think he's looking forward to that as well. But he's doing a lot of things well right now. We know one thing: we need him on the football field, and we're getting him on the field as many ways as we can. And we need all these guys, whether it's him, whether it's J.J., whether it's Barry and Heath, the whole crew can really bring something to the table. And we need them all."
MY TAKE: We need some film review here and we need some Valley Ranch quizzing here. I think saw lots of Jeff Heath playing safety. How many snaps did the usual starters get at safety? Why'd White get the nod over Patmon? Give me a day on this.
IS COLE BEASLEY THE PUNT RETURNER THIS WEEK? -- "Yes, I can't imagine he's not going to be. I mean, everybody is capable of not having something go right for them, and Cole is going to catch that ball 99 percent of the time. And no one is a bigger competitor and wants to do it better than Cole does. So, I can't imagine he's not going to be back there. He's a guy we got a lot of confidence in, and that's certainly not the norm for him. He's going to make that play almost every time."
MY TAKE: Lucky.
IS THERE A CHALLENGE MAINTAINING BELIEF AMID 4 LOSSES? -- "I don't think so. I got a lot of belief in our staff. Obviously starts at the top with Jerry and Jason, myself, our coaching staff. Everybody believes in this football team. We totally understand at the same time why there is frustration with fans, why the media obviously has a good platform right now to be critical. And we understand that. But there is absolutely zero thoughts here of this team not sticking together and not being competitive. We know what we can ultimately get accomplished here. Obviously we have not been playing our best football, and at the end of the day, Bill Parcells used to say it best: you are what you are. And there's no excuses. We're 2-4. It is what it is. It's what we deserve to be at this point, and we have to play better football and do something about it. And we've got to win some games here while Tony is not at the helm. Hopefully, Dez will be coming back and we're getting more players back. But we've got to play better. And there's got to be some urgency around here. We know there is going to be a lot of criticism right now. People want to fold up the tent in terms of outside the organization thinking our season is in trouble, but we certainly know we've got a good shot right here to right the ship and get with it."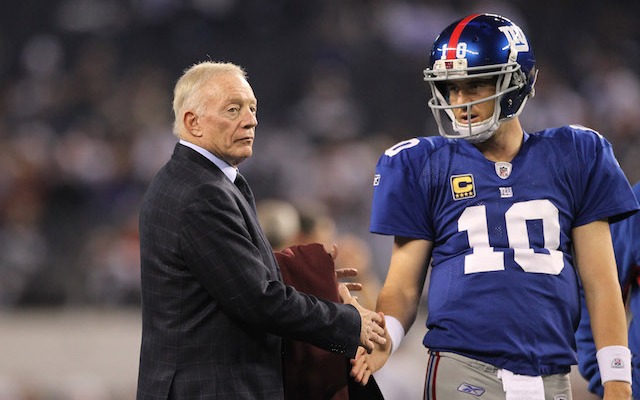 MY TAKE: I'll let the answer Jerry Jones gave to me on the subject suffice here:
"The challenge is daunting,'' Jerry said.  "We should and will go … quarter-by-quarter. That's all we need to be looking at. We can't afford to look down the road. … It's daunting.''