I've been asked the questions dozens of times as the Nov. 2 NFL trade deadline approaches. 'Is it true the Cowboys are trading for a running back?' 'Can Dallas trade Ron Leary?' 'Why doesn't Jerry swing an over-the-top trade?' These questions are like the questions I was asked last year ... and like the questions I'll be asked next year.
My answer is almost always precisely accurate. My answer is generally the same. And so my column on the subject that you read below is an updated version of what I've said annually ...

There is no better way to sell papers, to peddle subscriptions, to gain clicks or to fill radio-talk show time than to stretch the "speculation'' of an NFL trade into something resembling a "story'' about a trade. 

Framed properly, deadline trade ideas are fun. Unfortunately, they are too often framed sloppily, or worse, framed with the intention to fool the reader. 


SI.com, NFL.com, ESPN .. they all write about 'em, in a mostly speculative way. And now they have legs. In Cleveland and in Chicago, there are "fire sales.'' In Dallas and elsewhere there is "desperation.''

"You are always open, always listening,'' Cowboys COO Stephen Jones tells me. "But the sort of trades (the public) talks about generally just don't happen.'' 

You mean like last year's "Tom Brady-to-Texans'' idea (perpetrated by ESPN)? Or Miami trading Mike Wallace (made up by Grantland)? Or NFL.com's "love-to-see'' idea of Johnny Manziel to the Jets? 
 
You'll notice these trades almost never have responsible names attached, or even "sources'' attached. Though … two years ago, NFL.com actually suggested that there was smoke behind the fire of some of their "reports'' … so that Jacksonville was going to give Dallas running back Maurice Jones-Drew, and that Dallas was talking about stealing Ben Tate, and that Dallas was going to rob Minnesota of defensive end Jared Allen AND Adrian Peterson, and that Dallas was going to trick some sucker into accepting oft-injured and pricy receiver Miles Austin? 

Here's the reality check: From 2006 to 2012, NFL teams combined to orchestrate a total of 10 deadline trades. That's 1.42 trades per season – hardly worth the pre-deadline hubbub. In 2013 there were three more trades. And in 2014, I count four deadline deals.

Furthermore, the deals are rarely impactful in terms of superstar value. Here's the year-by-year total: 
2014: Percy Harvin represented a high-profile October deal (Seattle to Jets). There was another swap, New England getting linebacker Akeem Ayers from Tennessee in an exchange of late-round picks. New England also got Jonathan Casillas from Tampa and Tampa traded safety Mark Barron to the Rams.
2013: Cardinals trade offensive lineman Levi Brown to Pittsburgh; Jaguars trade tackle Eugene Moore to Baltimore; Eagles trade defensive tackle Isaac Sopoaga to New England. 
2012 – Buccaneers trade Aqib Talib to New England. 
2011 — Bengals trade Carson Palmer to the Raiders; Broncos trade Brandon Lloyd to the Rams; Eagles trade Ronnie Brown to the Lions. 
2010 — Chiefs trade Alex Magee to the Buccaneers; Browns trade Jerome Harrison to Philadelphia for Mike Bell. 
2009 — Rams trade Will Witherspoon to the Eagles; Bucs trade Gaines Adams to Chicago. 
2008 – Zero deadline trades. 
2007 – Chiefs trade Michael Bennett to the Buccaneers. 
2006 – Bucs trade Anthony McFarland to the Colts. 
What to take from all that? That's 17 trades in nine years. So the "1.42'' number is now "1.88.''  And Tampa Bay and New England are the outliers here. So their fans can be excited if they wish.  Also, few of the deals propelled their teams to particular greatness. Oh, and in terms of the headlines generated at the time, the Bengals trading quarterback Carson Palmer to the Raiders was considered to be of "monster'' importance. 
And … it wasn't. 
So the "1.42'' has been exceeded. And hey, maybe this deadline will be a matching record-setter and there will actually be three or four minor trades! 
While one deadline deal was consummated in 2012's NFL, the NBA featured 11 such deals. Baseball, too, has made a "second sport'' of its various transaction deadlines. 
So why doesn't it work that way in the NFL? There are six major reasons: 
Compensatory picks: If a team owns a player in the final year of his contract (as was the case with Jones-Drew and Allen two years ago and was the case with Cowboys-rumor Ingram this year), it will receive a valuable compensatory pick when he signs elsewhere as a free agent. So, teams are wise to milk the standout player for his value for the rest of a season and accept the eventual compensatory pick (usually a third-rounder) rather than trade away the player for a pick that might not be as valuable as the compensatory. 
In other words: New Orleans would have been, in my opinion, stupid to trade Ingram for a third-rounder … because they can keep him this year, watch him sign elsewhere next spring … and get the same third-rounder anyway, for free. 
Salaries and value: 
Consider a veteran's salary. (In the case of Allen, it was $17,063,956.) Now consider a third-round draftee's salary. (Approximately $500,000 annually). Is the defensive end a team gets at the deadline really worth $16 million more than the defensive end it can draft next April? 
Salaries and the cap: 
Without getting too complex: If a player is traded before the end of his contract, the entire unamortized signing bonus money (the remaining prorated bonus money) accelerates immediately and counts against the salary cap. So the team trading away the player not only doesn't get cap relief … it suffers a cap penalty for moving the player. 
Systems and fit: 
In the NBA, the Mavs can acquire Peja Stojakovic at the 2011 trade deadline because whether Peja is playing in New Orleans, Dallas or Croatia, Peja can shoot…and contribute to winning the title. In baseball, the same concept applies, so the Rangers can acquire pitcher Ryan Dempster at the deadline and he can help them to the postseason. All you have to do is hand him the ball every four days. 
But football? It's a militarist game of systems and a complicated game of fit. There is no thick "playbook'' to be memorized by a shortstop. But remember Cowboys guard Brian Waters – a multi-time Pro Bowler, a bright guy and a 14-year NFL vet – joining the team last fall and needing a couple of weeks to get comfortable with his new team's scheme? A tight end can have eight different options on the same route. The wording and numbering system used to call plays can sound like sound like Mandarin Chinese to a newcomer. 
The risk of intellectual failure alone here is huge. 
Draft picks don't change value: In some of our minds, next spring's Draft is something to be considered … aw, right around next spring. Then draft time comes and we curse our team for lacking the seven-round gold that should rightfully be theirs. 

Jerry Jones' Cowboys have traveled this road, seeing bright, shiny objects as more valuable that draft gold. 

In 2000 (in a non-deadline deal), the Cowboys traded their 2000 and 2001 first-round picks to the Seahawks for Joey Galloway. The fact that he tore his ACL in his very first game as a Cowboy is not the lesson here. The fact that those two picks could've been used to find TWO Galloways (one of the picks actually became future MVP Shaun Alexander of the Seahawks) is the point.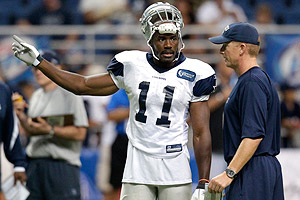 In 2008, Jerry did it again. Bright, shiny object Roy Williams was acquired from Detroit in exchange for a first, third, sixth and seventh. Williams never blew out his knee, but for as unproductive as he was at wide receiver, he might as well have.
 

What smart teams know that keeps them from deadline swaps: bright, shiny objects in October really aren't better than the true gold mined in April. 

Nobody gives up: Baseball's trade deadline is late enough in the year that teams know when they are and are not contenders. In the NBA, the Mavs will play 53 of their 82 games before the trade deadline, thus allowing them a solid feel on where they stand. 

As we sit here today in the NFL, especially now in this time of parity, few teams are willing to concede that they are destined to failure. 

"None of the teams think they are out of it yet,'' says Stephen Jones, and therefore most of the "fun thinking'' done regarding blockbuster deadline trades is being done not in the boardrooms of NFL teams' headquarters but by us, on websites and on sports-talk radio.