10: The number of interceptions Eagles quarterback Sam Bradford has tossed this season -- It's the most he's thrown through seven games to start a season. Dallas picked him off twice in the initial encounter in Week Two, but they must find ways to force Bradford into mistakes. The defense has had the "disadvantage," if you will, of facing playoff-winning quarterbacks for the past five weeks. Rod Marinelli's defense was made to wreak havoc on journeyman signal callers like Bradford. ... especially with his O-line wobbling as it is.
We have tons more of fascinating numbers here in "Cowboys 100.''
9: The number of made field goals and extra points Caleb Sturgis has made -- When Cody Parkey went down for the year with a groin injury, the Eagles turned to 26-year-old to boot kickoffs, field goals, and extra points. Sturgis is 9/11 this season, not only on field goals, but on extra points. Dallas would really be helped if the Philadelphia kicker misses a field goal or an extra point as they need all the scoreboard help and momentum they can get.
Of course, you'll recall last week. Dallas blocked a late-game field goal and still found a way to lose, 13-12, to visiting Seattle. (Our recap here.)
8: The number of touchdowns DeMarco Murray and Ryan Mathews have -- Murray and Mathews were a laughing stock after the Cowboys defense got done with them in Week Two, holding the duo to just two yards on 14 attempts. In the past three games, Murray has touched the ball at least 20 times and scored two touchdowns. Mathews has also been averaging at least 4.4 yards per carry in the past three games. The Eagles run game may have been campy the first time around, but a gritty reboot is set to tour through Arlington if the Cowboys don't tighten up their rush defense.
The DeMarco storyline isn't going away in Dallas anytime soon. Jerry Jones addresses that here in his Q-and-A.
By the way, the storyline takes on a new life in large part because of the latest Randle Scandal, ending Joe's run in Dallas. We've got the breakdown of that story as it broke here.
7: The number of interceptions the Dallas defense has in 2015 -- Many a pick has fallen out of a Cowboys defender's hands or been overturned upon further review, and this is why the defense ranks as the fifth-worst in interceptions in the NFL. As already highlighted, Bradford is throwing more picks now than he ever has through seven games and is even on a three-game streak of throwing at least one interception. Dallas can't let the streak end with them and must find ways to hang onto the ball to stop Eagles drives and begin new ones for their offense.
6: The number of games it has been since Jason Witten has scored a touchdown -- After starting off the season with an eight-catch, 60-yard performance with two touchdowns, including the game-winner to defeat the Giants 27-26 and start off undefeated, Witten has hardly factored into the Cowboys offense. The eight catches remain his season-high while his 60 yards were eclipsed with a 65-yard performance on Sept. 27 against Atlanta. Nonetheless, to sweep the Eagles, the Cowboys are going to need a better performance out of their reliable tight end who has the most catches (140), yards (1,549), and touchdowns (seven) of any NFL player against Philadelphia since 1999.
Of course, without Dez around, Witten became the Dallas receiver seeing some double-teams. That changes now, with Bryant back -- though that means the dopey controversies revolving around Dez are also back.  Fish and KD analyze the silly notion that Bryant "taunted a fallen Seahawk'' in the Cowboys Crunchtime Podcast.
5: The percentage of opponent drives that have ended in Cowboys takeaways -- Actually, the figure is 5.3 percent, but let's not quibble. Though "bad" for second-worst in the league, the Cowboys have a chance to sneak out of the basement of bad defense as they face a team that gave them three gifts the first time. After Tony Romo went down was when the Dallas defense managed to get all three of their takeaways that game. With Romo out, the defense must again find ways to give their anemic offense the hemoglobin of extra possessions to bring life back to their quest for that elusive third win.
4: The number of solo tackles Greg Hardy has against Philadelphia -- On Nov. 26, 2012, the Panthers beat the Eagles 30-22 at Lincoln Financial Field. Hardy had four solo tackles, one assisted, and one sack. The Kraken needs to make his presence felt against Bradford. All of Hardy's six multi-sack games have come against playoff-winning quarterbacks. He must have a seventh tonight and help Bradford join the ranks of playoff winners somehow.
https://twitter.com/fishsports/status/663360548491259904
Of course, football performance is not all folks want to discuss when it comes to Hardy. Photographs. Regrets. Second chances. All of this is part of the story, too, and all of it is also a part of being "America's Team,'' we suppose.
3: The number of sacks the Eagles had in Week Two -- Not to mention that one of those sacks sent Dallas on its detour of broken dreams as Romo pledged allegiance to his broken left collarbone, a sight Cowboys fans never wanted to see again after 2010. The Eagles defense may have 15 sacks on the year, good for 18th in the league, but they know how to get to the Cowboys passer. In the past three games, Philadelphia defenders have dropped Dallas quarterbacks at least three times.
2: The number of division losses the Eagles have and Dallas needs to avoid -- Philadelphia may be 3-4, but like the 4-4 Giants, they have two losses in the division, a tally the Cowboys must never see while Romo-less. For Dallas to rise from the cellar and reclaim the NFC East, they need all the early tiebreakers they can muster. In the event of a three-way tie with Philadelphia and New York (you fake the record), Dallas would have the head-to-head over Philadelphia and a 5-1 ledger over the Giants, who at best would be 4-2 by season's end. This ticket to the playoffs cannot be punched if the Cowboys take two losses in the East tonight.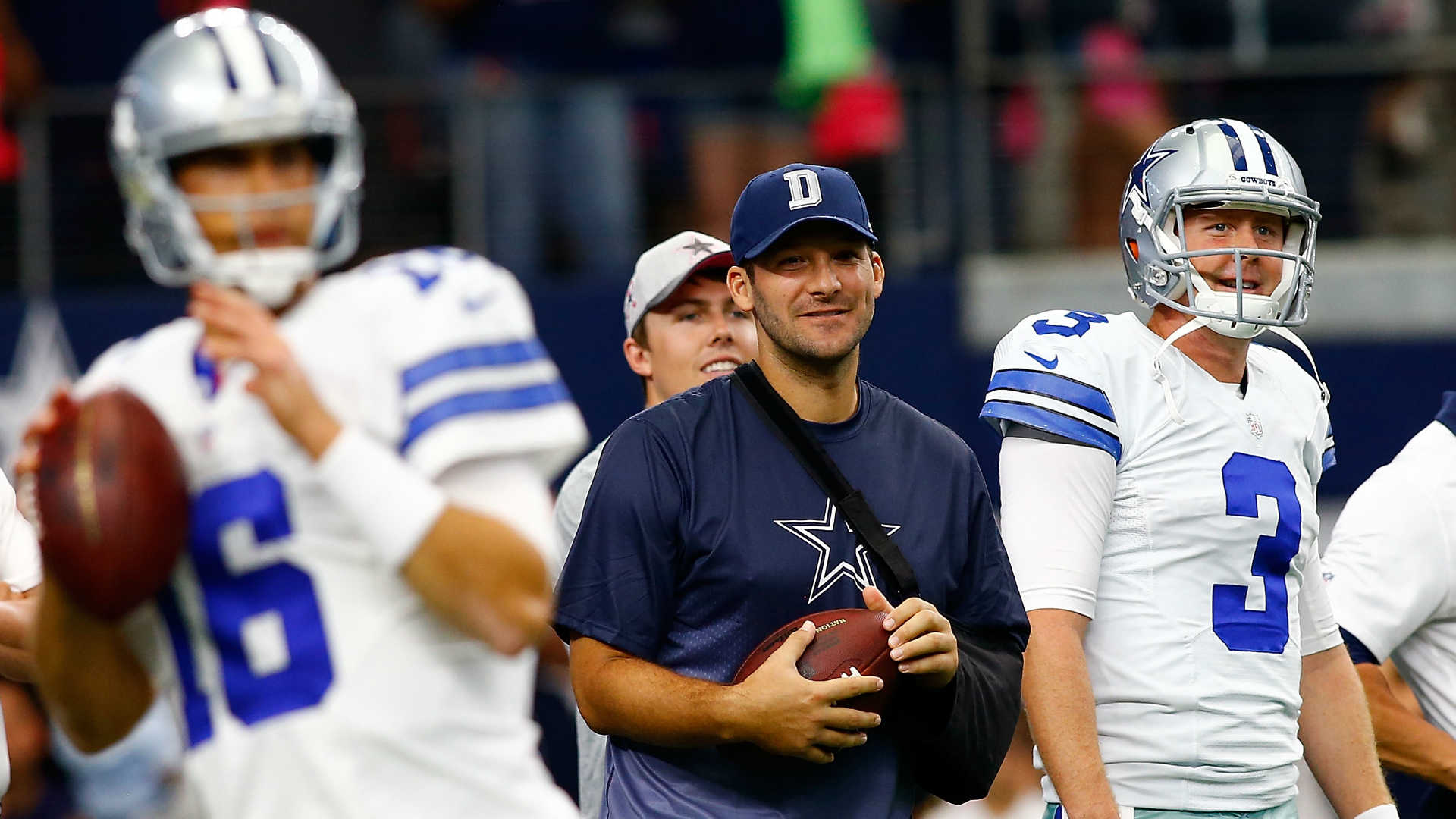 1: The number of touchdowns Matt Cassel has thrown through two starts -- To beat Philadelphia, Dallas is going to have to find ways into the end zone, whether by Cassel's arm or McFadden's feet. Last week, a feast of four Dan Bailey field goals left the home crowd unsatisfied as Seattle flew back to the Pacific Northwest with a victory. To avoid a woeful six-game skid, Cassel needs to match or double his touchdown throws tonight.
https://twitter.com/fishsports/status/662263574866194432
Help is coming in the form of Tony Romo, hopefully by Nov. 22 at Miami. But that's an issue for another day. Dallas' Bus-Driver QB is an issue tonight.